CBD has taken the health and wellness industries by storm, and for good reason. Cannabidiol, also known as CBD, has been shown to have a variety of benefits from pain relief to anxiety reduction. CBD is derived from cannabis or hemp plants through an extraction process that targets the beneficial compounds which can, in turn, be made into different products like oils and tinctures, gummies, soft drinks, capsules, and more.
Many people might like to experience the potential benefits of CBD but they are nervous about a "hempy" aftertaste. One of the best ways to experience CBD through oral consumption, but without any unwanted flavor, is to turn to CBD capsules. Here are our top three rated CBD capsules of 2021 so far:
CBD Essence Hemp Phyto-Cannabinoid Capsules
These full-spectrum capsules test just below the label claim but still well within the acceptable limit. More interestingly, it contains significant amounts of all the major cannabinoids we test for in addition to CBD: CBG, CBN, CBC & THC. These capsules received a 95 Expert Score from Real Tested CBD, with flying colors on solvent and pesticide tests, as well as being a great value price for the potency of the product.
Hill City Hemp CBD Soft Gels – Full spectrum 900mg
Hill City Hemp Co 30 Count Full Spectrum Soft Gels get a highly recommended rating from our expert CBD review staff, with a score of 91. These soft gels have a fantastic CBD price value and contain the most major cannabinoids including CBN and CBC. This product also came in at over 350 mg CBD more than the label claim! Hill City Hemp Soft Gels are a great option for a reliable CBD capsule.
Green Lotus Premium Hemp Oil Soft Gels
Green Lotus Hemp Oil Soft Gels (750 mg) get a highly recommended review from our expert CBD review staff with an Expert Score of 88. This is a truly full-spectrum soft gel, as it contains all major cannabinoids that we test for! It also contains almost 250 more mg of CBD than the label claims (almost 1,000 mg). These CBD soft gels contain d9-THC, CBDa, CBD, CBDV, CBN, CBG, & CBC! This is a great value product to get a high quality, potent CBD capsule at a great affordable price.
When it comes to purchasing CBD capsules online, there are a ton of options available. The best way to ensure a quality purchase is to base your choices on the ratings and lab test results of an independent lab with third-party test results like us here at Real Tested CBD. This is the best way to gain an unbiased and reliable review of CBD products, like these three top-rated capsules. To take a look at our entire list of reviewed CBD capsules, click here.
Most Recent Tested products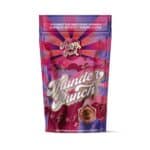 Happy Fruit Hemp HHC Gummies - Thunder Punch
$20.00
Cannacea Tagrid's 100 Full-Spectrum Hemp Oil
$77.50
Cannacea Activated 40 Full-Spectrum Hemp Oil
$38.50
Recent Posts
Blog Categories