There is an abundance of CBD oils on the market, and the wide variety of products available can make it exceptionally difficult to determine which type of product will help you the most. Many CBD consumers enjoy full-spectrum CBD products because they desire the "entourage effect" that is brought on when all five major cannabinoids are consumed.
However, full-spectrum CBD may legally contain no more than .3% delta-9 THC, a type of cannabinoid commonly found in marijuana. Of course, delta-9 THC is the cannabinoid that produces the intoxicating effects associated with "traditional" marijuana. While the levels of delta-9 THC that are present in full-spectrum CBD products are too low to produce these effects, some people don't want to consume any delta-9 THC at all. That's where broad-spectrum CBD comes into play.
What Is Broad-Spectrum CBD?
Broad-spectrum CBD products are similar to full-spectrum products in that they contain multiple rare cannabinoids. The one big difference between the two is that there should be absolutely no delta-9 THC present in legitimate broad-spectrum products. In short, the term "Broad-spectrum CBD" refers to any product that does contain rare cannabinoids like CBN, CBG and CBC, but no delta-9 THC.
If you are looking for something similar to the "entourage effect," but do not desire to ingest any delta-9 THC, broad-spectrum CBD may be for you. As with any product that contains cannabinoids, you'll want to look at third-party lab test results to ensure that your broad-spectrum product contains no delta-9 THC. These test results will also show you what other cannabinoids are present, and in what capacity.
Top Three Broad-Spectrum CBD Oils
Read on to find out which broad-spectrum products ranked at the top of our lists this year. If you are looking for a starting point with broad-spectrum CBD, consider trying one of the following products:
Hemptown USA CBG Tincture– Ranking at the top of our list is Hemptown USA's CBG Tincture. While the label claims this product contains 1250 mg of CBD, it actually contains nearly 130 mg more than that! It also contains 241 mg of CBG and a fair amount of CBN and CBC. The price point puts CBD$/Value at $0.04/mg, which is fantastic!
Penguin CBD Oil 1000 mg– Next up is the 1000 mg CBD Oil from Penguin CBD. This broad-spectrum CBD oil tests very accurately to the label claim, and contains plenty of rare cannabinoids. Like any true broad-spectrum product, it contains absolutely zero delta-9 THC.
SunMed Broad-Spectrum Daytime Citrus Tincture– Rounding out our list is the Broad-Spectrum Daytime Citrus Tincture from SunMed. In addition to 142 mg of CBD, this tincture contains over 500 mg of CBG. It passed pesticide testing and like many of SunMed's other products, it tastes great!
Always Rely On Third-Party Lab Tests
Regardless of what spectrum CBD product you are looking for, third-party lab testing is the best way to ensure that you are receiving a high-quality CBD product. Third-party lab test results also show you what cannabinoids are present and, in the case of broad-spectrum CBD oils, will confirm that they contain no delta-9 THC.
Check out third-party lab test results for a wide variety of CBD products on our website before making your next CBD purchase. You can also find transparent reviews for a multitude of CBD brands at RealTestedCBD.com.
Most Recent Tested products
Cannacea Tagrid's 100 Full-Spectrum Hemp Oil
$77.50
Cannacea Activated 40 Full-Spectrum Hemp Oil
$38.50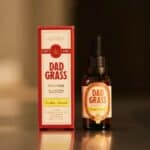 Dad Grass Goodtime Formula + CBG Tincture
$55.25
Recent Posts
Blog Categories