There is a vast range of CBD oils on the market, and each type brings along its own benefits. For example, since full-spectrum CBD products contain all of the major cannabinoids (including delta-9 THC), they are known to produce the "entourage effect." Many people consume full-spectrum CBD oil because they desire these benefits that come with it.
However, not everyone wants to consume all of the major cannabinoids. This is especially true for delta-9 THC, since it's the cannabinoid that's known to produce the intoxicating effects of marijuana. Although CBD products can legally only contain less than 0.3% delta-9 THC, some consumers want to avoid the cannabinoid altogether. That's where CBD isolate oils come in.
What Is CBD Isolate?
Pure CBD isolate is basically 100% CBD. This means that it does not contain any other cannabinoids or secondary hemp compounds. Technicians who make this product put hemp through multiple rounds of purification till it has about 98 – 99 percent CBD content. It's worth noting that CBD isolate is generally odorless and tasteless, making it a very popular choice for use in CBD edibles.
Although CBD isolate is often associated with DIY edibles, it's also one of the easiest CBD products to dose, because there are no questions about what it contains. It is true that you may not experience CBD's max potency when taking CBD isolate, but many patients like how easy it is to determine their daily dosage. Since there are no secondary cannabinoids in CBD isolate, you don't have to worry about competing influences when taking your supplement.
The Top 3 CBD Isolate Oils Of 2022
If you want to consume CBD and no other hemp compounds or cannabinoids, CBD isolate is for you. According to our compiled test results, the following are the best CBD isolate oils of 2022. Consider trying one of these products out:
Infinite CBD 250mg Isolate CBD Dropper – First on our list is the 250 mg Isolate CBD Dropper from Infinite CBD. This CBD oil product from Infinite CBD tests close to the label claim at 14 mg CBD over the label claim. It also contains solely CBD, just as a true CBD isolate product should.
Uncle Bud's CBD Oil 1000mg – Up next is Uncle Bud's 1000 mg CBD oil. At $0.03/mg of CBD, this is a very affordable CBD isolate oil. It tests very accurately to the label claim of 1000 mg of CBD and passed residual solvent and pesticide tests.
Verified CBD Hemp Oil Herbal Drops 3500 – In third place are the 3500 Hemp Oil Herbal Drops from Verified CBD. This product is a great value at $0.04/mg CBD. It tests quite accurately to the label claim and passed residual solvent and pesticide tests.
Rely On Third-Party Lab Testing!
As with any CBD product, regardless of the advertised spectrum, the only way to be completely sure about what you are ingesting is to look at unbiased third-party lab test results. Not only can these test results confirm that your CBD isolate product contains no other cannabinoids or secondary hemp compounds, but they can also prove how accurate the label's claim for CBD dosage is and show that a product doesn't carry any residual solvents or pesticides.
Check out our compiled third-party lab test results and our rankings for other types of CBD products at RealTestedCBD.com!
Most Recent Tested products
Cannacea Tagrid's 100 Full-Spectrum Hemp Oil
$77.50
Cannacea Activated 40 Full-Spectrum Hemp Oil
$38.50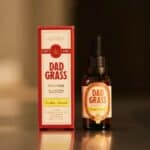 Dad Grass Goodtime Formula + CBG Tincture
$55.25
Recent Posts
Blog Categories