There's no shortage of CBD oils on the market for consumers to choose from. Knowing the differences between each spectrum of CBD products is helpful in narrowing down your scope, because each one brings its own benefits. While many people enjoy the "entourage effect" that comes along with full-spectrum CBD oils, others may not wish to consume other cannabinoids (particularly "traditional" delta-9 THC that produces the intoxicating effects associated with marijuana). If you fall under this category, consider checking out the best CBD isolate products of 2022 instead.
However, if you are interested in reaping the benefits of all major cannabinoids, you'll want to go with a full-spectrum CBD oil. Even though full-spectrum do contain some delta-9 THC, take note that they may legally only contain less than 0.3% of this well-known cannabinoid. Such a small amount is not enough to produce the intoxicating "high" effects that are brought about by marijuana.
What Is Full-Spectrum CBD?
The term "full-spectrum CBD' refers to any products that contain the 'full-spectrum' of the hemp plant, including rare cannabinoids and terpenes. This means that, unlike CBD isolates, these products carry more than just a single cannabinoid. In addition to cannabidiol, other rare cannabinoids are present, such as CBG, CBC, CBN and delta-9 THC.
Many people choose to consume full-spectrum CBD products because it is believed that multiple cannabinoids can work together to better interact with the body's ECS, or endocannabinoid system. This is called the "entourage effect." Unlike broad-spectrum or CBD isolate products, full-spectrum products are the only CBD products that can truly produce this effect.
Top Three Full-Spectrum CBD Oils Of 2022
Below are three of the best full-spectrum CBD oils of 2022. If you are looking for something that will produce the entourage effect, but are unsure of where to start, consider trying one of these products.
Butler Hemp Co Daily Blend Full-Spectrum CBD Oil – Our expert CBD review staff highly recommends the Daily Blend Full-Spectrum CBD Oil from Butler Hemp Co. This CBD oil actually contains about 40 mg more CBD than the label claims. At just $0.03/mg of CBD, it is extremely inexpensive.
Lazarus Naturals Full-Spectrum CBD Tincture 6000 mg – Next up on our list is the 6000 mg Full-Spectrum CBD Tincture from Lazarus Naturals. This highly potent CBD oil is actually the cheapest full-spectrum CBD oil we have reviewed to date, at just $0.01 per mg of CBD. Because of its high cannabinoid content, we definitely do not recommend this product for entry-level CBD consumers, but it is perfect for CBD veterans!
Dad Grass Classic Formula CBD Tincture – Rounding out our list is the Classic Formula CBD Tincture from Dad Grass. This is a full-spectrum tincture that is packed with cannabinoids, tests over the label claim for CBD, and is moderately priced at $0.04/mg of CBD. It contains all cannabinoids we look for in a full-spectrum CBD product (CBD, delta-9 THC, CBC, CBG & CBN) and passed residual solvent & pesticide testing.
Always Look At Third-Party Lab Test Results
When considering purchasing any CBD product, you should always check out its third-party lab test results. This is especially true with full-spectrum CBD products, as these test results will help you confirm that all of the major cannabinoids you are looking for are present. They will also assure you that any given product is free of any unwanted solvents and pesticides.
To view our compiled third-party lab test results for a wide array of CBD products, visit us at RealTestedCBD.com. There, you can also find unbiased CBD brand reviews, ranked product comparisons, and more!
Most Recent Tested products
Cannacea Tagrid's 100 Full-Spectrum Hemp Oil
$77.50
Cannacea Activated 40 Full-Spectrum Hemp Oil
$38.50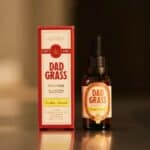 Dad Grass Goodtime Formula + CBG Tincture
$55.25
Recent Posts
Blog Categories