If you are a fan of working out or physical activities, there is no doubt you've dealt with muscle soreness before. One potential supplement with rising popularity to battle muscle soreness is CBD. This natural compound is thought to host a variety of possible benefits, and for athletes and active people alike it could be a great tool for recovery.
If you are looking for possible ways to improve your fitness and recovery routine, taking a closer look at CBD and how it works with the body could be of use to you. Read on to find out more about using CBD for muscle soreness and fitness recovery.
What Is CBD?
Cannabidiol, also called CBD, is one of over 100 naturally occurring compounds found in cannabis and hemp plants. CBD is just about everywhere these days, available in forms like oils and tinctures, gummies, balms and creams and much more. The CBD sold in the U.S. today is made from cannabis sativa, or hemp plants, with a THC threshold of 0.3% or less. Because of this, users of CBD can benefit from its possibly therapeutic properties without the worry of the intoxicating effects associated with THC.
CBD is thought to work closely with the human body's endocannabinoid system, or ECS. THC also interacts with the ECS, but in different ways. The endocannabinoid system is responsible for bodily functions like our immune response, inflammatory reactions, sleep cycles, emotions and more. It is believed that CBD has the ability to work with receptors in the ECS while simultaneously preventing the breakdown of endocannabinoids, molecules natural to the ECS. The goal of the endocannabinoid system is to maintain homeostasis, and CBD could help.
CBD and Inflammation
Although research on CBD is still in fairly early stages, there is some research that suggests CBD may reduce inflammation by impacting activity within the body's endocannabinoid receptors.
Inflammation is the immune systems response and defense against injury, infection, or disease. There can be other causes of inflammation like exposure to irritants or allergens, some medications and even foods, alcohol, and chronic and acute conditions.
By adding CBD to the endocannabinoid system, either topically or internally, you may be able to find some type of inflammation relief. For athletes or active people suffering from sore muscles following a tough workout, CBD may be a great natural alternative to try.
How To Use CBD For Muscle Soreness
Using CBD for muscle soreness can be done a few ways. One way is by ingesting CBD in the form of an oil or an edible. Another is by applying a topical CBD product directly to an affected area.
CBD Oil: Taking CBD oil for muscle soreness can be a great way to make sure you are getting the right dosage in every measured dropperful. Another ideal thing about CBD oil is that is can be taken sublingually, which sometimes means held under the tongue and then swallowed. This method of consumption allows for the oil to be absorbed more directly into the bloodstream through mucous membranes in the mouth, taking effect more quickly.
CBD Gummies: CBD gummies are a nice and discrete way to take your CBD. They also typically come in tasty flavors that make taking CBD even more enjoyable. CBD gummies also come dosed out per package or per serving, making it easier to know exactly how much you taking and what dose works for you.
CBD Topicals: Another great way to deal with muscle soreness is by using a CBD topical. CBD topicals can be applied directly to a problem area for easy targeted application. Using a CBD topical for muscle soreness could be particularly useful for this very reason. One thing to consider though, topicals usually only penetrate into the upper layers of skin and not into the bloodstream, delivering only targeted effects.
Finding a Good Source of CBD
Whether you are looking for a CBD topical or a CBD oil to potentially help with your muscle soreness and recovery routine, make sure you are buying a high-quality CBD product. Making sure that you are getting a good product is key to reaping all CBD's possible benefits.
To find a good CBD product, it can be simple when you turn to Real Tested CBD. With all the most transparent third-party lab test results and unbiased brand reviews, Real Tested CBD is bringing transparency in the industry directly to consumers like you.
Most Recent Tested products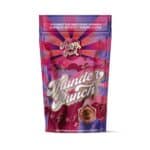 Happy Fruit Hemp HHC Gummies - Thunder Punch
$20.00
Cannacea Tagrid's 100 Full-Spectrum Hemp Oil
$77.50
Cannacea Activated 40 Full-Spectrum Hemp Oil
$38.50
Recent Posts
Blog Categories