Despite the predominance of CBD oil, hemp-infused edibles have emerged as a considerable force in the global CBD market. Indeed, recent statistics suggest CBD gummies now account for at least $1.6 billion of yearly sales worldwide. People who buy CBD edibles love how easy it is to sneak these fruity treats into a busy schedule.
Unfortunately, since CBD gummies are so popular, there are a lot of low-quality edibles entering the hemp market. There's still no centralized screening standard for the CBD industry, which can make it difficult for customers to choose an authentic product. However, as the hemp industry matures, there are more tools consumers could use to get a good read on their CBD gummies' quality.
Scan CBD Gummies As You Would CBD Oil — Request Third-Party Lab Tests!
As with any other CBD product, you must ask for third-party lab results with your CBD gummies. If a hemp company doesn't send its CBD edibles for tests at an accredited & unaffiliated lab, it's safe to assume that brand isn't legit.
Third-party Certificates of Analysis (COAs) will give you crucial information on the quality of your CBD gummies. For instance, you could use this test to determine how much THC is in your gummy packet. To meet the 2018 US Farm Bill's standards, there must be ≤ 0.3 percent THC on a dry weight basis in full-spectrum gummies. Broad-spectrum and CBD isolate edibles should have no THC.
Beyond THC exposure, COAs will let you know the percentages of secondary hemp cannabinoids and terpenes. You could also see if your CBD gummies have traces of potentially toxic compounds, including solvents and heavy metals.
Considering how much info you can find on a third-party lab test, COAs will always be the most significant feature when shopping for safe CBD products.
Related: Click here to check out Real Tested CBD's 'Best CBD Gummies' category.
Beware Wary of Extra Sweeteners In CBD Gummies
You have to be extra cautious about secondary ingredients as you're browsing the CBD gummy market. Since manufacturers want their CBD snacks to taste good, they may add high concentrations of sweeteners or artificial flavors. Customers must double-check their CBD gummies' ingredients and sugar levels to avoid an unwelcome surprise.
If you're on a specific diet like vegan or paleo, please review each CBD brand's ingredients. High-quality CBD gummies should be vegan-friendly and carry "organic" certifications. You should also see easy-to-pronounce ingredients on the CBD gummies' label and the third-party lab results.
Also be on the lookout for unnecessary additives like chemical food colorings. Often, CBD manufacturers will add artificial colors to their gummies to make them more attractive to buyers. If you're concerned about consuming these synthetic dyes, please stick with CBD gummies that contain clean, lab-verified ingredients.
Start Shopping For CBD Gummies on Real Tested CBD!
Real Tested CBD wants to simplify the CBD gummy shopping experience. Our hemp experts have years of combined experience analyzing third-party results on countless CBD brands. Please follow this link to find our unbiased reviews on some of the hottest CBD gummy manufacturers.
Most Recent Tested products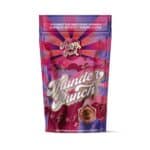 Happy Fruit Hemp HHC Gummies - Thunder Punch
$20.00
Cannacea Tagrid's 100 Full-Spectrum Hemp Oil
$77.50
Cannacea Activated 40 Full-Spectrum Hemp Oil
$38.50
Recent Posts
Blog Categories