The gooey gel from the aloe vera plant is one of the oldest & most widely-used remedies for skin conditions. Pretty much every skincare product designed to soothe redness, itchiness, or cuts will likely have a significant trace of aloe vera in it. And it's not just dermatologists that have used aloe vera in their practice. There's emerging evidence that aloe vera may also benefit gut and gum health.
Although aloe vera has a long reputation for healing the body, hemp-extracted CBD has quickly ascended the ranks in the skincare space. Indeed, many skincare manufacturers have now begun adding CBD to their aloe formulations. Although CBD topicals don't have the long track record of aloe vera products, many customers claim CBD may bolster aloe's effectiveness.
How Could CBD Make Aloe Vera Better?
Studies worldwide suggest CBD shares many of aloe vera's positive traits. Most significantly, CBD seems to have anti-inflammatory properties when applied to the skin. A famous trial out of the University of Kentucky showed that CBD creams reduced knee inflammation in a group of rats. There's also evidence that the endocannabinoid system (ECS) extends to our skin layer. That means CBD molecules may interact directly with cannabinoid receptors on the skin, which may explain its anti-inflammatory effects.
There's similar evidence that aloe vera has anti-inflammatory properties when applied to the skin layer. Doctors at Arak University recently released a report highlighting aloe vera's anti-inflammatory impact on various skin disorders.
CBD and aloe vera also appears to help speed up wound recovery time. A study out of the University of Modena found that patients who took CBD creams for eczema or scars significantly reduced symptoms after a few months of treatment. The Miami Miller School of Medicine also suggests aloe vera helps speed up cell regeneration, which should speed up wound recovery.
There are also many other non-skin-related ways CBD might enhance aloe vera's benefit. For instance, many people now consume aloe vera beverages to promote digestive wellness or to decrease symptoms of GERD. There are preliminary trials that suggest CBD could reduce gut inflammation.
Interestingly, a few studies have begun examining aloe vera's potential benefits for oral health. The same soothing properties that work well on the skin may make aloe vera a great compliment to antiseptic mouthwashes. Some claim aloe vera may moisturize the gums, and preliminary data shows aloe vera could have antibacterial potential.
Amazingly, scientists in Brazil have also examined CBD's effect on gum health. According to a recent trial, rats with gum disease experienced a significant reduction in gum inflammation with CBD injections. While aloe CBD products may not replace traditional toothpastes, they might contribute to dental hygiene in the future.
Can Anyone Add CBD Oil To Aloe Vera Gel?
After hearing all these remarkable facts, you may consider mixing some CBD oil in a container of aloe vera. Although there are plenty of pre-made aloe-infused CBD topicals, it's generally OK to add some CBD oil to a skinsafe aloe gel. Indeed, it's not hard to find many DIY CBD skincare recipes online if you'd prefer to make your lotions at home.
However, not all aloe products are intended for internal use. Although there are plenty of aloe beverages on today's market, these aren't the same as aloe skincare creams. Please always double-check the intended uses for your aloe product before adding CBD oil to it.
Discover Superior Skin-Safe CBD Lotions On Real Tested CBD
Most Recent Tested products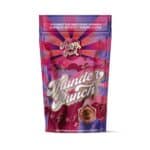 Happy Fruit Hemp HHC Gummies - Thunder Punch
$20.00
Cannacea Tagrid's 100 Full-Spectrum Hemp Oil
$77.50
Cannacea Activated 40 Full-Spectrum Hemp Oil
$38.50
Recent Posts
Blog Categories