The popularity of CBD is here to stay. According to a recent survey by Forbes, 60% of adult Americans have tried CBD. Those over 65 typically use CBD to help manage pain, anxiety, insomnia, or another condition as a natural alternative.
So, what are the benefits of CBD for seniors? Let's take a closer look and see if it could be of use to you or an aging loved one!
What Is CBD?
CBD, also called cannabidiol, is one of many compounds that can be found naturally in hemp and cannabis plants. CBD is major cannabinoid found abundantly and easily extracted to be made into a variety of products from oils and tincture to topicals and edibles.
Unlike another popular cannabinoid known as THC, CBD is not psychoactive. It can however have effects on the mind and body.
Benefits of CBD
Research is still underway to fully understand CBD and its many potential benefits. Here are some uses for CBD that could be beneficial to all ages, but especially seniors:
Pain Relief – Cannabinoids have been used for decades to treat pain, some uses dating as far back as the B.C. era. Recently, more studies have been done specifically regarding CBD for pain. Through its interaction with the endocannabinoid system (ECS), CBD could deliver pain relieving benefits. The ECS is a cell-signaling system that regulates functions like sleep, pain signaling, inflammatory response, appetite, and immune response among other things. Some studies show CBD could help mitigate pain sensation by affecting receptor activity within the ECS and reducing inflammation. For seniors who may be suffering from chronic pain or arthritis related issues, CBD could be a great natural option to provide some pain relief.
Mental Health – These days mental health is on the forefront of selfcare. Some mental health disorders can have adverse effects on everyone, but particularly aging populations. CBD has shown promise as a possible treatment for mental health, especially stress and anxiety. In comparison to some medication that can be prescribed for mental health where there is the factor of dependency and substance abuse, CBD is natural alternative that does not create a dependency or side effects of the like. For seniors who are looking for something to potentially help their mental health in a natural way, CBD could pose a great option for helping stress, anxiety, depression and even PTSD according to some studies.
Heart Health – Another potential use for CBD in senior populations would be its potential for heart health. There is some research that points to CBD's ability to help lower high blood pressure. High blood pressure is associated with increased risk for a number of health conditions including heart attack and stroke. Especially for aging groups where the likelihood of health conditions is already higher, finding ways to supplement heart health naturally is great. There still needs to be more research into CBD and its potential for heart health, but early evidence is promising.
Turn to Third-Party Tested CBD Sources
If you are curious about trying CBD or you think it could benefit someone in your life, always find a high-quality product to use. The best way to make sure your product of choice is truly high-quality is to turn to third party lab test results.
Third-party lab tests give you a closer look at your product, from pass/fail on solvent and pesticide tests, to what rare cannabinoids may be present and at what level. If you are considering adding CBD to your routine or suggesting it for someone else's, turn to Real Tested CBD for a great place to start shopping for high-quality CBD products backed by third-party lab test results.
Most Recent Tested products
Cannacea Tagrid's 100 Full-Spectrum Hemp Oil
$77.50
Cannacea Activated 40 Full-Spectrum Hemp Oil
$38.50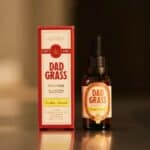 Dad Grass Goodtime Formula + CBG Tincture
$55.25
Recent Posts
Blog Categories