The rise of CBD is here to stay. From the health and wellness industries to the beauty and culinary field and beyond, cannabidiol's rise in popularity continues to grow. There are countless options available when it comes to CBD products on the market today. When you are looking to find quality CBD products, fact-checking with third-party lab test results is the best way to ensure a legitimate CBD purchase. Real Tested CBD is a leading name in the world of CBD product reviews and independent lab testing. We provide you with everything you need to know before buying CBD online. Turn to Real Tested CBD and our expert scorecard rating scale to get the best product for individual needs, in just about any form you can think of. Today we bring you Cascadia Blooms: and we think you might like what you see from our expert product review and their unique CBD flower products.
Cascadia Blooms Direct CBD
" Cascadia Blooms is a small farm run by family and friends to curate and grow organic premium, high-CBD hemp flower produced in Southern Oregon. From growing to shipping, we ensure that the utmost care is taken, each step is done by hand by ourselves and our awesome staff resulting in the hand-crafted product that our customers love. Oregon-grown, our hemp is compliant with the most stringent licensing and testing policies in the USA. We grow organically (which means no pesticides, GMOs, or other contaminants) and nothing is chemically processed. All our seeds are planted by hand, watered with care, sprinkled with the Rogue Valley sunshine, and carefully cared for until being lovingly hand-picked at harvest. " -Cascadia Blooms Direct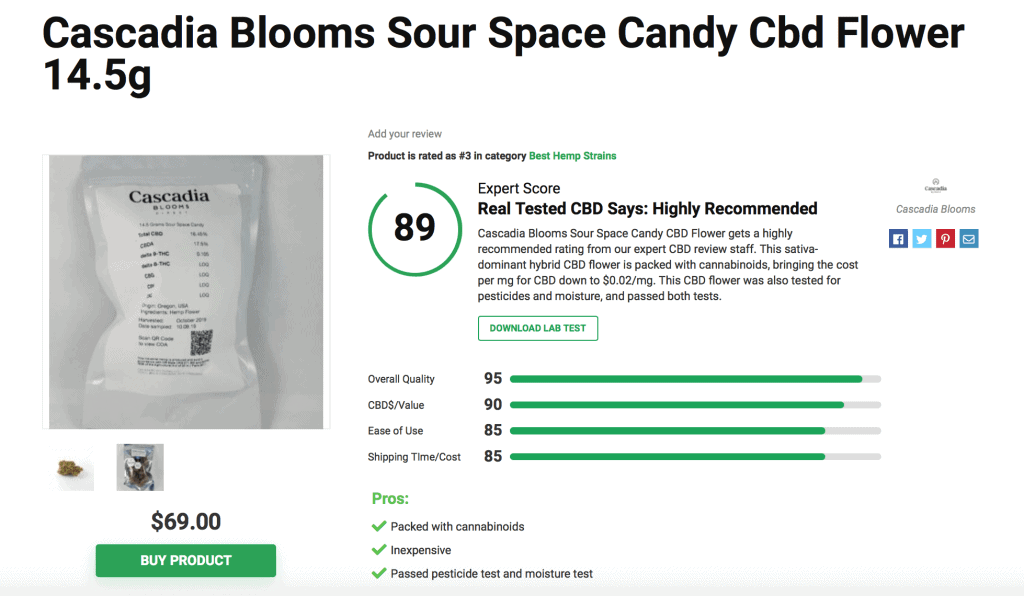 First, we bring you Cascadia Blooms Sour Space Candy CBD Flower, with a highly recommend from our expert review and a score of 89, bringing it to our third spot in the Best Hemp Strains category. This sativa-dominant hybrid cannabinoid-packed flower contains over 2400mg of CBD per package, as well as a significant amount of CBC and CBG. There is THC present in this CBD product, though Cascadia Blooms grows industrial hemp on or below the regulated THC levels of 0.3%, making all their products perfectly legal in the US. This CBD flower passed all pesticide and moisture tests with flying colors, and is a great value product, costing just about $0.02 per mg of active CBD. If you are looking for a great CBD flower, this is a solid choice for you.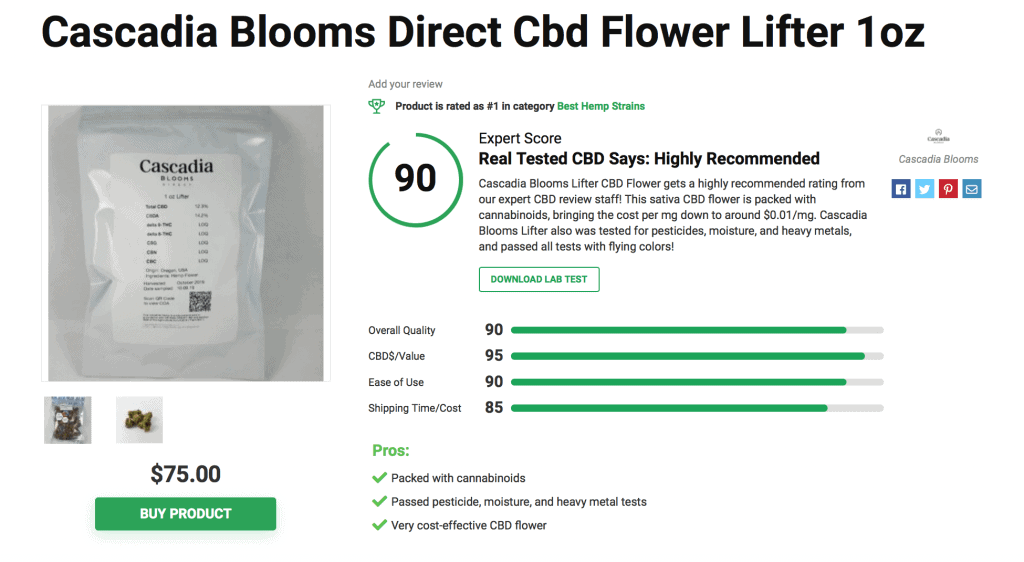 Next up is our number one spot in our Best Hemp Strains category – Cascadia Blooms Direct CBD Flower Lifter. This CBD flower gets another highly recommend from our expert review and a high score of 90, passing all pesticide, moisture, and heavy-metal tests. With over 4500mg of CBD and a good amount of THC, CBN and CBG this is a great cannabidiol flower choice. Not only does this flower have a great number of rare cannabinoids we like to see, but it also has a great value, coming in at $0.01 per mg of CBD and just $0.40 per mg of THC. This Sativa CBD flower is a great choice for cannabidiol flower and comes in an air-tight package that may help retain its freshness.
Real Tested CBD Overview
When it comes to purchasing CBD products, there are countless options and consumption methods. Finding a reliable CBD flower can be tricky with the number of options available, but Cascadia Blooms Direct provides reliable and legit CBD flower products for your every need. Ensuring the reliability of these products is the key to getting something safe and effective. When you are shopping for a legit CBD product, always turn to third-party lab test results to ensure potency, purity, and overall quality. For more Real Tested CBD brand spotlights, click here.
Most Recent Tested products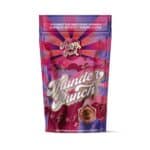 Happy Fruit Hemp HHC Gummies - Thunder Punch
$20.00
Cannacea Tagrid's 100 Full-Spectrum Hemp Oil
$77.50
Cannacea Activated 40 Full-Spectrum Hemp Oil
$38.50
Recent Posts
Blog Categories