The popularity of CBD is no secret, and that spreads far beyond the health and wellness industries alone. Cannabidiol, also known as CBD, is a compound naturally derived in cannabis and hemp plants. It has been found to have a number of antioxidants and strong anti-inflammatory properties. CBD is thought to be beneficial for things like anxiety, stress relief, pain management, and even Epilepsy by working with the body's endocannabinoid system.
There are countless options available online when it comes to CBD products. When shopping for quality CBD products, fact-checking with third-party lab test results is the best way to ensure a legitimate CBD purchase. Real Tested CBD is a leading name in the world of CBD product reviews and independent lab testing.
We provide you with everything you need to know before buying CBD online. From pesticide and solvent tests to rare cannabinoids and THC levels. Turn to Real Tested CBD and our expert scorecard rating scale to get the most reliable product for your individual needs, in just about any form you.
Zion Medicinals uses a unique extraction process that combines an ethanol extraction to pull micronutrients with a spagyric alchemy process to refine leftover plant matter, resulting in a high-potency product unlike many. This CBD company was developed by a doctor of chiropractic medicine and his wife who suffered from Lyme Disease. They developed one of the highest potency CBD oils we've seen, alongside Blue Ribbon Hemp's Max Strength Tincture.
This full-spectrum CBD oil gets a recommendation from our expert staff, with a scorecard of 86 and a spot in the top 25 in our Best CBD Oils Category. This CBD oil's unique extraction process definitely makes it a high-quality CBD oil. We saw some of the rare cannabinoids we like to see including CBC and CBG. There are some traces of THC, so keep that in mind if you are worried about any drug testing. Testing pretty accurate to the label claim, and with its high potency, this is definitely a legitimate high-quality CBD oil that is worth the price.
When it comes to getting a reliable CBD product online, turning to third-party lab test results is the best way to ensure you are actually getting your bang for your buck. When it comes to Zion Medicinals, at least their 1500mg Spagyric Hemp Extract Oil, the quality is definitely there. Always turn to Real Tested CBD for your most reliable and unbiased product reviews. For more Real Tested CBD Brand Spotlights, click here.
Most Recent Tested products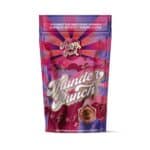 Happy Fruit Hemp HHC Gummies - Thunder Punch
$20.00
Cannacea Tagrid's 100 Full-Spectrum Hemp Oil
$77.50
Cannacea Activated 40 Full-Spectrum Hemp Oil
$38.50
Recent Posts
Blog Categories