[wpsm_stickypanel][contents h2][/wpsm_stickypanel]
Cannabidiol (CBD) can easily be added to your favorite snacks and drinks. If you make a CBD candy, you can enjoy a delicious treat whenever you want. This convenient snack is easy to make yourself. By making your gummies using hemp butter, powder, or oil, you can save money and experiment with different flavors. Once they are made, these gummies can help with crucial functions like your immune response, mood, energy balance, sleep, and metabolism.

When you eat CBD gummies, your digestive system sends the CBD into your bloodstream. From there, the CBD is able to interact with different cannabinoid receptors located within your peripheral nervous system, central nervous system, and immune system. These interactions stimulate your endocannabinoid system and help your body function at its best.

What Is CBD? Is It Legal to Use?
CBD is a cannabinoid that is naturally found in the hemp plant. Unlike other marijuana compounds, CBD does not cause any psychoactive effects. Instead, people typically use CBD to treat things like anxiety, chronic pain, Crohn's disease, and gastrointestinal disorders.

CBD is legal to use at the state level because it is made out of hemp and contains tetrahydrocannabinol (THC) content of less than 0.3 percent. On a federal level, the United States government just passed the 2018 Farm Bill that legalizes non-psychoactive hemp. As long as you are using CBD from hemp plants, it is legal to have and use it.

How to Make CBD Gummies at Home
Some people prefer to make their CBD gummies at home because they want to save money. If you produce a large enough batch, your homemade gummies can be cheaper than the ones you can purchase online. You can also have fun experimenting with different flavors when you make your gummies at home. While the result looks amazing, the actual process of making gummies is surprisingly easy.

Make Hard CBD Gummies
Whether you choose to make hard or soft gummies depends on your personal preferences. You can always experiment with different flavors or styles until you find a recipe that you like. Before you begin, invest in a gummy mold and high-quality CBD. Depending on the recipe, you may need to use a CBD powder or oil as well.

Basic CBD Gummies for Health Issues
This is a basic recipe that makes about 50 clear gummies. Each gummy has about 5 milligrams of CBD in it. If you make smaller or larger gummies, the actual dosage varies.

Ingredients

– 1 cup of white grape juice
– 2 to 4 teaspoons of a CBD tincture
– 2 tablespoons of honey
– 1 tablespoon of lemon juice
– 3 tablespoons of unflavored gelatin

Directions

You also need a gummy mold, cooking spray, sugar for dusting the gummies, and a medicine dropper. To get started, heat the lemon, grape juice, and honey in the saucepan on medium-low heat. Continue stirring it gently.

Once everything is mixed together, add the tincture to the mixture. Then, add the gelatin while whisking it. Meanwhile, spray the gummy molds with cooking spray. After removing the pan from the oven, use the medicine dropper to fill the molds before the mixture hardens. You can freeze the CBD gummies for 5 minutes or refrigerate them for 15 minutes.

Once the mixture is solid, the gummies easily pop out of your molds. Then, you can dust them with sugar. This might make them look attractive and keep them from sticking together. You can store the gummies for up to two weeks in the fridge.

Traditional Gummy Bears
If you want a traditional gummy bear, this recipe is the best option for you. You might need to get silicone molds for making the bears. The fun thing about this recipe is that you can create different flavors based on the juice you use. Have some fun experimenting to see which juice you like the best.

Ingredients

– 1 package of gelatin dessert in any flavor
– 1 ½ cups of fruit juice or coconut water
– 1 tablespoon of your favorite sweetener
– The amount of oil you need for your CBD dose

Directions

You might need a whisk, silicone molds, and a saucepan. Begin by pouring your coconut water or fruit juice into the saucepan. Heat it over medium-low heat. Do not let it boil because higher temperatures can damage the CBD's terpenes. If you want to sweeten the mixture, whisk in your favorite sweetener at this point in the process. Then, add in the gelatin as you whisk the mixture continuously.

Once the gelatin has been fully dissolved, add the CBD. Whisk everything together. Now, you can turn off the oven and pour the mixture into molds. Refrigerate the finished gummies until they have completely set.

Make Soft CBD Gummies
Some people prefer the taste and texture of soft gummies. Other people need soft candy in order to not damage their fillings and dental work. No matter what your reasoning is, these recipes are sure to please. You can also try experimenting with the ingredients until you discover your favorite customization options.

Tart Cherry Gummies for Sleep Problems
This recipe uses CBD and tart cherry to make delicious, easy gummies. The CBD amount is designed to help you sleep, but you can always modify the dosage for other health conditions as well. By making these gummies at home, you can ensure the best quality of ingredients. The actual recipe is extremely easy to make as long as you have the right ingredients on hand.

The best part of this recipe is the taste. Tart cherry juice is a supplement as well as a flavor. Known for their powerful anti-inflammatory properties, tart cherries can also help people enjoy a better quality of sleep at night.

Your ingredients determine whether this recipe is a success or a failure. Make sure to buy your CBD oil from a trusted source. To make sure your gummies have the same dosage as the recipe, you need an oil that contains 100 milligrams of CBD for every milliliter serving. If you are uncertain about where to go for high-quality oil, Tweedle Farms has a full-spectrum oil and a hemp oil tincture that can work great with this recipe.

Ingredients

– CBD oil
– Gelatin
– Tart cherry juice concentrate
– Raw honey or your favorite sweetener

Directions

Find a mold for shaping your gummies. To begin the process, heat the tart cherry juice in a saucepan until it reaches a light simmer. Now, whisk the honey and gelatin into the heated mixture. Stir for a minute until all of the ingredients are completely combined.

Turn off the heat on your oven. Now, add 2 milliliters of the oil to the saucepan. Whisk everything again before pouring the mixture into your candy mold. To avoid spilling the mixture, use a small pitcher for pouring it. Then, place the mold on a baking sheet before putting it into the refrigerator. Let the gummies set for 30 to 60 minutes before removing them. These finished gummies can be stored for up to 10 days in the fridge.

Orange-Flavored Gummies for Pain, Athletic Performance and More
These CBD gummies are made with orange juice. If you rather use a different flavor, you just have to switch out the juice. Then, you can use these delicious gummies for medical problems, chronic pain, digestive issues, and athletic performance.

Ingredients

– CBD isolate
– 1 cup of orange juice
– 3 tablespoons of gelatin
– 2 tablespoons of honey
– 1 tablespoon of lemon juice

Directions

Mix the orange juice, honey, and lemon juice in a small saucepan over medium-low heat. Whisk everything slowly so that the mixture does not clump together. Slowly add in the gelatin. Once the gelatin is completely melted, add the CBD isolate. Stir until everything is combined.

Turn off the heat. Get out your silicone mold and put it on top of a cookie sheet. Now, pour the mixture into the silicone mold. Afterward, place the mold and the cookie sheet into the freezer for about 20 to 30 minutes. When the time is up, you can pop the CBD gummies out of the molds and put them into an airtight container. They can be stored for two to three weeks in your refrigerator.
Most Recent Tested products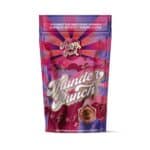 Happy Fruit Hemp HHC Gummies - Thunder Punch
$20.00
Cannacea Tagrid's 100 Full-Spectrum Hemp Oil
$77.50
Cannacea Activated 40 Full-Spectrum Hemp Oil
$38.50
Recent Posts
Blog Categories