There are so many sources for cannabinoid-based products these days, who knows where to start anymore. Delta 8 is one of the more recent cannabinoids to hit the shelves in abundance, and with all the options available it's key to find reliable sources that deliver on their label claims.
Finding a good source of delta 8 can be simple if you know where to look, and that is at third party lab test results. By checking independent laboratory test results you can make sure your delta 8 product is exactly what you want it to be. So how do you find these reliable sources for delta 8 THC? Let's find out.
Types of Delta 8 Products
The first question you have to ask yourself is what kind of delta 8 product you want. There are delta 8 edibles and oils, vape cartridges and flower strains or pre-rolls and more. Each can have a different affect, so finding the best one for your needs is key to an enjoyable experience.
Delta 8 Vape Cartridges – Using a delta 8 vape is an easy way to get a dose of delta 8 quickly. Inhalable methods of consumption are typically fast acting. They can have varying potencies so pay attention to what levels of cannabinoids are present in your product of choice.
Delta 8 Pre-Rolls – Another form of delta 8 that is inhalable is a pre-roll. These are made with strains of delta 8 rich hemp that is packed with specific doses for easy consuming. Delta 8 pre-rolls are typically also fast acting.
Delta 8 Edibles – One more popular form of delta 8 is an edible. Gummies are one of the most commonly found, and they are a tasty option too! Delta 8 edibles and gummies are consumed orally and reportedly can take longer to kick in.
Delta 8 Oils – Delta 8 oils and tinctures are another choice of consumption. Oils are great for sublingual consumption which means "under the tongue," and is another fast-acting form of consumption. Delta 8 oils can be absorbed easily into the bloodstream through membranes in the mouth, so they are a good choice for quick and reliable delivery.
Third Party Lab Testing for the Win
Now that we know a bit more about some of the popular delta 8 products on the market today, we have to look at what distinguishes the best from the rest.
All delta 8 products should come with a clearly stated label that lists all ingredients and levels of cannabinoids present. This is the only way to know how much delta 8 is in your product as well as if there is any delta 9 or other cannabinoids. Manufacturers of delta 8 products should disclose accurate test results for their products, but the best way to be sure is to cross check with independent lab tests.
Third party lab testing is the best way to know if you are buying from a transparent manufacturer and if your product is exactly what you want it to be. Transparency is key within the cannabinoid industry to protect the consumer, so finding a good source for third party lab tests and independent reviews is key.
Real Tested CBD makes it simple to find a trustworthy source of delta 8 or any other cannabinoid. By providing consumers with a central location on information and third party lab tests, Real Tested CBD is bringing transparency in the cannabinoid industry directly to the consumer.
Turn To RTC's Delta 8 Resource Center
If you are looking to try delta 8, turn to Real Tested CBD for the most reliable test results and unbiased product reviews. With a full Delta 8 Resource Center and state by state guide to purchasing delta 8, everything you need to know about the best delta 8 products i
Most Recent Tested products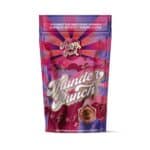 Happy Fruit Hemp HHC Gummies - Thunder Punch
$20.00
Cannacea Tagrid's 100 Full-Spectrum Hemp Oil
$77.50
Cannacea Activated 40 Full-Spectrum Hemp Oil
$38.50
Recent Posts
Blog Categories