Where to Buy Delta-8 THC in Stamford, CT
While marijuana is still federally illegal, Delta 8 has become one of the fastest growing hemp derived products nationwide. Even as cannabis laws become less restricted across many states, many other cannabinoids like Delta 8 have steadily gained popularity in recent years. At Real Tested CBD, we aim to help educate residents of Connecticut and help them find quality Delta 8 and CBD products near them. It is important to remember that while legal on the federal level, several states have placed bans on Delta 8 so be sure to follow both our City and State guides for up to date information.
Since the passage of the United States Farm bill in 2018, Delta 8 has been one of the most popular of the minor cannabinoids that were removed from the Schedule 1 controlled substance list, where marijuana still resides. This is due largely in part because of the similar psychoactive effects as cannabis, albeit to a lesser degree.
Delta-8 Locations in Stamford, Connecticut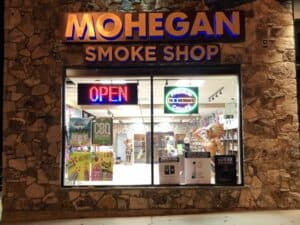 Mohegan Smoke Shop
900 High Ridge Rd, Stamford, CT 06905
Do you wish to see the map?
There are many benefits Connecticut residents can reap from using Delta 8 including: pain relief, anxiety relief, and may even help those with appetite related issues. While Delta 8 is less potent than cannabis, you can still experience the usual euphoric feeling, albeit at a lower level. In fact, many have compared Delta 8 more to CBD than traditional cannabis but with a stronger effect. Users also have ample options with Delta 8 available in a range of product types including edibles, oils, and even joints and other smokable products.
With ample options of Delta 8 brands and products available nationwide, Real Tested CBD is here to help you make the right decision and avoid low quality products. You can find up to date information on Delta 8's legal status in Connecticut on the state resource pages, and any information on the purity of some of the top brands with our product test pages. Additionally, you can use our store locator to find a retailer with quality products near you.
Frequently Asked Questions About Delta-8 in Connecticut
Is Delta-8 CBD Oil Legal in Connecticut?
In Connecticut, you can purchase hemp-derived products that have CBD, Delta-9 THC, and other cannabinoids online, but not Delta-8. This is due to Senate Bill 1201, An Act Concerning Responsible and Equitable Preservation of Adult Use Cannabis, which ensured that these products may only be sold by licensed cannabis retailers. However, license applications are not yet available, making Delta-8 illegal in Connecticut as of July 2021.
Is CBD Oil Legal in Connecticut?
Since 2015 CBD products have been available for purchase in the state of Connecticut. In Connecticut, CBD products of all kinds have also been available for purchase since 2015. You can find CBD for sale at a wide variety of locations across the state.
Where Can I Buy Delta-8 CBD In Connecticut?
In Connecticut, you can purchase hemp-derived products that have CBD, Delta-9 THC, and other cannabinoids online, but not Delta-8. Thankfully, Connecticut is a hemp-friendly state with licensed dispensaries and CBD shops that sell Delta-8 products. So, you can buy them at a licensed shop or order them online.
Recent Delta-8 Posts
Delta-8 Products
Delta-8 Info for Connecticut