Shopping for CBD can be done just about anywhere these days. Whether it's a dispensary, health foods store or an online retailer, cannabinoids are everywhere. But does that mean all the products available are of equal high-quality? Unfortunately, the answer is no.
Finding a high-quality CBD product that is safe, affordable and reliable can be made easy when you turn to Real Tested CBD. We conduct independent lab tests to fact check label claims, purity, potency and overall quality, taking the guess work out of your cannabinoid purchase.
Based on our tests and expert reviews, we have brands that stick out from the rest. When it comes to anything inhaled, the care and quality of a product can be even more important. Today we bring you a featured brand that is easily one of our favorites, not only for the quality and care put into every one of their products, but also the charity and sustainability efforts the company makes in partnership with Trees.org. If you are in the market for a high-quality CBD brand that delivers on everything, we highly recommend Tree-Rolls; and here is why:
"At Tree-Rolls®, all of our hemp flower is sustainably grown in the U.S.A. by boutique farmers who take pride in their crop and care deeply for the surrounding environment. Each one of our products is crafted using pure hemp flowers that are grown organically without any additives or harmful fertilizers, ensuring a smooth smoke with delicious flavors and aromas. Every harvest is slow-cured (never heated with driers) to ensure the plant's precious trichomes are preserved and in-tact. Packed with a full-spectrum of beneficial terpenes and cannabinoids, Tree-Rolls® products are designed to meet the demands of the most selective connoisseurs." – Tree-Rolls®
Tree-Rolls – Real Tested CBD Top Picks
Tree-Rolls is a California based CBD and hemp company that has really embraced all things natural. From their organic hemp growing practices to their commitment to customers, the environment and sustainability, Tree-Rolls has established a new high standard in CBD flower. With the goal of providing premium products to enhance the experiences, lifestyles and moods of people in all walks of life, Tree-Rolls products are top-notch; and they do more than make you feel good.
"Our mindset is that if every company did their part to chip in and help the community, the world would be a far better place," says Scott Bryant, CEO and co-founder of Tree-Rolls. "Hemp represents progress and change, both socially and environmentally – and we wanted Tree-Rolls to share that common theme."
One of our favorite things about Tree-Rolls is their work and partnership with Trees for the Future, or Trees.org, to plant one tree for every product sold. Tree-Rolls and Trees.org have planted over 50,000 trees together, and there are no plans for slowing down. Trees for the Future has developed a solution to feed the planet's population without destroying the earth, called the Forest Garden Approach. It returns trees to the landscape and rebuilds the value and potential of the land. It transforms ravaged, desert-like fields into self-sustaining, productive farms. Permanently.
Tree-Rolls practices their own sustainability through their farming and hemp cultivation, turning to US-based boutique farmers who grow organically without additives or harmful fertilizers. Tree-Rolls takes pride in giving back to the community and the environment and invites you to join the initiative with their #PUFFPUFFPLANTpartnership with Trees.org.
"First it starts with the land – using regenerative, living soil made from decomposing fruits, vegetables, and other plant material;" says Bryant. "This makes for happy plants. Our farms also use cover crops to create an agroecosystem which helps with biodiversity, soil quality, fertility, increasing organic matter, and so much more."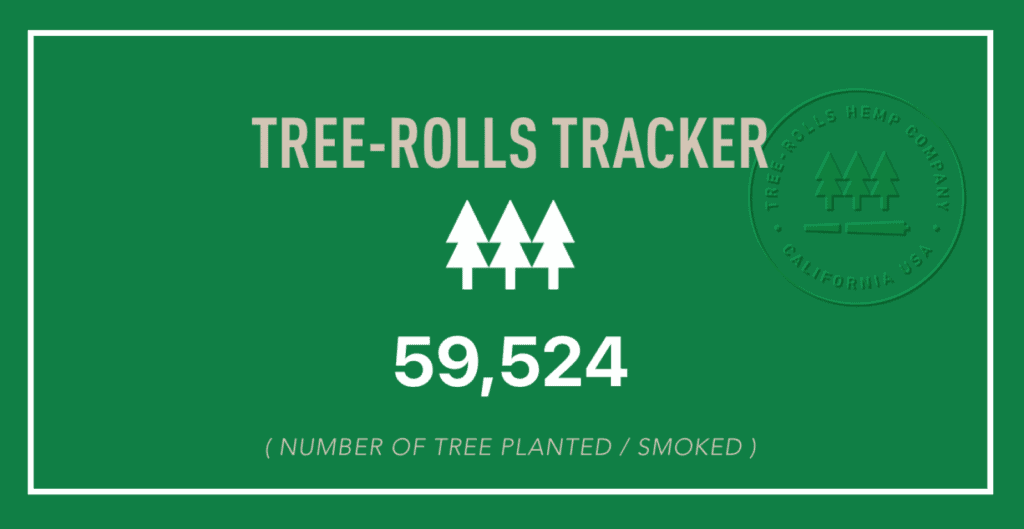 Ready To Try Tree-Rolls?
We had the pleasure of testing one of Tree-Rolls CBD Pre-Roll Palm joints. This pre-roll received a highly recommended review from our experts and ranks third in our Best CBD Joints category. Testing spot-on to the label claims for cannabinoid content, this pre-roll is exactly what it claims to be, and we believe Tree-Rolls careful process is to praise for it. (See our lab results below).
"During harvesting, our crops are completely managed by hand. When harvesting is complete, the hemp stalks are then mulched and introduced back into the soil. During post-harvest, all of our hemp flower is dried and slow cured using only air-drying methods to maximize quality, trichome preservation, flavor and aroma," explains Bryant. "We never use machinery to introduce heat or dry the product."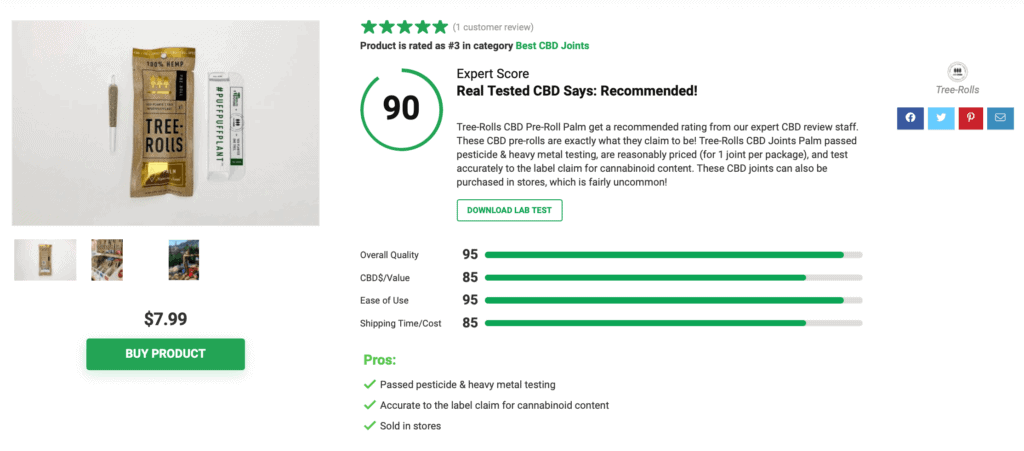 This pre-roll is conveniently sold in a one-count package and is very reasonably priced, costing just around $0.12 per milligram of CBD. Another perk, this pre-roll can be found in-store which is fairly rare! Containing 63mg of CBD and just 2mg of legal delta-9 THC (right in line with the 0.3% threshold), this is a great choice for anyone who is looking to avoid THC but reap the benefits of full-spectrum CBD with rare cannabinoids and terpenes. With passes on all heavy metal and pesticide testing, this pre-roll is a safe and reliable choice for a CBD smokable. Tree-Rolls offers a variety of flavors of this pre-roll, check them out here.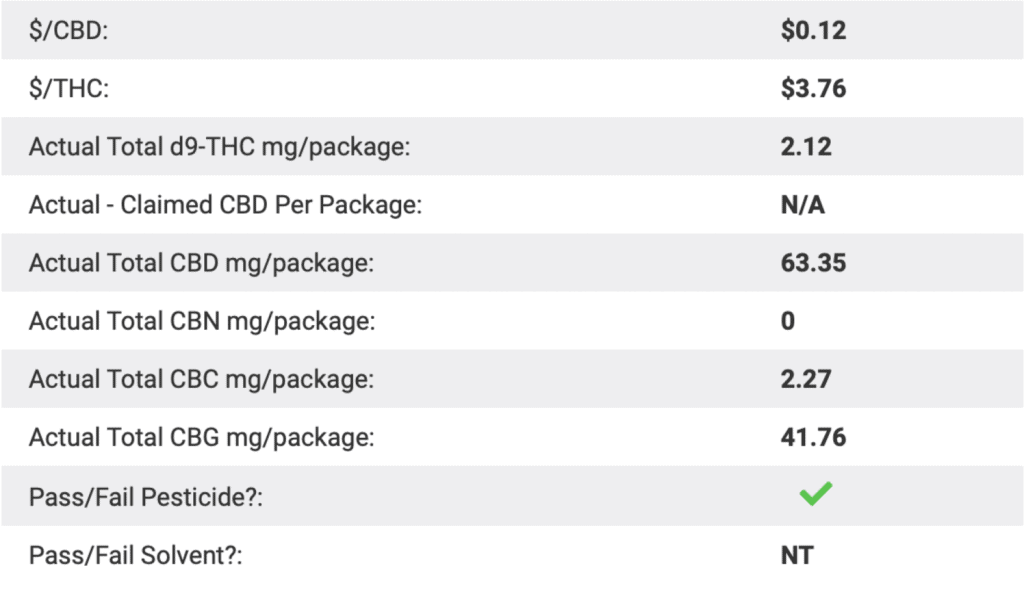 Real Tested CBD Says: Turn To Tree-Rolls
If you are looking for a top-notch CBD pre-roll to try, we recommend turning to Tree-Rolls for all your hemp flower needs. Based on their accurate label claims, transparency on third-party lab test results, passes on heavy metal and pesticide tests, and sustainability practices, Tree-Rolls is one of the highest quality CBD companies we have had the pleasure of testing.
"We created Tree-Rolls Hemp Company to help bring positive change to the market and allow people to purchase hemp and CBD products with confidence," says Bryant. "Our lab testing is done on every single batch by a DEA certified lab (New Bloom Labs), with a scannable QR code included on each pack. We test the flower as it's coming in, and in the final product before it goes out."
Tree-Rolls practices the transparency we look for in every CBD or cannabinoid-based product company. Click here to see more from Tree-Rolls and check here to learn more from Real Tested CBD's Product Guides. 
Most Recent Tested products
Casper's Oil Original 400 Pets
$39.99
Casper's Oil Original 400 People
$39.99
Casper's Oil Original 1000 Pets
$79.99
Recent Posts
Blog Categories