Plain Jane Delta 8 Vape Cartridge Pineapple Express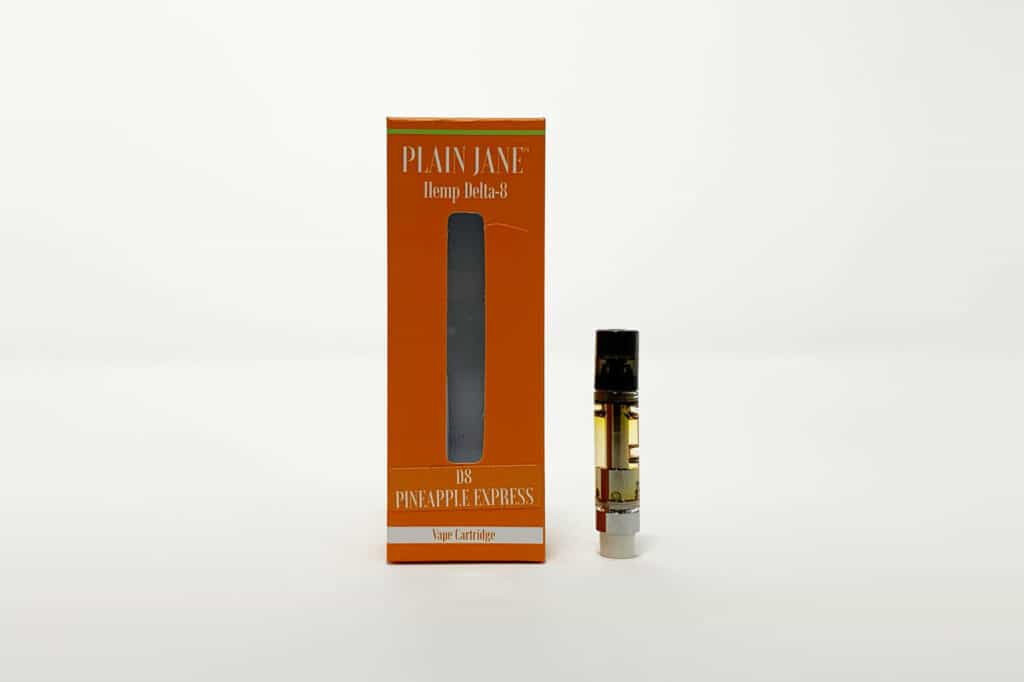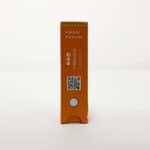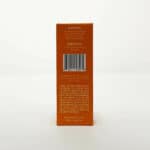 $29.99
Add your review
Expert Score
Real Tested CBD Says: Discontinued
Plain Jane Delta 8 Vape Cartridge gets a recommended rating from our expert CBD review staff. This d8 cart from Plain Jane passed residual solvent & pesticide testing, is packed with d8-THC, and does contain some d9-THC. It is also extremely inexpensive (just $0.03 per mg of d8-THC).
DOWNLOAD LAB TEST

'
| | |
| --- | --- |
| $/CBD: | N/A |
| $/THC: | $0.03 |
| Actual Total d9-THC mg/package: | 929.84 |
| Actual - Claimed CBD Per Package: | N/A |
| Actual Total CBD mg/package: | 0 |
| Actual Total CBN mg/package: | 0 |
| Actual Total CBC mg/package: | 0 |
| Actual Total CBG mg/package: | 0 |
| Pass/Fail Pesticide?: | |
| Pass/Fail Solvent?: | |

From Plain Jane:
Perhaps one of the more unique features of delta-8 THC is the effects it produces. Now, it's often nicknamed the 'the less potent version of delta-9 THC', but don't let this put you off! Our Delta 8 THC vape cartridge is potent containing 83% hemp-derived delta-8 THC oil and 1-2% strain-specific terpenes. Delta 8 THC typically produces a near-instant cerebral buzz leaving its user feeling calm and meditative. Since it's not as potent, users are less likely to experience the negative side-effects often associated with traditional THC. Each 1ml delta 8 THC vape cartridge contain approximately:
1 Gram Cartridge
830 MG Delta 8 THC oil (83%+ Δ8THC)
20mg Cannabis-Derived Terpenes
This is a very concentrated vape product. It may be harsh on the throat to those who are not accustomed to concentrated cannabinoid products.
Delta 8 THC Vape Cartridge Product Description
Description: Breath and button-activation compatible 510 cartridge 1000mg total material
Serving Size: One puff
Servings per Vape Cartridge: varies depending on the size of puffs
Coil: Ceramic
Tank: Glass *verify with CBD universe
Ingredients: Broad Spectrum Δ8THC oil and strain-specific terpenes
Delta 8 THC Vape Cartridge Extract Description
Type: Broad-spectrum Delta 8 THC oil with natural terpenes
Amount of Extract: 1000 mg
Delta 8 THC Content: Testing at 83% Delta 8 THC
Extraction Material: Hemp
Delta 9 THC Content: None detected
Directions
Smoking your Plain Jane D8 vape cartridge is easy! As all you'll need is any 510 thread battery, also sold separately on our website. To smoke Plain Jane delta-8 cartridges, simply connect the 510 thread battery to the vape cartridge. Once connected to the cartridge, activate the battery! To enjoy your vape simply hold down the battery's button, and inhale softly with your lips around the mouthpiece. Remember! If your Plain Jane 510 thread battery comes with a USB charger; please make sure you charge the battery before using your vape cartridge. Do not unscrew the mouthpiece. Keep at room temperature and upright to prevent leaking.
DO NOT DRIVE OR OPERATE ANY MACHINERY WHILE USING THIS PRODUCT
Consult a physician before using this product.
Do not use it if pregnant, nursing, or if you have any diagnosed or undiagnosed health conditions. Must be 21 years or older to purchase or use. Must be legal in your state or territory to purchase or use.