3Chi Delta 8 THC Gummies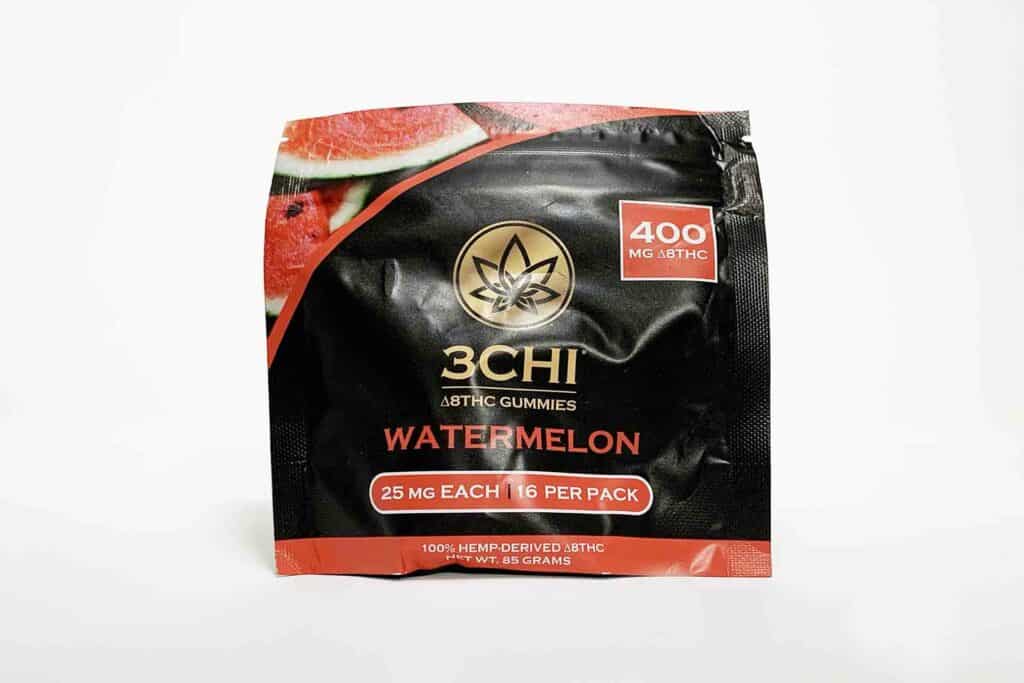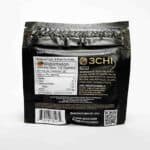 $19.99
Add your review
Expert Score
Real Tested CBD Says: Recommended
3Chi Delta 8 THC Watermelon Flavored Gummies get a recommended rating from our expert CBD review staff. These d8 gummies test accurately to the label claim, contain plenty of d8-THC, and have kept the d9-THC content fairly low (just 33mg). These d8 gummies from 3Chi also passed residual solvent & pesticide testing.
DOWNLOAD LAB TEST
'
| | |
| --- | --- |
| $/CBD: | N/A |
| $/THC: | $0.04 |
| $/d8-THC: | 0.05 |
| Actual Total d8-THC mg/package: | 367.54 |
| Actual Total d9-THC mg/package: | 33.62 |
| Actual Total d10-THC mg/package: | 0 |
| Actual - Claimed CBD Per Package: | N/A |
| Actual Total CBD mg/package: | 0 |
| Actual Total CBN mg/package: | 0 |
| Actual Total CBC mg/package: | 0 |
| Actual Total CBG mg/package: | 0 |
| Pass/Fail Pesticide?: | |
| Pass/Fail Solvent?: | |
BUY PRODUCT
From 3Chi:
About Our Delta 8 Gummies
Gummies are especially well-liked in the delta 8 community. What makes these squishy sweet treats so appealing?
Delta 8 gummies are a form of candy edibles, meaning the THC is absorbed in the stomach after being eaten. All 3Chi gummies are also vegan and fully gluten-free, made from a natural fiber base known as pectin.
Edibles usually take between 60-90 minutes to begin working. However, once the sensations set in, they often are said to last up to six hours — far longer than any other type of product.
The main appeal of gummies lies in the duration and intensity of the effects. They also taste amazing. 3Chi delta 8 gummies come in two flavors, black raspberry and watermelon, both of which are mouthwateringly fruity and delicious.
The two options come in packs of 8 and 16 for convenient access and can be stored for weeks on end. For best results, it is recommended you store your gummies in a fridge or other cool and dark place.
Dosing A Gummy
Most 3Chi delta 8 gummies contain 25mg of delta 8 THC. For new and first-time users, it is typically recommended to begin with half a gummy to start. Remember, it is always possible to take more later. The last thing you want is to be feeling overwhelmed during what should be an extremely pleasant experience, and for that reason, it is important to carefully measure out your dose prior to consumption.
To start, take half a gummy or less and wait an hour to see how your body reacts. Based on your feelings at this time, you should have no problem upping your dose as needed.
Finding the Right D8 THC Products
When exploring your delta 8 edible options, you want to make sure you are buying from the right sources. And there is no better place to find all kinds of edibles than at 3Chi. Not only is 3Chi the most popular delta 8 store in the entire country, but it was the first to offer delta 8 at the federal level.
Alongside delta 8 gummies, 3Chi offers brownies, cookies, and cereal treats to ensure there is a product for every person.
The First Delta 8 Gummies
We started producing and selling delta 8 gummies long before it was cool. Our Delta 8 gummies feature 25mg of Delta 8 THC in each gummy for maximum effects. They deliver a powerful head and body sensation that will have you feeling amazing.
Our Delta 8 THC gummies taste like normal gummies, with zero hemp taste. They are flat-out delicious and deliver a bright pop of flavor with each bite.
Serving Size: typically 1/2 a gummy or 1 gummy, depending on your prior THC usage.
Refrigeration is recommended after opening. Do not store above room temperature or in a humid environment.
THESE BAGS ARE CHILDPROOF AND REQUIRE REACHING IN AND HOLDING THE INTERIOR SIDE FLAP WITH YOUR THUMB SO THAT IT IS PINNED TO THE OPPOSITE SIDE OF THE BAG WHILE PULLING THE OTHER SIDE OF THE BAG IN THE OPPOSITE DIRECTION (AS YOU WOULD NORMALLY THINK TO OPEN THE BAG)
Delta 8 THC Gummies Product Description
Total D8 THC Content: 200mg or 400mg
D8 THC Content Per Gummy: 25mg
Gummies per Pack: 8 or 16
Container: Resealable mylar bags
Ingredients: Glucose Syrup, Sugar, Distilled Water, Pectin, Natural and Artificial Flavors, Natural and Artificial Colors, Citric Acid, Hemp Oil, Sodium Citrate
Extraction Material: Hemp
∆9THC Content: None detected
THC Precautions
USE RESPONSIBLY. DO NOT DRIVE OR OPERATE ANY MACHINERY WHILE USING THIS PRODUCT. DO NOT TAKE MORE THAN THE AMOUNT RECOMMENDED BY YOUR DOCTOR.
Consult a physician before using this product. 
Do not use if pregnant, nursing, or if you have any diagnosed or undiagnosed health conditions.
Must be 21 years or older to purchase or use.
These Delta 8 gummies may affect blood pressure, heart rate, and/or intraocular pressure in some people. If you have any known or unknown heart, blood pressure, eye, eye pressure, or similar/related issues, do not use this product unless recommended by a doctor.