CBD has taken the health and wellness words by storm. It can be found in a variety of forms from oils and tinctures to edibles and inhalables. With all the different products on the market these days it can be easy to find your preferred method of use and form of CBD. Even so, there are a ton of unique ways to utilize CBD.
From cooking or crafting a cocktail to spicing up your skincare routine, let's take a closer look at some different ways to use CBD in your day to day. Here are three unique ways to use CBD:
What Is CBD?
First, let's do a quick breakdown of what CBD is. CBD, also known as cannabidiol, is one of over 100 naturally occurring compounds found in cannabis and hemp plants called cannabinoids. Cannabidiol is a major cannabinoid, meaning plants are rich with it.
CBD can be extracted and turned into different products for use. Many people turn to CBD for its potentially therapeutic properties that range from stress relief to pain management, sleep aid and more. These benefits are thought to exist due to CBD's interaction with the human body's endocannabinoid system. The ECS is a bodily system responsible for a range of vital functions like motor control, sleep cycles, emotional response, appetite, pain signaling, inflammatory response and more.
It's no question why CBD has become so popular. Maybe you have already tried CBD and are a fan of its many potential benefits. If so, maybe you are looking for new and interesting ways to incorporate CBD into your routine. Below are just a few news ways to get your CBD dose with a little extra flare.
Spice Up Any Recipe by Cooking with CBD:
One great way to up the ante on your CBD use is by cooking with it. A CBD oil is an ideal way to add CBD to just about any recipe easily, but there are a few things to keep in mind when cooking with CBD.
Make sure to always be aware of heat. CBD can lose potency when it is heated too much, so if you are baking or making something that requires heat, consider adding CBD oil after the majority of the heating is done.
CBD is fat-soluble. This means that it is often better absorbed when taken with food. This is great for cooking with CBD; it's like a two in one. But be mindful of using healthy fats in your foods like avocado oil or coconut oil to help CBD absorb well into the body as it is digested.
If you are interested in cooking with CBD, a great place to start is with something like a salad dressing. Many dressings are oil based and don't require heating which means CBD will be a perfect and simple addition.
Toast to Drinks with CBD:
CBD drinks are becoming more popular on their own, but you could take it a step further with a CBD cocktail or mocktail. Although there is little research regarding CBD and alcohol, there is one study that indicated significantly lower blood alcohol levels in participants who consumed CBD and alcohol compared to alcohol alone. So, maybe combining CBD with your favorite cocktail recipe will not only make for a relaxing nightcap, but it could bode better for the morning after too.
Using a CBD oil is a great way to easily spice up any cocktail recipe. You can be sure you are adding the right amount with an exact dropper. Still, it's always best to be careful when combining any substances, so use your discretion when making a cocktail that has CBD in it. If you are curious about trying a CBD drink sans alcohol, there are options out there that are tasty, pre-made and ready to drink
Beautify Your Skincare Routine with CBD:
There are a variety of CBD topical products available today, but the vast majority are made for pain. More and more though, there is a new trend in skincare using CBD. Because of this, an influx of beauty related CBD products have started to see a rise in popularity.
Using CBD in your skincare routine is still fairly new to the mainstream market but applying CBD topically may even be able to help with conditions like acne or psoriasis. CBD is also thought to have antioxidant properties which could be beneficial for the appearance of aging.
Adding CBD to your skincare routine can be simple with a CBD beauty product, or with a high-quality CBD oil that can be applied to the skin. Just like with any cannabinoid-based product, it is always a good idea to refer to third-party lab test results to make sure you are getting a reliable high-quality product. Whether you are looking for a CBD oil, a CBD edible or a CBD beauty product, turn to Real Tested CBD for the best independent lab tests and transparent product reviews.
Most Recent Tested products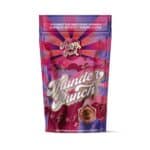 Happy Fruit Hemp HHC Gummies - Thunder Punch
$20.00
Cannacea Tagrid's 100 Full-Spectrum Hemp Oil
$77.50
Cannacea Activated 40 Full-Spectrum Hemp Oil
$38.50
Recent Posts
Blog Categories