CBD seems like it would be a "savior supplement" for many pregnancy-related symptoms. For instance, people are hopeful CBD's supposed anti-nausea properties could help reduce morning sickness. There are also reports of people using CBD oil for appetite regulation, achy joints, and migraines — all of which should benefit pregnant women.
However, health officials have raised significant concerns over using CBD products while pregnant. Despite all of CBD's potential benefits, pregnant women shouldn't use this supplement until doctors are confident it won't have adverse side effects.
So, Is Hemp Extract Harmful For Pregnant Women?
It's too early to definitively say how CBD oil affects pregnant women and their children. However, a recent animal study by the University of Minnesota didn't show promising results. For this trial, scientists examined CBD's effect on pregnant rats and their babies. According to these results, the offspring of rats exposed to CBD had a greater chance of developmental disorders.
Specifically, scientists said rats born to mothers who took CBD oil had genetic markers often associated with autism and substance abuse disorder. Researchers also noted CBD appears to alter the structure of young rats' brains.
Again, it's unclear how these findings correlate with human development, but they strongly suggest CBD significantly impacts fetal development. Until scientists better understand the risks of using CBD oil during pregnancy, doctors strongly advise against using this supplement.
Pregnant mothers should also remember there's no federal regulation in the US hemp industry. The FDA has yet to institute a national screening standard for CBD products. There are also plenty of tests that reveal "CBD oils" have significant traces of heavy metals, pesticides, and solvents, all of which have a negative impact on health. Plus, full-spectrum CBD oils could have ≤ 0.3 percent delta-9 THC, and most scientists agree THC is harmful to a baby's development.
Pregnant women shouldn't use hemp extracts until researchers have a clearer sense of how to use pure CBD oil during pregnancy.
When Is It Safe For Pregnant Women To Use CBD Oil?
As mentioned above, there's no "safe" CBD product for pregnant women. If the findings from the University of Minnesota study are true for humans, then CBD could have deleterious effects on a developing brain. At this point, it's only "safe" for healthy adults who aren't pregnant or breastfeeding to start experimenting with CBD.
Even if you aren't pregnant or breastfeeding, please remember many CBD products have sub-par screening standards. You should always review the lab-tested CBD oils on sites like Real Tested CBD before making a purchase. Real Tested CBD publishes dozens of high-quality, unbiased reviews on products from the hottest CBD brands. You can learn about our rigorous CBD screening standards on this link.
Always Listen To Your Doctor…Not Dr. Google!
CBD businesses will try their best to sell hemp extract to as many customers as possible. However, hemp retailers should never market their items to women who are pregnant or breastfeeding. As fantastic as CBD is for most healthy adults, there's alarming evidence CBD can alter a baby's brain chemistry. Also, since many CBD supplements have THC residue, these oils could do a lot of damage to an infant.
If pregnant patients are experiencing negative symptoms, they should contact a trusted doctor ASAP. Please never rely on online hemp forums or ads to make consequential health decisions. Only a registered doctor will know how to help you manage your symptoms.
Most Recent Tested products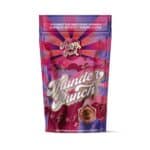 Happy Fruit Hemp HHC Gummies - Thunder Punch
$20.00
Cannacea Tagrid's 100 Full-Spectrum Hemp Oil
$77.50
Cannacea Activated 40 Full-Spectrum Hemp Oil
$38.50
Recent Posts
Blog Categories