Everyone loves a good soothing cup of tea. One way to make your cup of tea even more soothing: add some CBD!
The word "tea" can be used for any drink that is brewed from herbs and other botanical species. No matter your preference, whether it's a cup of classic mint or a relaxing blend of chamomile, adding a little CBD to the mix can be easy. Read on for two simple ways to make CBD tea at home.
What Is CBD Tea?
First, let's go over what CBD is. Cannabidiol, or CBD, is one of many compounds that can be naturally found in hemp and cannabis plants. These natural compounds are called cannabinoids, and they are thought to influence the mind and body in different ways.
CBD is the sometimes lesser-known cousin of THC, and though both are cannabinoids they have different effects. THC is most often known for its intoxicating effects, or the "high" it can create. CBD on the other hand does not create intoxicating effects but could have a range of potentially therapeutic properties.
Many people turn to CBD as a natural alternative for stress relief, pain management, sleep aid and more. Combining CBD with another well-known relaxation elixir like tea could be a great way to get even more out of both.
CBD tea is essentially the combination of CBD with any brewed tea. Let's take a look at how you can make CBD tea at home, two ways.
CBD Tea: Two Ways
CBD Tea with Flower
Making CBD tea with flower is a great way to really adopt the DIY way of things. Making CBD tea at home with flower can be as simple as adding some ground CBD flower to a tea infuser, much like you would with any other tea. Keep in mind you will have to use a pretty significant amount of flower to brew a strong tea. Making CBD tea with flower is the perfect way to combine your favorite flavors with CBD. Simply add your favorite loose-leaf tea and ground CBD flower to a tea infuser and hot water, steep and enjoy!
CBD Tea with Oil
Using a CBD oil to make CBD tea may be even easier than making CBD flower tea at home. Make your favorite blend of tea, hot or cold, and simply add a dropperful of CBD oil to the mix. Stir well to combine, and keep in mind that separation is natural with a CBD oil.
Where to Buy Reliable CBD
Whether you choose to make CBD tea at home with a CBD oil or a CBD-rich flower strain, finding a good source is the first step to a cup of success. All high-quality CBD products should come with a certificate of analysis where you can check the levels of cannabinoids present in your product. Relying on a COA is a great start but cross-referencing it with independent lab test results is the best way to ensure your product is exactly what you are expecting.
Making a CBD tea at home will only be effective if you first have a great CBD product to work with. If you are looking for flower or oil, Real Tested CBD has the most reliable and transparent independent lab test and brand reviews. Make you CBD tea with the best on the market by turning to Real Tested CBD to make a reliable and informed CBD purchase.
Most Recent Tested products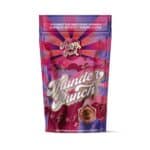 Happy Fruit Hemp HHC Gummies - Thunder Punch
$20.00
Cannacea Tagrid's 100 Full-Spectrum Hemp Oil
$77.50
Cannacea Activated 40 Full-Spectrum Hemp Oil
$38.50
Recent Posts
Blog Categories