[wpsm_stickypanel][contents h2][/wpsm_stickypanel]
If you buy CBD gummies online or from a store, you end up spending a decent amount of money. For example, PlusCBD Oil gummies cost about $0.19 to $0.24 per milligram of CBD. Each gummy has 5 milligrams, so this works out to a cost of $0.95 to $1.20 per gummy. At cbdMD, 300 gummies cost $29.99. Each of these gummies has 10 milligrams of CBD, so this works out to a penny per milligram. This means you spend $0.09 for each gummy.

The cost of making gummies at home depends on which recipe you use. With the basic recipe for hard gummies, you make 50 gummies that have 5 milligrams of CBD each. To purchase all of your ingredients, you might spend the following amount for each item.

White grape juice: $2.08
CBD tincture: $29.99 for 300 milligrams
Honey: $5
Lemon juice: $1
Unflavored gelatin: $2.27
Altogether, this adds up to $40.35. This works out to $0.80 per gummy or $0.16 per milligram. If you exclude the tincture, you have enough of the other ingredients left for three additional batches. This ends up reducing the overall cost, so making gummies at home can be cheaper than most of the gummies you can find in online shops. Since the oil or tincture is the most expensive ingredient, you can produce extremely cheap gummies at home if you buy these products in bulk.

A High-Quality Butter Works for Baked Goods
If you want to change things up, you can also incorporate CBD butter into your favorite baked goods. Start by testing the butter out on recipes you are familiar with. Brownies and oatmeal cookies are fun options to start with. The nice thing about using a high-quality oil like Tweedle Farms oil is that you can make so many different things with it. Once you have your oil, you can create a simple butter using the following recipe.

CBD Butter Ingredients
– 2 cups of butter
– 1 cup of water
– 20 milliliters of CBD oil

Directions

Chop the butter into small pieces. Then, add all three ingredients into a small pot. Heat everything over low heat for two hours. You need to use low heat to prevent the cannabinoids from cooking out. After the two hours are up, allow the mixture to cool. After stirring the mixture, you can refrigerate it as you do for normal butter.

Have Fun With Edibles
You can make so many edible products at home as long as you have a CBD powder or oil to work with. While gummies, candies, and baked goods are expensive to buy from a store, they are incredibly cheap to make yourself. By making CBD candy at home, you can choose your favorite flavors, have fun, and save money. Since the cost drops when you produce these gummies in bulk, buy your ingredients in large quantities and store them at home. You can also reduce the cost of shopping during different sales.

If you love crafting or baking, CBD gummies are a fun activity. You can use different molds to make themed gummies in different shapes. Once you create the perfect recipe, you can always make extra for your friends and family.
Most Recent Tested products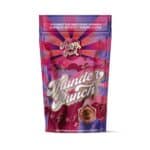 Happy Fruit Hemp HHC Gummies - Thunder Punch
$20.00
Cannacea Tagrid's 100 Full-Spectrum Hemp Oil
$77.50
Cannacea Activated 40 Full-Spectrum Hemp Oil
$38.50
Recent Posts
Blog Categories