If you have trouble falling asleep or sleeping through the night you know how much of an impact it can have on your whole life. Getting a good night's sleep is key to many aspects of life, and CBD may be able to help.
What Is CBD? 
CBD, also called cannabidiol, is one of many natural compounds in hemp and cannabis plants. THC is another well-known cannabinoid, but unlike THC, cannabidiol is not considered psychoactive. CBD can be extracted and turned into a variety of products like oils, edibles, topicals and more.
Though there is more scientific research needed to really understand how CBD can affect the brain and body, it is thought CBD has a variety of potentially therapeutic properties, one of which could be improved sleep.
Common Causes for Sleep Loss 
There can be a number of reasons that people get bad sleep at night, from diagnosed sleep disorders to things like poor diet, stress and pain. According to the Cleveland Clinic over a million Americans do not get an adequate amount of sleep at night.
Nearly 100 different sleep disorders exist, with some of the more common being insomnia, restless leg syndrome, sleep apnea and narcolepsy. There are also more generalized reasons for loss of sleep like chronic pain, stress and anxiety, travel or work schedule, eating habits and bad sleep habits.
How Could CBD Help You Sleep? 
While there is more research needing regarding CBD and sleep directly, it is thought CBD could improve sleep largely by helping to decrease anxiety. Some research has shown that CBD can have a calming effect on the nervous system through its interaction with the ECS, which could help with sleep. There is also limited research that CBD could be an effective treatment for insomnia through its interaction. By working with the ECS, CBD may be able to help you relax and in turn fall asleep faster and stay asleep longer.
CBD and The Endocannabinoid System 
CBD is thought to deliver all of its therapeutic effects, including as a possible sleep aid, through an interaction with the endocannabinoid system (ECS). The ECS is complex cell signaling system that can be found throughout the central and peripheral nervous system as well as our organs and immune system.
The overall goal of the ECS is to maintain balance throughout the body. It is responsible for vital functions like our moods, pain response, appetite, inflammatory response and sleep cycles.
Best CBD Products for Sleep:
CBD Oil – If you are looking for a fast-acting CBD product to get better sleep, a CBD oil could be a great choice. CBD oils are sublingually consumed so they enter the bloodstream quickly and can take effect fast. CBD oils also come in a wide variety of spectrums and potencies so you can get exactly what you are looking for in every dose.
CBD Capsules – CBD capsules are another great choice for a CBD product. They are easy to consume and come perfectly dosed, so you know how much you are taking every time. A CBD capsule can be as easy to consume as taking your daily vitamin before bedtime.
CBD Edibles – For a tasty way to get you CBD, choose a CBD edible. CBD edibles take a little longer to take effect because they must be digested first. A CBD edible can be a great way to get your CBD through a delicious treat that comes ready to eat.
CBD Flower – Another fast-acting form of CBD is through a smoked product like CBD flower. You can find CBD specific hemp strains that won't get you high like smoking marijuana, but they could help you wind down at the end of the day. CBD flower is fast acting, taking effect almost immediately when inhaled.
CBD Topicals – If you are unsure of orally consuming or smoking CBD, there are also CBD topicals. A CBD topical can be effective for targeted application which is perfect for managing pain. Choosing a CBD topical can be great if you are looking to relieve specific areas of the body to help get better sleep.
Most Recent Tested products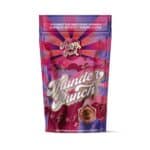 Happy Fruit Hemp HHC Gummies - Thunder Punch
$20.00
Cannacea Tagrid's 100 Full-Spectrum Hemp Oil
$77.50
Cannacea Activated 40 Full-Spectrum Hemp Oil
$38.50
Recent Posts
Blog Categories