There are many different ways to use CBD, but a topical can offer the benefits of targeted effects. CBD topicals allow you to apply them to specific areas for more direct effects and relief where you need it most.
Unlike inhalable or ingestible CBD, like flower or tinctures, a CBD topical can be applied directly to the skin to provide its benefits. CBD could be useful for a variety of issues or ailments, but most people use CBD topicals to help treat pain or skin issues. Let's take a closer look at what types of CBD topicals are available and what product is best for what.
What Is CBD?
CBD, also called cannabidiol, is one of many naturally occurring compounds that can be found in hemp and cannabis plants. These natural compounds are referred to as cannabinoids. Cannabinoids are the active ingredients in these plants, and there are thought to be over 120 of them.
Unlike THC, another cannabinoid commonly associated with marijuana, CBD does not cause intoxicating effects. Rather, CBD is thought to host a variety of potentially therapeutic properties ranging from pain management to stress relief.
What Are CBD Topicals Good For?
Topicals are applied to the skin, meaning they don't typically reach the bloodstream but deliver their effects through the epidermis. CBD works by directly interacting with the endocannabinoid system or ECS. There are receptors of the ECS in the skin where CBD topicals are most effective.
The ECS is responsible for bodily functions like our moods, sleep cycles, appetites, pain signaling, inflammatory response and more. CBD is thought to interact directly with receptors in the ECS to deliver its effects. CBD topicals are useful for localized treatment using CBD.
If you are suffering from pain, using a CBD topical could be a good choice for you. By delivering active ingredients directly to a problem area, many people use CBD to help with muscle or joint pain. One study done in 2016 even showed promise for CBD having therapeutic benefits and inflammation relief for arthritis. Another more recent study from 2020 found that CBD oil could significantly reduce pain in people with peripheral neuropathy.
Similarly, if you are suffering from a skin condition that is caused by inflammation, CBD may be able to help through its interaction with the ECS. The American Academy of Dermatology Association has said the anti-inflammatory properties of CBD may be useful for treating acne, psoriasis and eczema.
Different Types of Topicals:
CBD Balms: Balms are typically used to soothe the skin. In most cases, balms are fragrant forms of ointment containing oils that can heal and soothe the skin. A CBD balm is similar. CBD balms contain CBD oil among other carrier oils that can help with moisture retention. CBD balms typically have a thick consistency which has to be rubbed into the skin which can be a great way to give yourself a little massage with CBD.
CBD Salves: A salve is very similar to a balm, but often will be slightly less thick or hard in consistency. Salves are used to soothe and heal the skin, commonly used on rashes or chapped skin. A CBD salve is a great way to combine the potential therapeutic aspects of CBD with other moisture-rich ingredients to help soothe irritated skin.
CBD Lotions: When it comes to CBD lotions, there are a wide variety of options. Lotions are typically thick and smooth "liquids" that can be used for cosmetic or medicinal purposes. Lotions usually deliver moisture through a variety of hydrating ingredients. CBD lotions could be used for moisture or as a potential topical pain reliver.
CBD Gels: CBD gels are usually used for treating pain or for delivering moisture. Gels can easily be absorbed into the skin through their light and watery consistency. Unlike oil-based formulas, most CBD gels are water-based which makes them non-comedogenic and good for absorption and not clogging pores.
CBD Roll-Ons: CBD roll-ons are primarily used for pain and are a great choice for athletes or sports enthusiasts. Roll-ons are a type of topical that typically uses a gel form to distribute active ingredients over a specific area. Roll-ons are easy to use and convenient for very specific and targeted application.
CBD Beauty Products: There are an abundance of CBD based beauty products that are topicals. There are face serums, oils, masks and specific face or body creams. CBD beauty products primarily utilize CBD for its anti-inflammatory and moisturizing properties, but more research is needed to understand the effects of CBD for a beauty regimen.
Find A Reliable Source of CBD
No matter what CBD topical product you use, it is always a good idea to do some research and find a reliable source of CBD. Turning to third-party lab test results is the best way to make sure you are getting a high-quality product that will be safe and effective. Check out Real Tested CBD's Best CBD Topical lists for a great place to start.
Most Recent Tested products
Cannacea Tagrid's 100 Full-Spectrum Hemp Oil
$77.50
Cannacea Activated 40 Full-Spectrum Hemp Oil
$38.50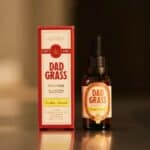 Dad Grass Goodtime Formula + CBG Tincture
$55.25
Recent Posts
Blog Categories