The sun's fiery rays may feel fantastic, especially on a pristine beach during the summer. However, it's well known the sun can harm as much as it can heal. While the sun can give people a great dose of vitamin D, it can also trigger severe skin issues. On the mild end, people could experience sunburn; however, it's also possible for the sun to trigger skin cancer.
As CBD topicals have become more popular, it's increasingly common to see these lotions marketed similar to traditional sunscreens. You may even see CBD brands associate hemp-infused lotions with healing conditions like sunburnt skin. However, before you slather CBD creams instead of sunscreen, you need to know the latest science on CBD topicals.
Do CBD Topicals Protect From The Sun?
Dermatologists agree that CBD isn't strong enough to protect against the sun's ultraviolet rays. Unless manufacturers mix CBD with clinically-verifiable sunscreen, you're not going to shield your skin from the sun with a CBD salve.
Please note that many sunscreens add CBD as a secondary ingredient in their formulas. If these CBD-infused products have a lab-tested SPF score, they are safe to use like standard sunscreens. However, CBD lotions with zero information on SPF should never be used as a sunscreen.
Why Would People Want CBD In Their Sunscreen?
Just because CBD doesn't seem to have sun-protecting benefits doesn't mean it's unbeneficial for skin conditions. Anyone interested in the skincare and beauty industries has probably already seen plenty of balms, lotions, and serums that sing CBD's praises. And, in some cases, there's science to back up these remarkable claims.
For instance, one study out of Italy found that CBD topicals helped speed up wound-healing and dermatitis symptoms in a group of patients. Another trial showed CBD helps reduce oil secretion, which might lower the risk of acne.
Doctors now agree that we have cannabinoid receptors on our skin. Apparently, cannabinoids like CBD can interact with these receptors, which seems to explain its positive impact on skin health. Other trials reveal CBD has anti-inflammatory and antioxidant effects, which should help soothe many skin issues.
There's still a lot we don't know about CBD's role in skincare, but many people believe in its positive effects. Adding CBD to sunscreen may provide additional anti-inflammatory benefits without detracting from the lotion's SPF.
Please Never Use CBD As Your Dedicated Sunscreen!
Shockingly, many Americans still don't use sunscreen regularly. In fact, recent surveys suggest only 16 percent of women and 6 percent of men use sunscreen in their daily routine. While these percentages are higher when people plan to go outdoors for a few hours, it's rare for Americans to grab their sunscreen as often as they use other topicals.
Dermatologists strongly recommend putting on sunscreen with a minimum SPF score of 30 every day for the best results. While CBD topicals may help soothe skin conditions, they aren't a replacement for high-quality sunscreens with a lab-verified SPF score. Please never use CBD topicals in place of a proper SPF sunscreen. While it won't hurt to mix your CBD into a high-quality sunscreen product, this cannabinoid can't protect against the sun.
Before Googling the "best CBD topicals near me," please read through Real Tested CBD's lab-verified reviews.
Most Recent Tested products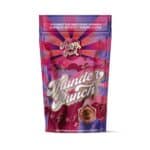 Happy Fruit Hemp HHC Gummies - Thunder Punch
$20.00
Cannacea Tagrid's 100 Full-Spectrum Hemp Oil
$77.50
Cannacea Activated 40 Full-Spectrum Hemp Oil
$38.50
Recent Posts
Blog Categories