Let's be frank: "pet-friendly CBD oils" have a dog bias. And, to be fair to CBD manufacturers, that makes sense from a marketing perspective. Recent data suggests about 38.4 percent of American households have dogs, while about 25.4 percent have cats. So, clearly, there's more of a demand for hemp dog treats versus cannabidiol catnip.
There's also growing speculation in the scientific community that CBD oil affects dogs and cats differently. Plus, there aren't as many studies on CBD for cats versus dogs.
So, does this mean pet-friendly CBD oils aren't fit for felines? Should cat owners even consider using CBD for their favorite pets?
Is It Safe For Cats To Take CBD Oil?
Veterinarians are still researching how CBD affects cats and dogs, but preliminary trials suggest pet-approved CBD is generally safe for healthy cats. However, a new Florida College of Veterinary Medicine trial suggests cats and dogs absorb this cannabinoid differently. Researchers also cautioned that cats tended to have more side effects when using CBD extracts.
According to this recent study, cats appeared to have a "lower oral absorption" rate and slower "elimination" of CBD. Researchers also noted that cats seemed to have an immediate reaction to CBD oil. Shortly after vets fed cats a dose of CBD, they discovered these felines started cleaning themselves more aggressively and twitching their heads side-to-side.
While this initial report may suggest CBD for cats isn't a good option, some vets see potential for CBD therapy. For instance, there are many researchers who are examining how CBD oil may help cats with memory disorders like age-related dementia. There's also hope that CBD's anti-inflammatory properties may play a positive role in addressing cat arthritis.
Currently, we don't know how CBD interacts with a cat's endocannabinoid system. Also, as the Florida trial pointed out, there may be special dosage considerations for cats versus dogs.
So, How Do People Feed Pet-Approved CBD To Cats?
Before ordering a pet-approved CBD oil for cats, you should schedule an appointment with your veterinarian. Although CBD oil may positively affect cats, it remains an experimental therapy. Also, CBD can negatively impact cats with pre-existing conditions or who take medications. Please never experiment with pet-approved CBD products until you speak with a vet who knows your pet!
If you have the "all clear" to use CBD oil for cats, please only consider companies that explicitly make "pet-friendly" CBD extracts. Please always ask for third-party lab tests with your CBD oil to ensure you're not feeding your feline any nasty ingredients. Also, you should focus on pet-approved CBD products that were made with cats in mind. Although it's more difficult to find CBD for cats versus dogs, a few reputable vendors are entering this product category.
Once you have your pet-approved CBD oil, please consult the manufacturer's recommendations for dosage. Always start at the low-end of your CBD oil's range and carefully monitor your cat's response. Since cats are more fickle than dogs, it's best to put your CBD oil in a bowl of food to sneak CBD into your cat's life.
Find Lab-Screened CBD For Your Cat On Real Tested CBD!
If you're scouring the Internet for "cat-approved CBD near me," we'd recommend taking a few moments to scroll through Real Tested CBD. We now have pages dedicated to pet-approved CBD oils and CBD pet treats.
As with all our other unbiased reviews, Real Tested CBD takes the time to evaluate the official third-party lab results for every CBD oil for pets. If we recommend a pet-approved CBD oil, you can feel comfortable that it went through multiple tests for safety and efficacy.
Most Recent Tested products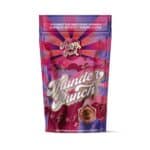 Happy Fruit Hemp HHC Gummies - Thunder Punch
$20.00
Cannacea Tagrid's 100 Full-Spectrum Hemp Oil
$77.50
Cannacea Activated 40 Full-Spectrum Hemp Oil
$38.50
Recent Posts
Blog Categories