Although marijuana has been used as a traditional remedy in many cultures, doctors have only recently begun investigating this drug's therapeutic uses. Now that more states allow medical marijuana, patients are getting interested in how to use cannabis for a variety of conditions.
Dronabinol remains one of the most popular MMJ prescriptions in the USA. Thanks to its FDA approval, many doctors feel most comfortable prescribing dronabinol to select patients. However, just because dronabinol is an approved substance doesn't mean it will work for everyone's situation. Also, people who are more used to CBD products must understand the differences between dronabinol and hemp-derived CBD oils.
How Does Dronabinol Differ From Cannabis and CBD Oil?
Dronabinol is an FDA-approved drug that closely mimics the chemical properties of delta-9 THC. Often sold as "Marinol," this prescription is a synthetic version of the famous "high-inducing" cannabinoid, and it's commonly sold as gel capsules.
Typically, doctors prescribe dronabinol to patients suffering from extreme nausea related to chemotherapy or HIV/AIDS. However, this drug also appears to be helpful for patients who struggle with eating disorders (e.g., anorexia) or sleep apnea.
The most significant difference between dronabinol and CBD oil is that the former is psychoactive. Depending on a person's dronabinol dosage, they may experience adverse reactions like lightheadedness and paranoia.
Please remember that hemp-derived CBD oils are legal per the 2018 US Farm Bill. Delta-9 THC, however, is a federally illegal drug. The FDA only allows delta-9 THC in the form of prescribed medicines like dronabinol.
Since dronabinol is a prescription medication, patients must obey their doctor's dosing instructions. Anyone new to THC must monitor their reaction to this drug for side effects. If customers feel like dronabinol is making their condition worse, they should discontinue use and contact their doctor ASAP.
Who Should Consider Trying Dronabinol?
Dronabinol is only for patients with a medically-recognized condition and a doctor's approval. Although this pill has THC, it's not intended for recreational use. In most cases, physicians only prescribe dronabinol to patients struggling with appetite or nausea-related issues, but sleep apnea patients may experience benefits with this drug.
Patients who've tried multiple therapies for nausea, vomiting, or sleep apnea should consider asking their doctor whether dronabinol would be an effective therapeutic option. This drug doesn't work for everyone, but there's enough evidence to suggest it can provide relief from many troubling symptoms.
Please never use dronabinol without a doctor's approval, and stick with the prescribed dosing instructions.
Even If You Opt For CBD, Please Speak With A Medical Authority!
Since THC has a reputation for stimulating the "munchies," it's understandable why many nausea patients are interested in dronabinol. However, plenty of patients express concerns over trying dronabinol, especially if they have adverse reactions to THC.
Thankfully, a few trials suggest non-psychoactive CBD oils may slightly reduce nausea. Some doctors have even begun recommending CBD products to help relieve symptoms like appetite loss and vomiting. However, please remember that CBD still isn't an FDA-approved substance, nor is there conclusive evidence that CBD helps with these conditions.
Patients interested in experimenting with CBD brands should always speak with a medical authority before "self-medicating." CBD can interact with other prescriptions, and not everyone who takes CBD has a positive reaction. It's also imperative to read through Real Tested CBD's unbiased reviews to verify you're taking a high-quality CBD oil.
For more information on choosing a clean CBD supplement, please visit this page.
Most Recent Tested products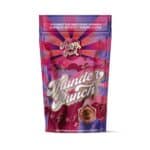 Happy Fruit Hemp HHC Gummies - Thunder Punch
$20.00
Cannacea Tagrid's 100 Full-Spectrum Hemp Oil
$77.50
Recent Posts
Blog Categories