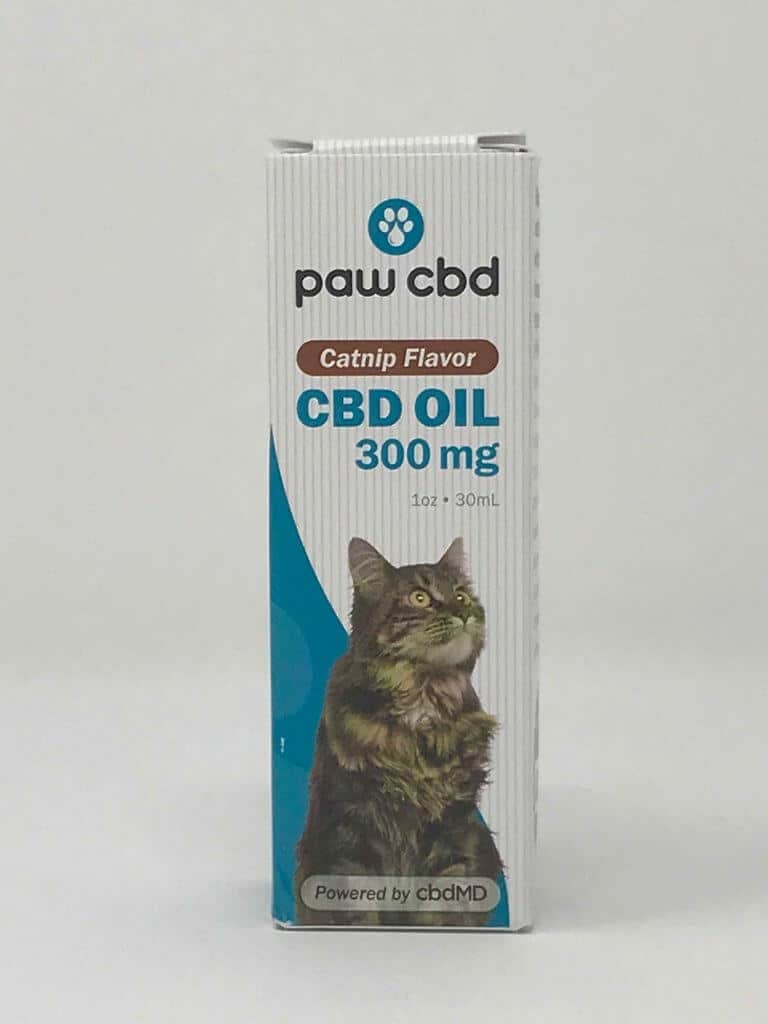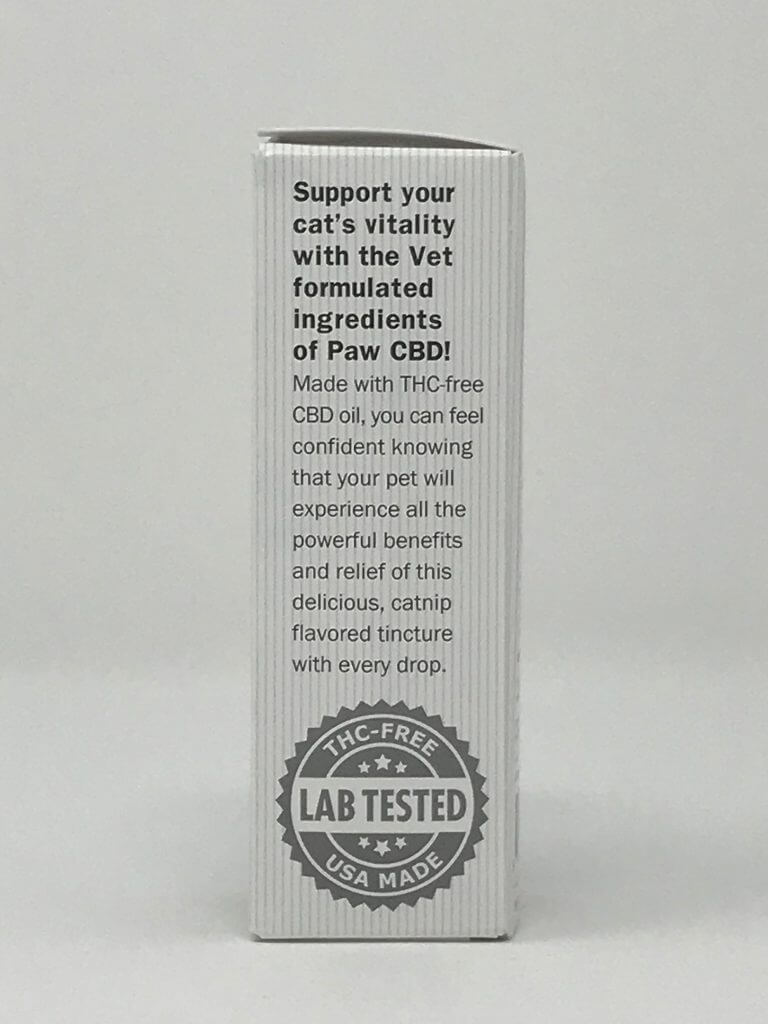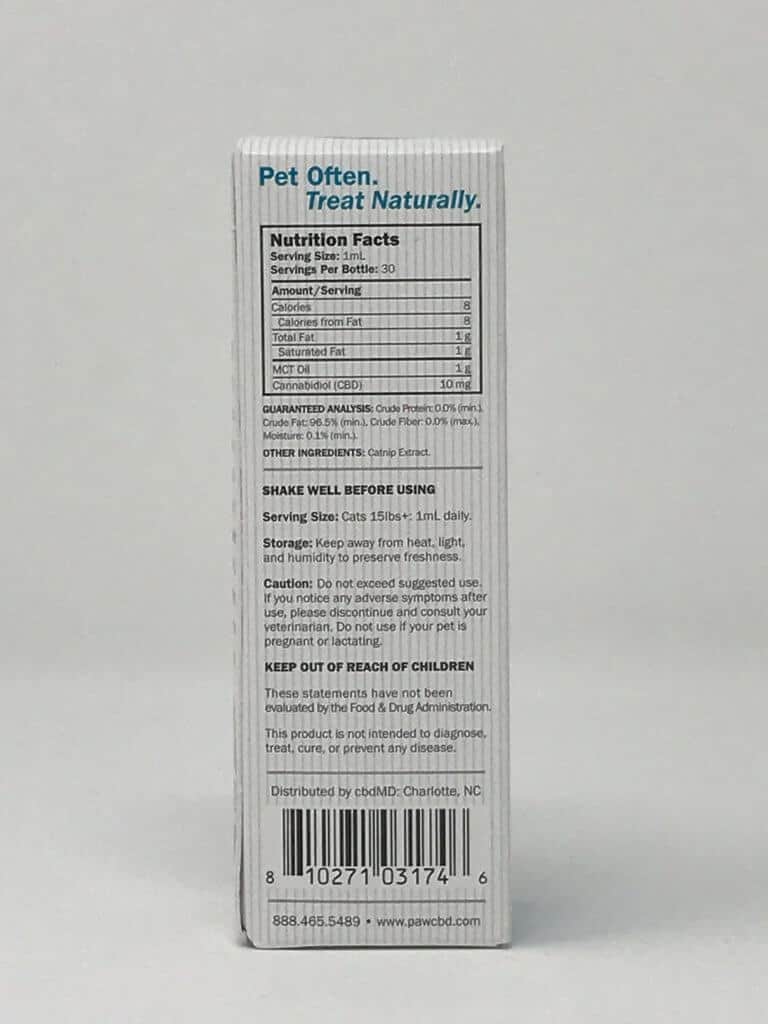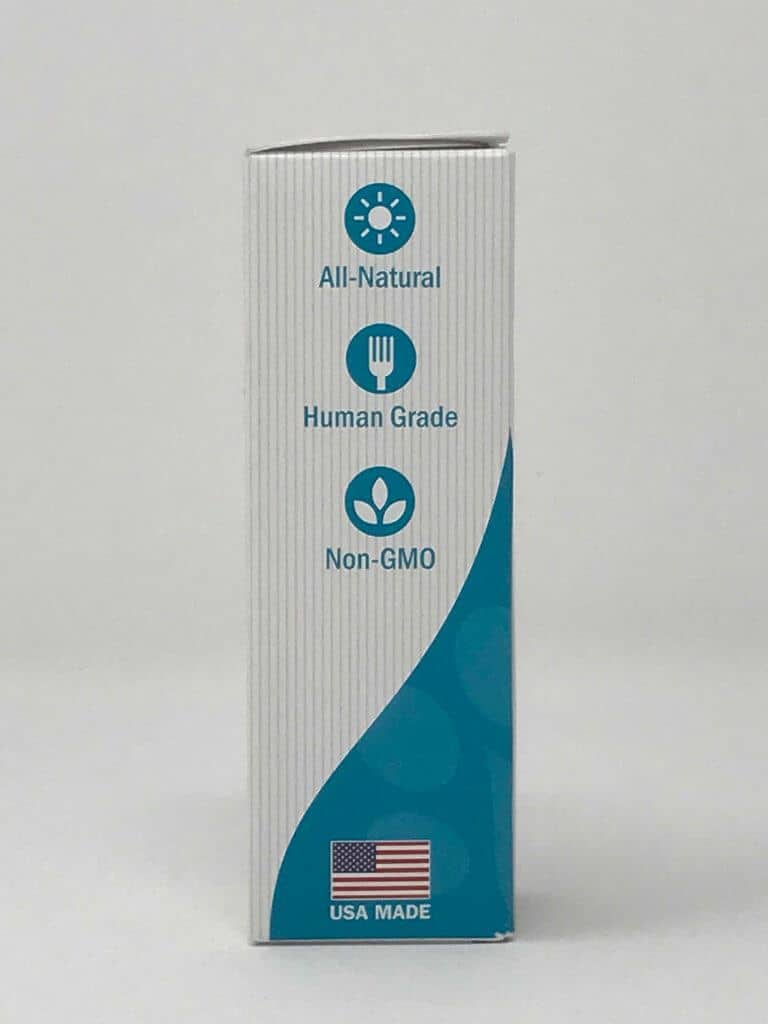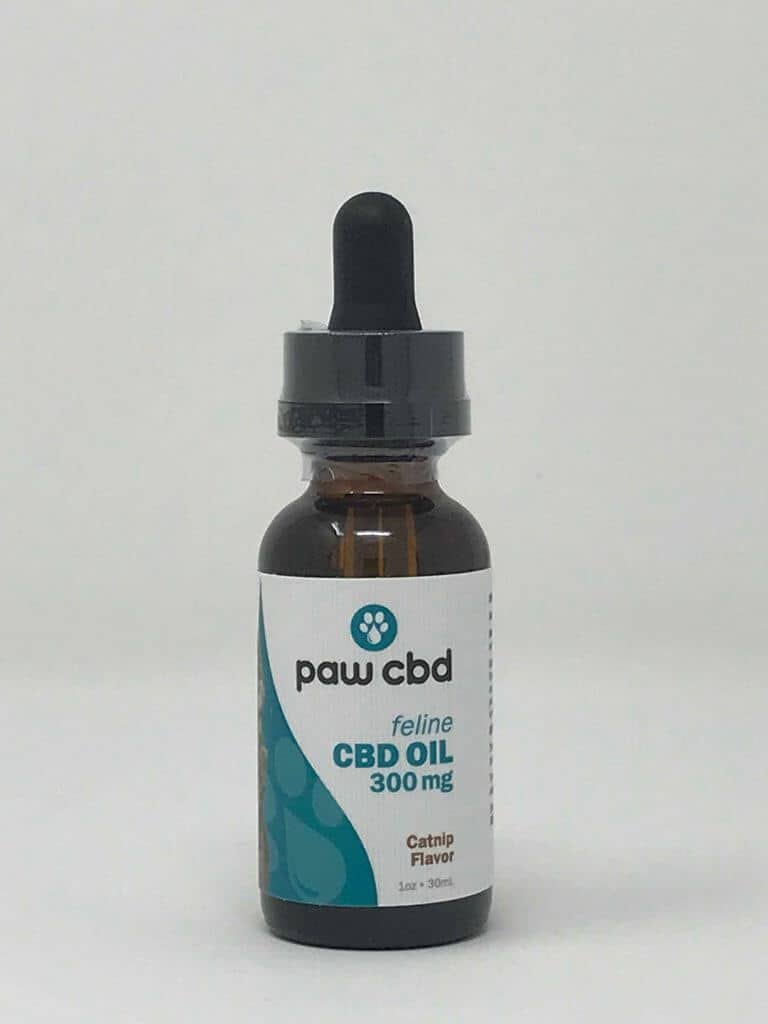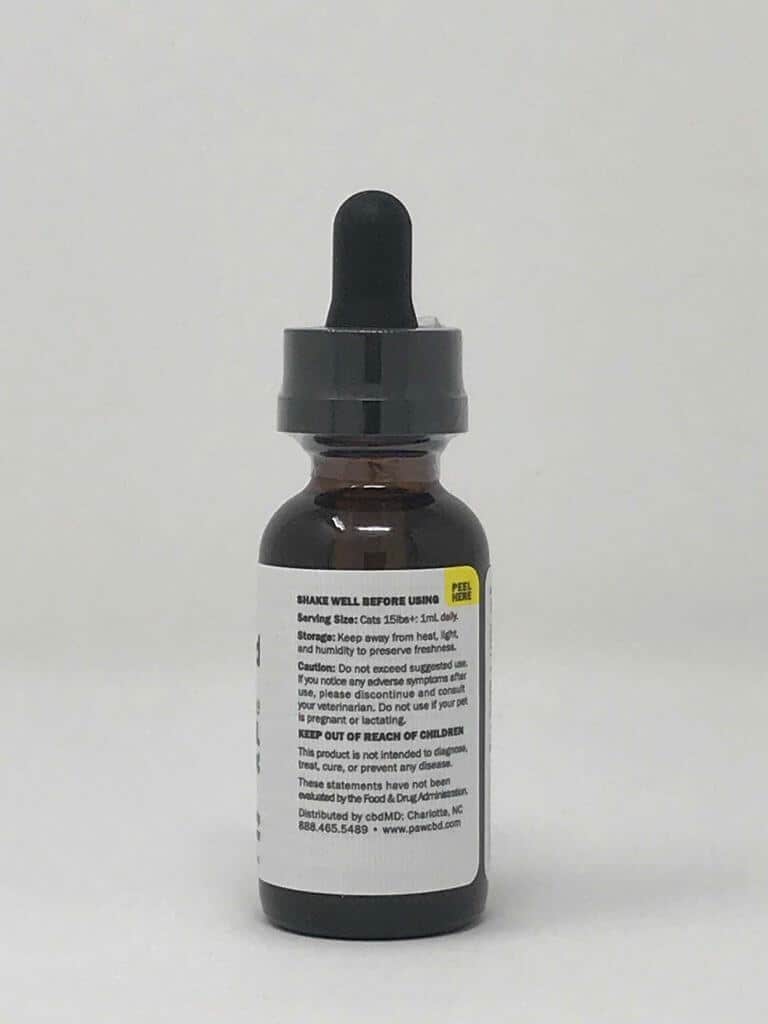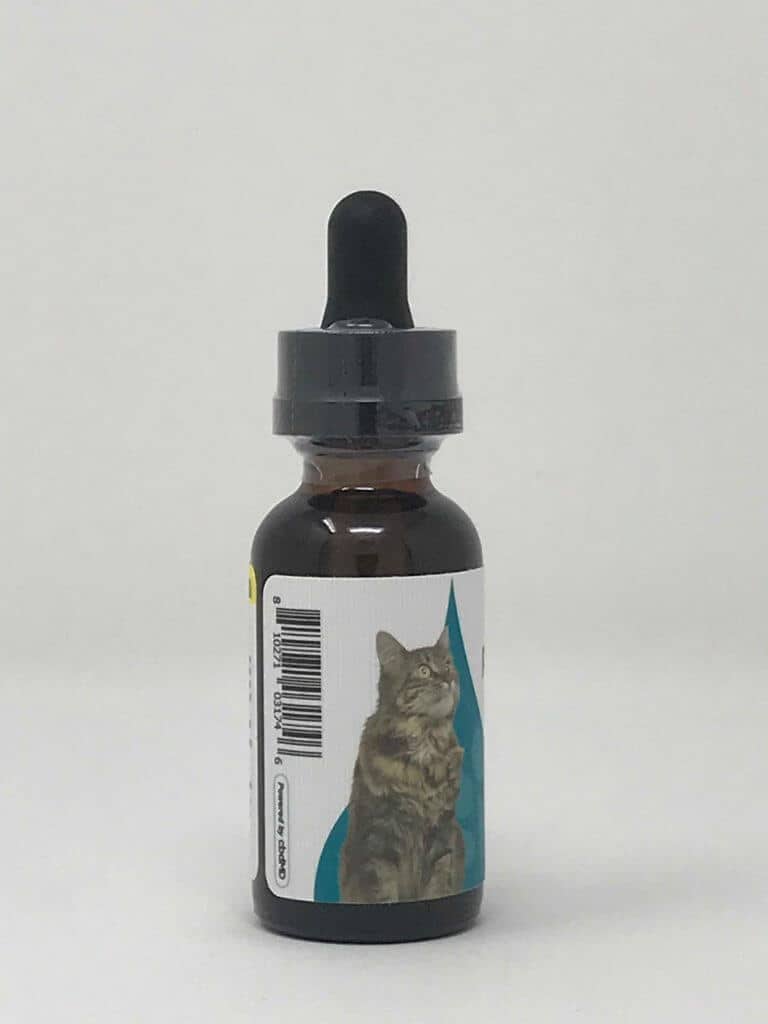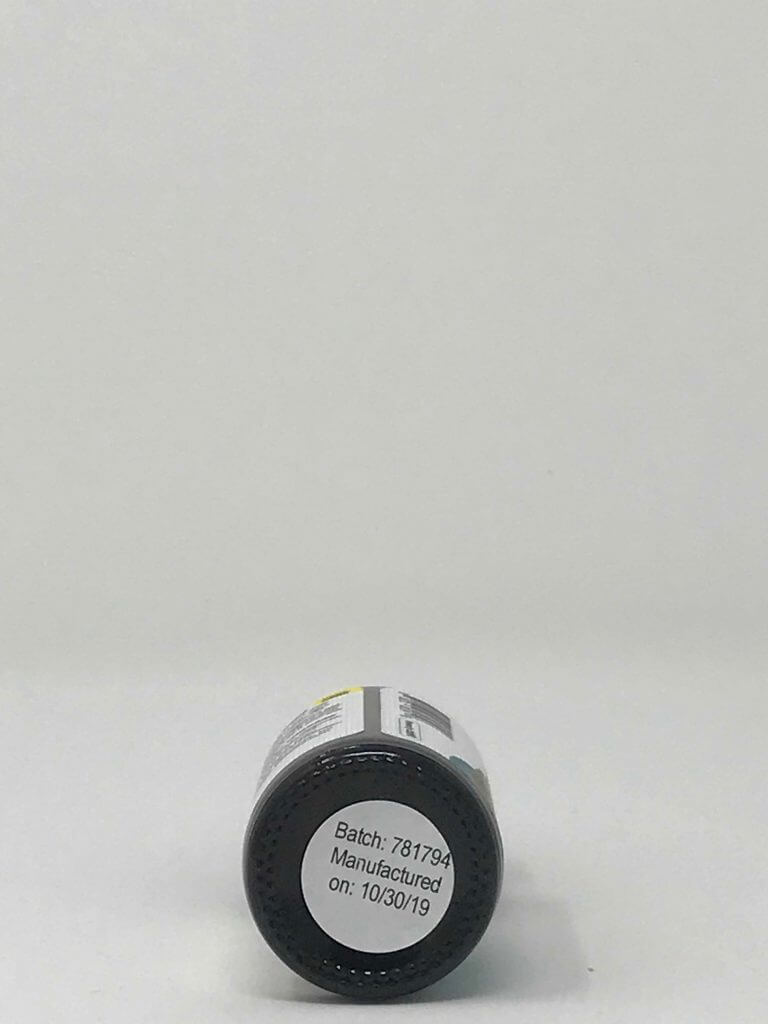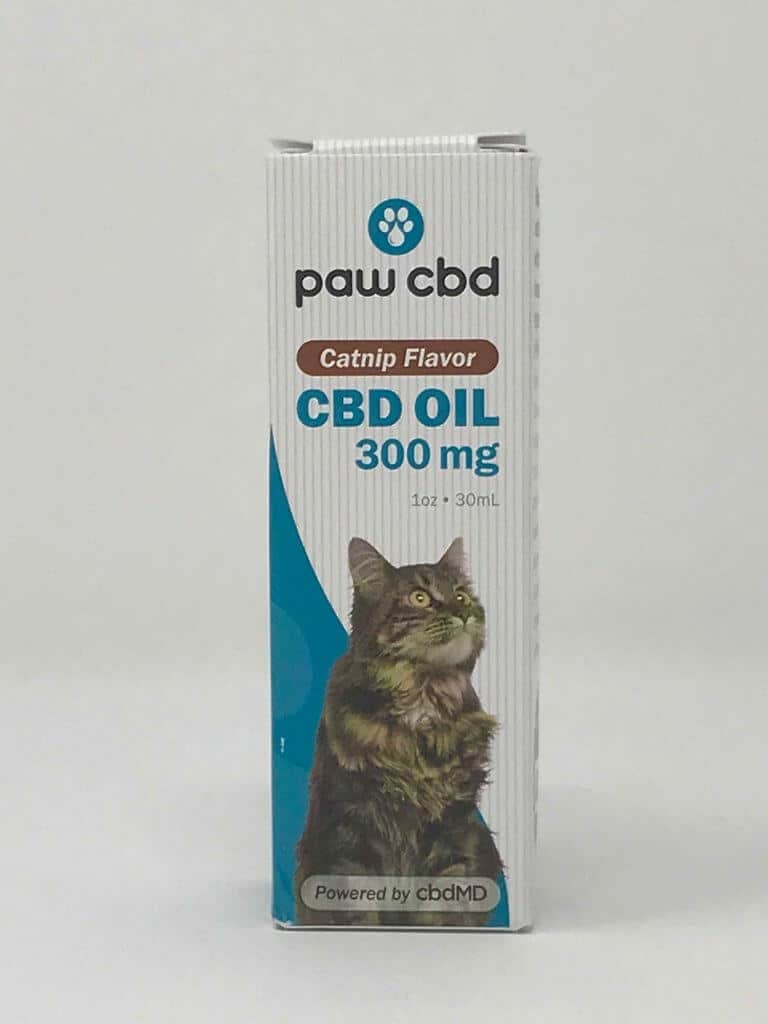 PAW CBD CATNIP FLAVOR CBD OIL 300 MG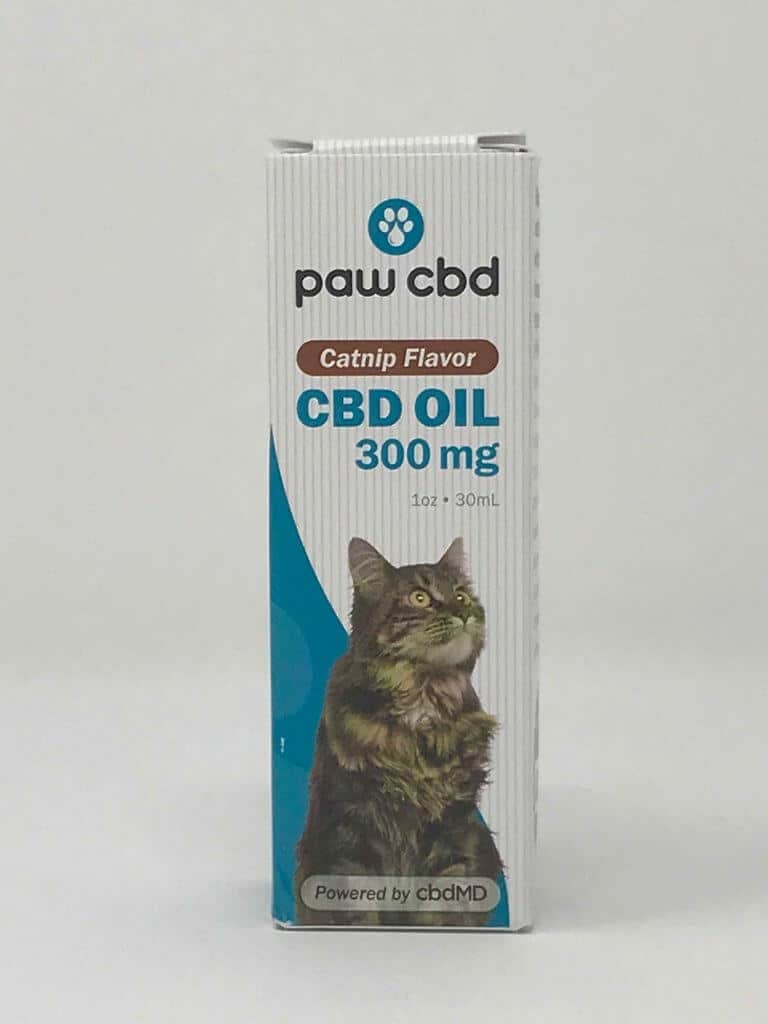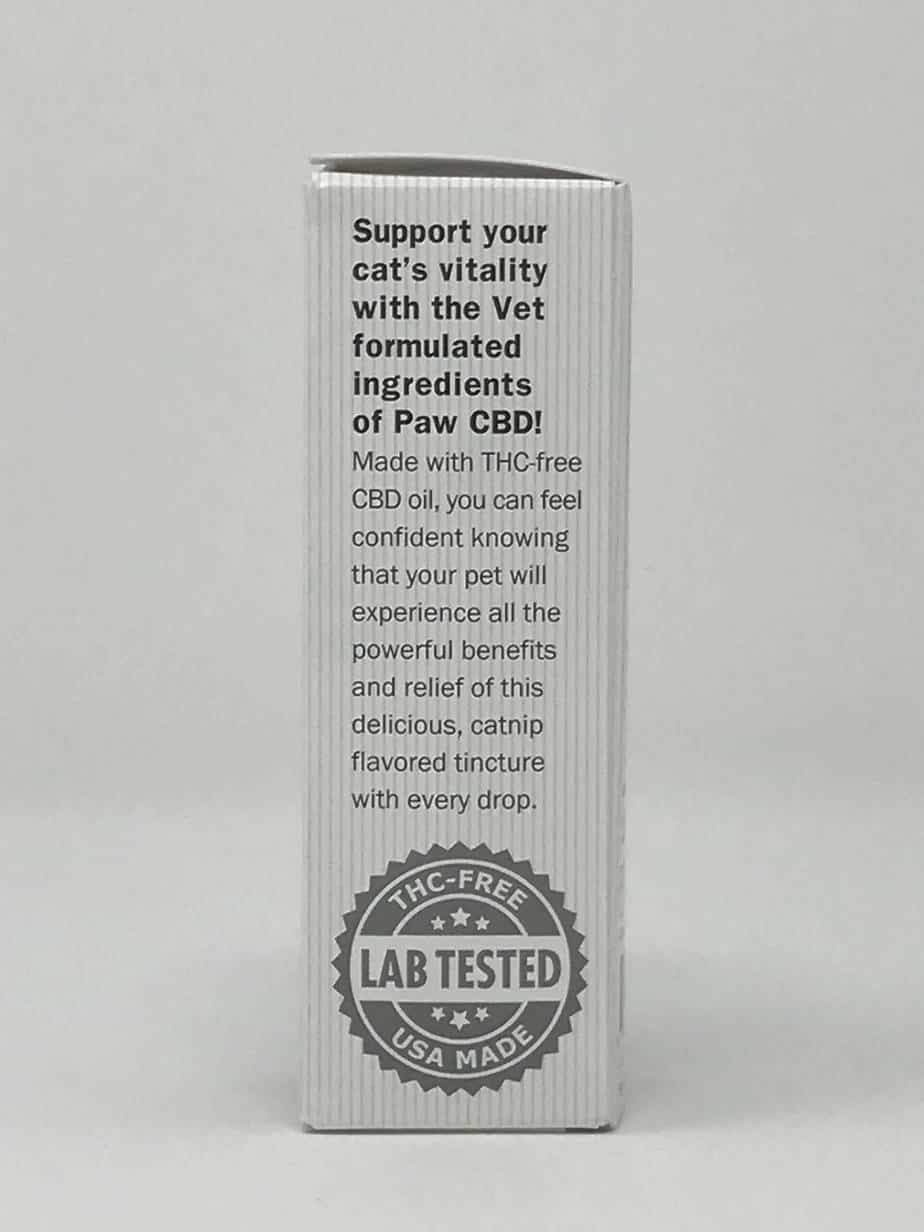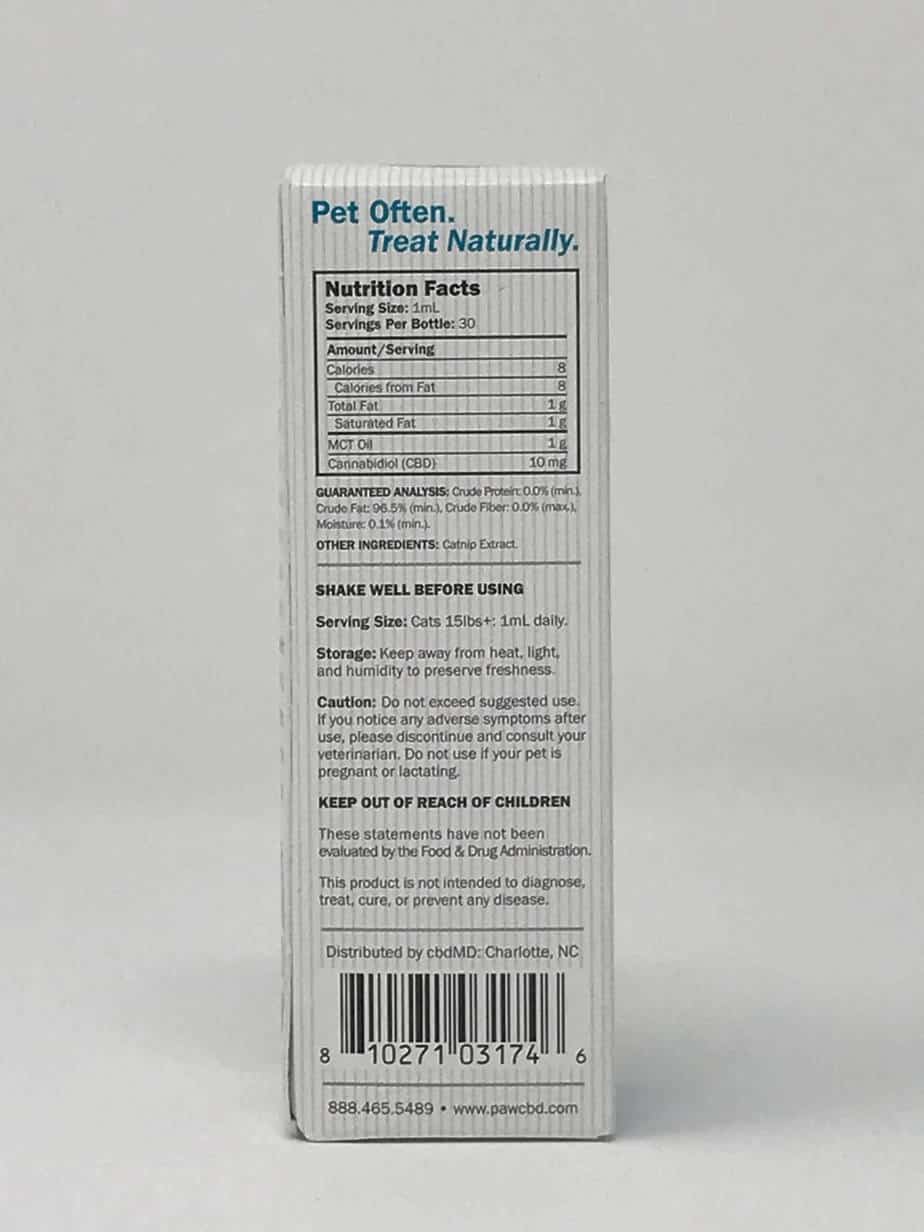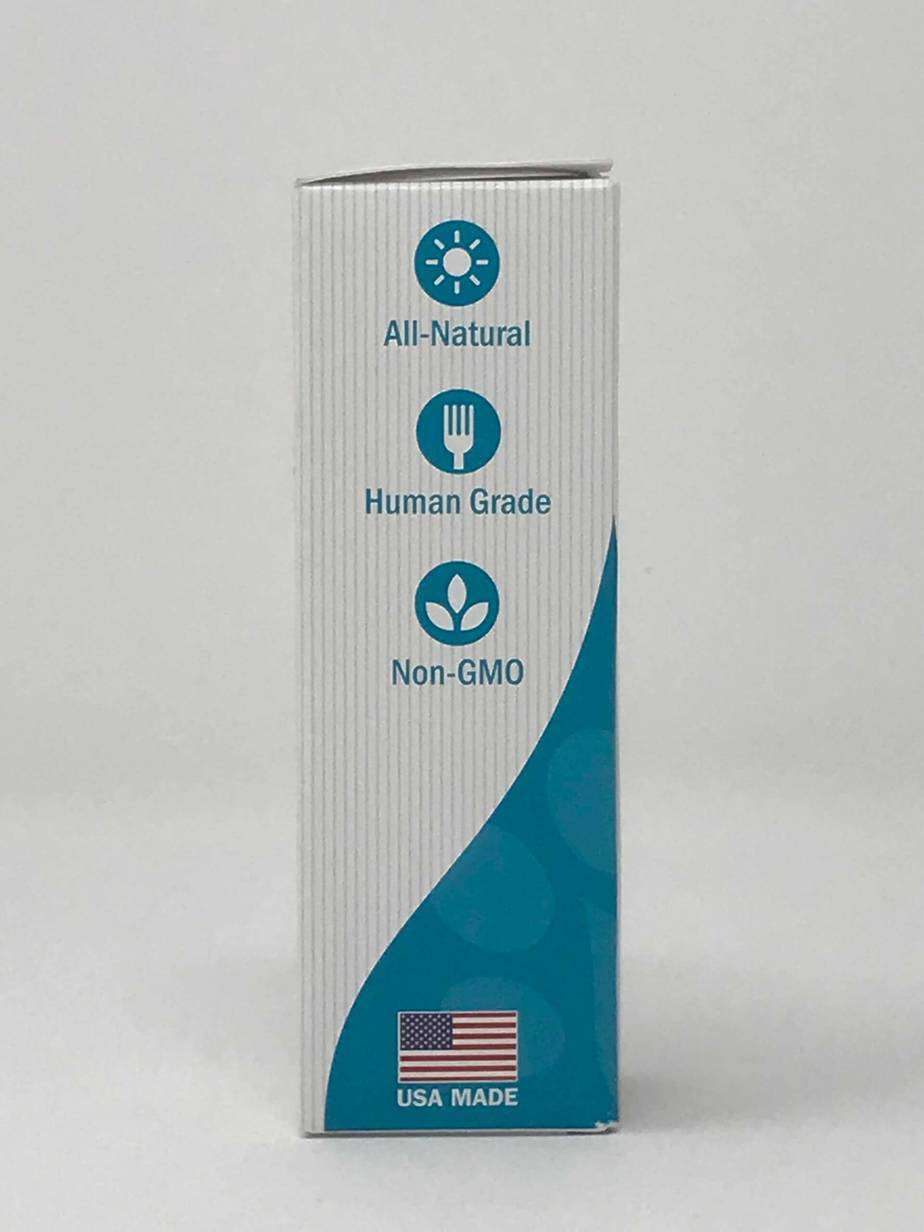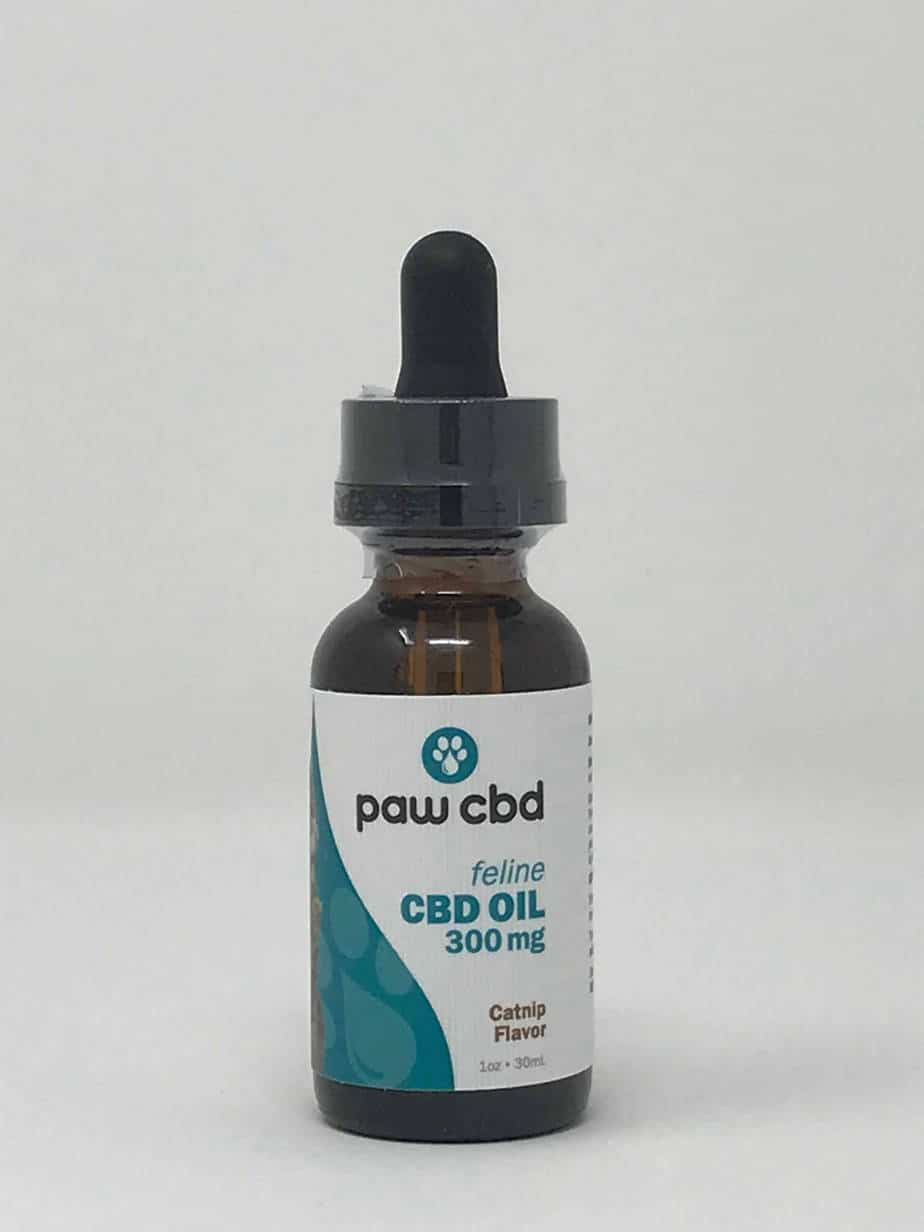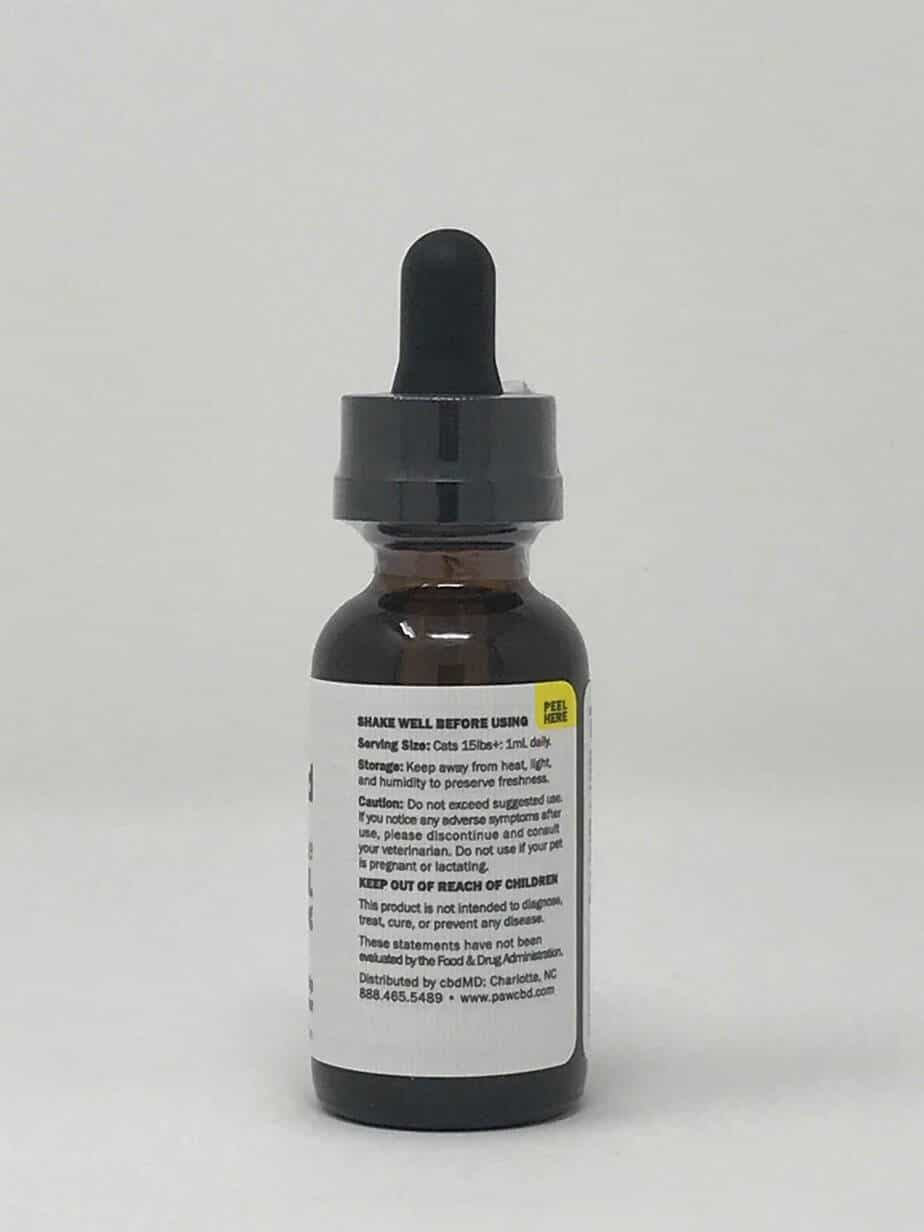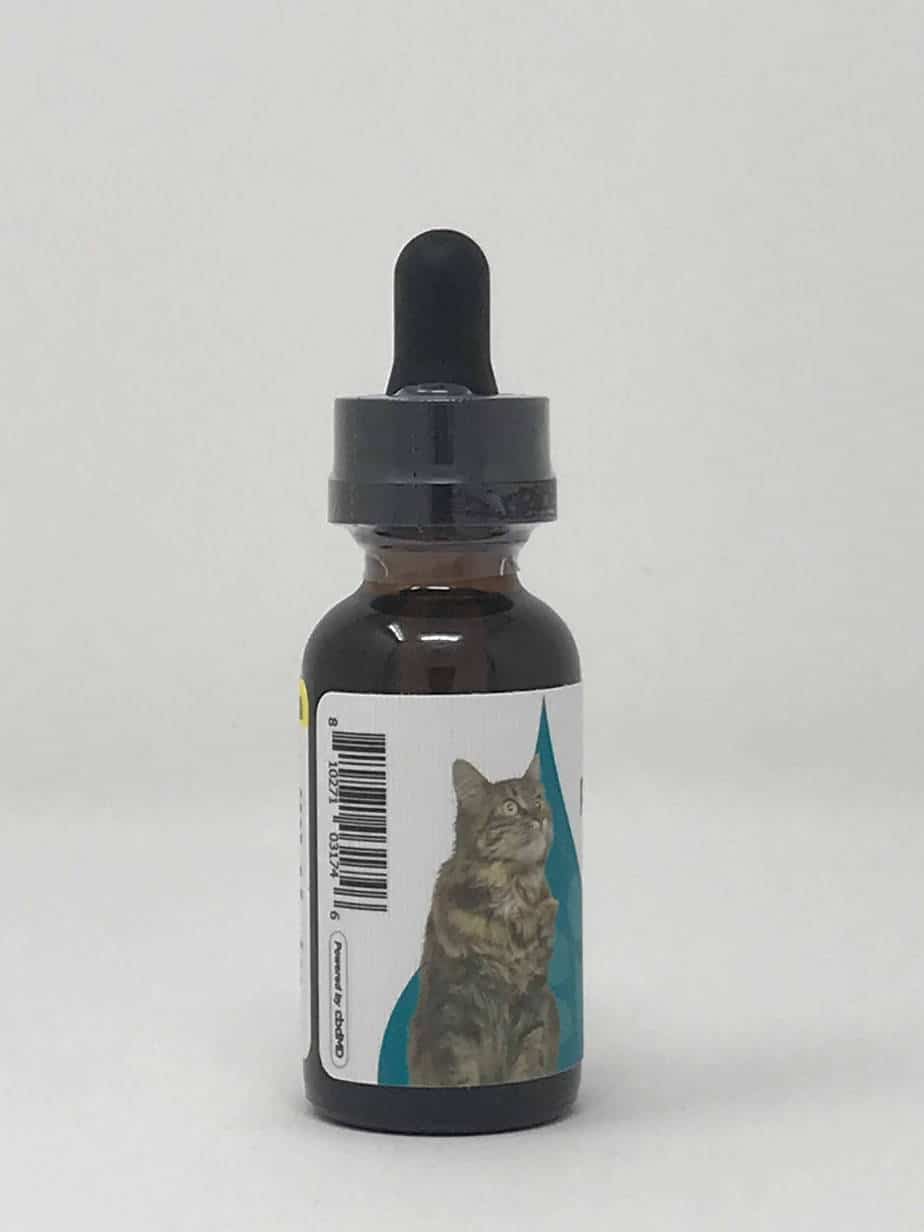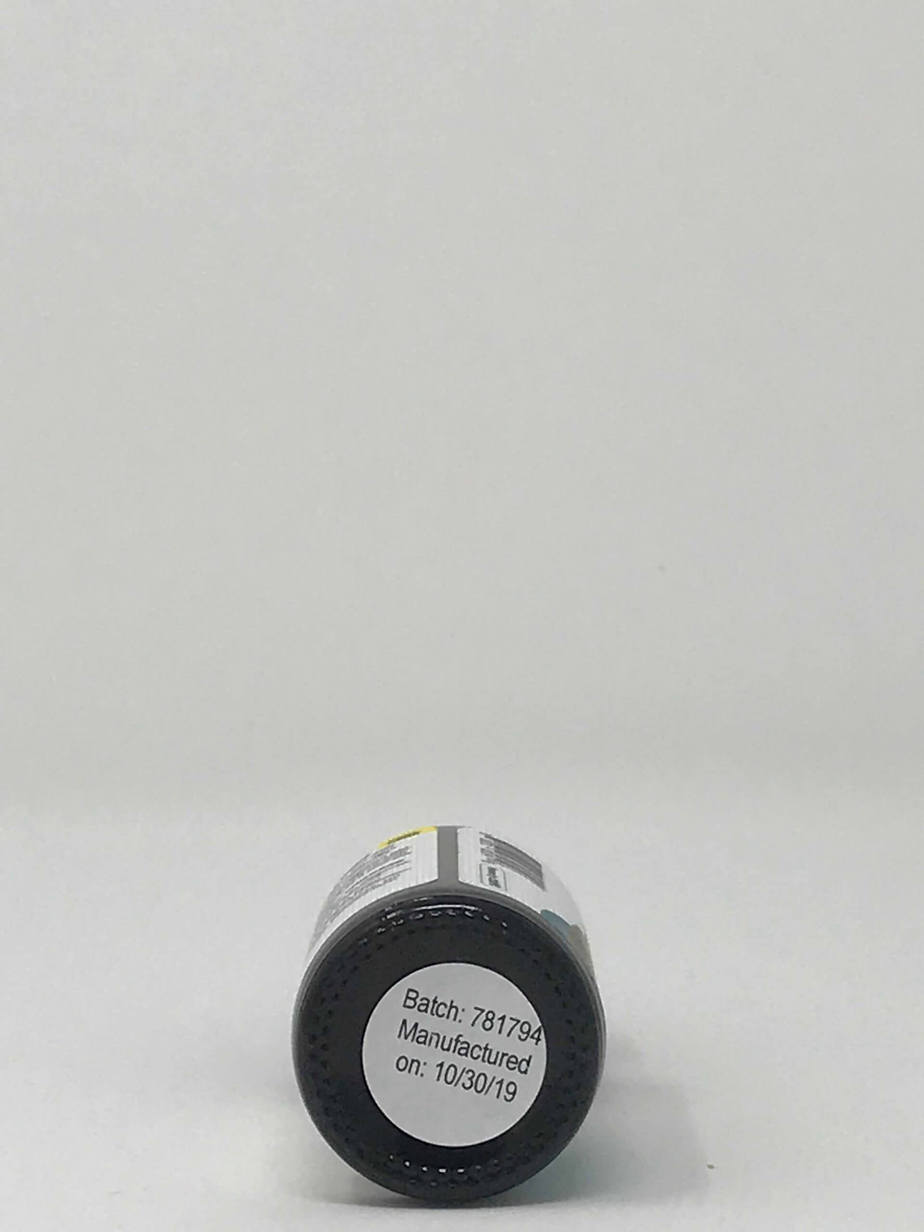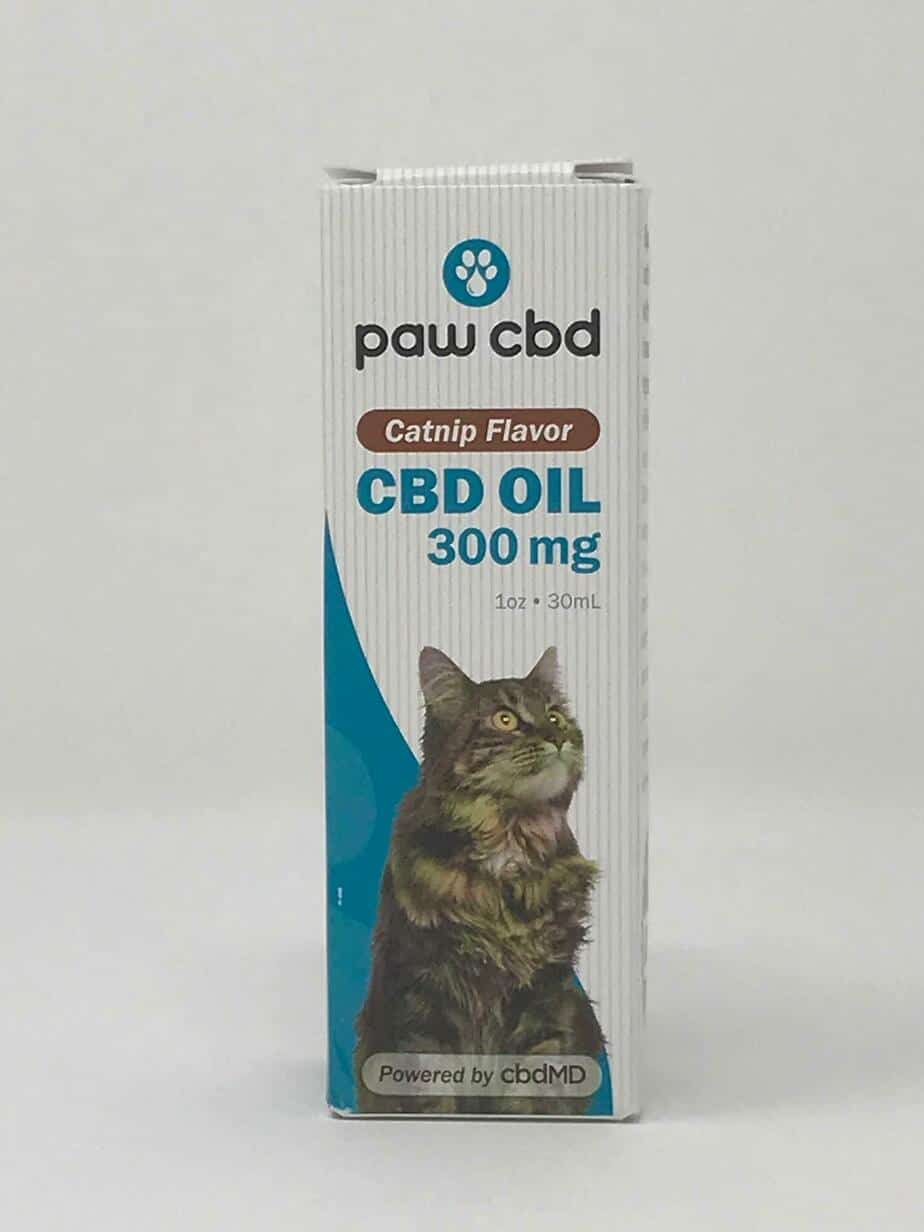 $34.99
Expert Score
Real Tested CBD Says: Acceptable
This CBD oil tincture for cats (flavored chicken and catnip) tests right on the label claim. But it also appears to be devoid of most of the cannabinoids found in full or broad spectrum distillate, which means this is just a CBD isolate product or the extraction processed used with too astringent.
Download Lab Test
Pros:
Tested very close to the label claim

Priced well

Super fast 3 day shipping to our facility in Las Vegas

Passed pesticide and solvent screening tests

Military and disability discounts
Cons:
Not a broad or full spectrum product = No Entourge Effect
| | |
| --- | --- |
| $/CBD: | $0.10 |
| $/THC: | 0 |
| Actual Total d9-THC mg/package: | 0 |
| Actual - Claimed CBD Per Package: | 54.56 |
| Actual Total CBD mg/package: | 354.56 |
| Actual Total CBN mg/package: | 0 |
| Actual Total CBC mg/package: | 0 |
| Actual Total CBG mg/package: | 0 |
| Pass/Fail Pesticide?: | |
| Pass/Fail Solvent?: | |
From Paw CBD:
If you want your canine friends to enjoy the powerful properties of CBD oil, we have two flavors to choose from: natural and peanut butter. With nothing but MCT oil combined with CBD oil sourced from USA hemp, these CBD Oil Tinctures for Dogs can be given orally or added to their favorite foods while still providing the same effects that you enjoy.
Superior Broad Spectrum CBD in every product batch
High-quality manufacturing process for wholesome hemp properties
THC-free* products sourced from USA hemp
Third-party, ISO-certified lab tested to ensure safety and effectiveness.
Ingredients: Cannabidiol (CBD), Peanut Butter Extract, and MCT Oil
Additional information
| | |
| --- | --- |
| cannabinoids_cannabinoids_unit | % |
| pesticides_ethoprophos | <LOQ |
| pesticides_chlorantraniliprole | <LOQ |
| cannabinoids_cbdv | <LOQ |
| pesticides_pentachloronitrobenzene | <LOQ |
| cannabinoids_d9_thc | ND |
| cannabinoids_cbn | ND |
| cannabinoids_cbga | ND |
| cannabinoids_cbg | ND |
| Date Completed | 2020-02-06 01:32:09.028364 |
| Date Received | 2020-01-22 17:23:16.656636 |
| cannabinoids_thca | ND |
| solvents_1_2_dichloro_ethane | <LOQ |
| cannabinoids_cbda | ND |
| cannabinoids_cbd | 1.1419 |
| pesticides_etofenprox | <LOQ |
| pesticides_fenoxycarb | <LOQ |
| pesticides_daminozide | <LOQ |
| pesticides_acequinocyl | <LOQ |
| pesticides_acetamiprid | <LOQ |
| pesticides_aldicarb | <LOQ |
| pesticides_azoxystrobin | <LOQ |
| pesticides_bifenazate | <LOQ |
| pesticides_bifenthrin | <LOQ |
| pesticides_boscalid | <LOQ |
| pesticides_captan | <LOQ |
| pesticides_carbaryl | <LOQ |
| pesticides_carbofuran | <LOQ |
| pesticides_coumaphos | <LOQ |
| pesticides_propoxur | <LOQ |
| pesticides_cypermethrin | <LOQ |
| pesticides_cyfluthrin | <LOQ |
| pesticides_dimethoate | <LOQ |
| pesticides_imazalil | <LOQ |
| pesticides_fenpyroximate | <LOQ |
| pesticides_fipronil | <LOQ |
| pesticides_flonicamid | <LOQ |
| pesticides_fludioxonil | <LOQ |
| pesticides_hexythiazox | <LOQ |
| pesticides_etoxazole | <LOQ |
| pesticides_imidacloprid | <LOQ |
| pesticides_chlorfenapyr | <LOQ |
| pesticides_naled | <LOQ |
| pesticides_oxamyl | <LOQ |
| pesticides_metalaxyl | <LOQ |
| pesticides_methiocarb | <LOQ |
| pesticides_methomyl | <LOQ |
| pesticides_mevinphos | <LOQ |
| pesticides_myclobutanil | <LOQ |
| pesticides_paclobutrazol | <LOQ |
| pesticides_malathion | <LOQ |
| pesticides_kresoxim_methyl | <LOQ |
| pesticides_parathion_methyl | <LOQ |
| pesticides_permethrin | <LOQ |
| pesticides_pesticides_unit | ppm |
| pesticides_phosmet | <LOQ |
| pesticides_prallethrin | <LOQ |
| pesticides_propiconazole | <LOQ |
| pesticides_chlordane | <LOQ |
| pesticides_fenhexamid | <LOQ |
| pesticides_diazinon | <LOQ |
| pesticides_pyrethrins | <LOQ |
| cannabinoids_thcv | ND |
| cannabinoids_d8_thc | ND |
| pesticides_dichlorvos | <LOQ |
| pesticides_abamectin | <LOQ |
| pesticides_dimethomorph | <LOQ |
| price/cbd | $0.05 |
| Product Order Number | 405778 |
| solvents_ethanol | <LOQ |
| solvents_benzene | <LOQ |
| solvents_acetonitrile | <LOQ |
| solvents_acetone | <LOQ |
| Servings Per Container | 30 |
| pesticides_piperonyl_butoxide | <LOQ |
| solvents_chloroform | <LOQ |
| pesticides_trifloxystrobin | <LOQ |
| pesticides_thiacloprid | <LOQ |
| pesticides_tebuconazole | <LOQ |
| pesticides_spiroxamine | <LOQ |
| pesticides_spirotetramat | <LOQ |
| pesticides_spiromesifen | <LOQ |
| pesticides_spinosad | <LOQ |
| Product Variation size ml | 30 |
| Product cost | $149.99 |
| Price/oz | 147 |
| solvents_ethylene_oxide | <LOQ |
| solvents_heptane | <LOQ |
| solvents_isopropanol | <LOQ |
| solvents_methanol | <LOQ |
| solvents_methylene_chloride | <LOQ |
| solvents_n_hexane | <LOQ |
| solvents_pentane | <LOQ |
| solvents_propane | <LOQ |
| solvents_solvents_unit | ppm |
| solvents_toluene | <LOQ |
| solvents_trichloroethene | <LOQ |
| solvents_xylenes | <LOQ |
| Unit Description | mL |
| pesticides_pyridaben | <LOQ |
| Pass/Fail Pesticide? | Pass |
| Product variation flavor | Natural & Peanut Butter |
| Actual Total CBD mg/package | 2730.37 |
| pesticides_thiamethoxam | <LOQ |
| Claimed CBD Per Dose | 100mg |
| solvents_ethyl_ether | <LOQ |
| pesticides_chlorpyrifos | <LOQ |
| pesticides_clofentezine | <LOQ |
| Units Per Serving | 1 |
| solvents_butane | <LOQ |
| pesticides_acephate | <LOQ |
| cannabinoids_cbc | ND |
| solvents_ethyl_acetate | <LOQ |
| pesticides_spinetoram | <LOQ |
| Actual Total CBC mg/package | 0 |
| Actual Total CBN mg/package | 0 |
| Actual Total d9_THC mg/package | 0 |
| $/mg THC Actual | 0 |
| Product Variation Size oz | 1.014420681 |
| $/mg Total CBD Actual | $0.06 |
| Actual Total CBG mg/package | 0 |
| Payment Methods | CC |
| Manufacturer product URL | https://www.cbdmd.com/cbd-oil-tinctures-for-dogs?flavor=peanut-butter&strength=3000mg |
| Flat/Volume | Flat |
| Date paid | 12/20/19 |
| Notes | 150mg, 300mg, 750mg, 1500mg, & 3000mg varieties |
| Claimed THC | 0% |
| Actual - Claimed CBD Per Package | -269.63 |
| Pass/Fail Solvent? | Pass |
| Total cost | $158.65 |
| Taxes | $8.66 |
| Shipping cost | $0.00 |
| Rewards Program | No |
| Wholesale | Yes |
---