CBD's growth over the past two years has been absolutely stratospheric, with one survey indicating that 33% of all American adults have actually tried the product. This remarkable growth has resulted in a wide array of new CBD products entering the market – products that were not even exclusively limited to humans. CBD Oil for pets has become wildly popular, and the list below will help you find the best CBD Oil for pets.
Finding the best CBD Oil for pets isn't necessarily easy, particularly for newbies to the CBD market. Fortunately, Real Tested CBD has worked with CBD for years, evaluating hundreds of products. We know what's good for your animals, and what isn't. The list below can help you identify which products work, and which don't.
All products are evaluated on a series of set criteria, including:
The value of the product, as determined by milligrams of CBD and THC. Keep in mind that not all products have THC.
Overall levels of CBD, CBN, and CBG in each package.
Whether or not a package has passed or failed a pesticide and solvency test.
Each product also has a more in-depth review that contains a huge array of even more information that may be of use to you. This includes links to a product's lab report, purchasing links, additional lab report results, and the various pros and cons of each product. If you want, you can also further review a product by checking out user agreements. At the same time, you can also leave your own review, letting others know which of these products you think is the best CBD oil for pets.
If you're interested in learning more about CBD products that go beyond finding the best CBD oil for pets, make sure to check out our best CBD products page. It contains reviews of dozens of different products, including other CBD pet products, such as CBD topicals for pets and CBD treats for pets. Of course, there's also no shortage of reviews for CBD products that are actually designed for humans!
Most Recent Tested products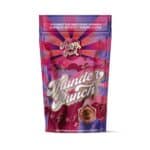 Happy Fruit Hemp HHC Gummies - Thunder Punch
$20.00
Cannacea Tagrid's 100 Full-Spectrum Hemp Oil
$77.50
Cannacea Activated 40 Full-Spectrum Hemp Oil
$38.50
Recent Posts
Blog Categories