With each passing month, it's becoming clear that smokable hemp is far from a fad. According to many involved in the hemp sector, smokable CBD-rich flowers may become one of the most dominant business segments in the upcoming years.
Customers genuinely enjoy the flavor and effects they get from products like raw hemp flowers or CBD pre-rolls. Plus, many previous tobacco smokers turn to CBD cigarettes as an alternative to nicotine.
Although it's clear that smokable CBD flowers are popular, some people have asked whether it's safe to vape these trichome-rich buds. Many customers prefer vaping due to its cleaner taste and smoother feel.
Luckily for vapers, it's possible to put ground hemp flowers in a dry herb-compatible device. However, customers must verify their vaporizer works with dry herbs before loading a heating chamber with hemp nugs.
Can Customers Put Hemp Flowers In A Vaporizer?
Consumers can vape CBD hemp flowers, but they need to triple-check that their vaporizer has "dry herb compatibility." Although there are a few hybrid devices on today's market, most vaporizers fall into one of two categories: dry herb or e-juice. Only devices that explicitly say they accept dry herbs are safe for CBD flowers.
If you try to put your CBD hemp flowers in an e-juice-only device, there's a good chance it could get seriously damaged or catch on fire. Please contact your vaporizer's manufacturer if you have any doubts about what you could put in your device.
Also, for the best vaping experience, it's good to invest in a high-quality cannabis grinder. While you could cut your hemp flowers with scissors, you'll usually enjoy a more potent and flavorful experience if you use a dedicated grinding product. Review the manufacturer's suggested instructions on grind size and packing limits to enjoy the best CBD hemp vaping experience.
Is It Better To Vape CBD Flowers Or E-Juices?
Choosing between vaping CBD flowers or e-juices is a matter of personal preference. Some people claim e-juices offer a more flavor-forward experience, but others contend CBD flowers provide hemp's "authentic" flavor profile.
People who believe in the "entourage effect" may feel more comfortable with CBD flowers because these buds have all-natural terpenes, cannabinoids, and flavonoids. On the flipside, since CBD e-juices are extracts, they could have higher cannabinoid percentages than flowers. So, people who value potency over the "raw hemp experience" should opt for a high-intensity CBD e-juice.
Whether you vape CBD flowers or vape pods, you'll always enjoy a more intense experience versus edibles, tinctures, or topicals. Vaping delivers CBD into your bloodstream via the lungs. Within a few minutes after your first puff, you should start to feel CBD's soothing properties in your system.
What About Vaping CBD Oil?
Please never put CBD oil into an e-juice vaporizer. Although CBD oil may look like it has the same consistency as a standard vape juice, these products are not the same. CBD oil doesn't have compounds like propylene glycol and vegetable glycerin, both of which help CBD e-juices withstand the high temperatures in a vaporizer.
If you put CBD oil in an e-juice vaporizer, it won't produce clean vapor and may seriously damage your device. Please always double-check the e-juice you're adding to your vaporizer is compatible with your unit.
Whatever You Like To Vape, You'll Find It On Real Tested CBD
Vaping CBD has become a popular hobby nowadays. Unfortunately, it can be difficult for people who enjoy vaping to find safe CBD flowers and e-juices for their devices. There's a lot of misinformation in the vaping space, and it's challenging to find unbiased results on some of the largest brands.
Luckily for vapers, Real Tested CBD now tests dozens of CBD hemp flowers and vape pods. To discover more info on the best CBD flowers and e-juices, please read all of Real Tested CBD's reviews.
Most Recent Tested products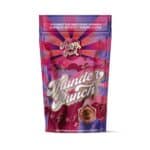 Happy Fruit Hemp HHC Gummies - Thunder Punch
$20.00
Cannacea Tagrid's 100 Full-Spectrum Hemp Oil
$77.50
Cannacea Activated 40 Full-Spectrum Hemp Oil
$38.50
Recent Posts
Blog Categories