If you are new to CBD, you might have many questions about what the compound is and what it does. Odds are good that you have seen other people using it or heard others race about how effective it can be. While a wide array of research is still pending, a huge amount of studies have been conducted and have shown that CBD may have the ability to address many ills.
Here's a quick examination of just how CBD works and what it may be able to do for you.
What does CBD do for your body?
CBD's impact is felt because of the way it alters the functioning of your Endocannabinoid System. The body's Endocannabinoid System was first discovered by researchers in the 1990s. It works to keep your body in a state of homeostasis – at least one paper has referred to it as the body's "universal regulator." This means that it strives to keep a variety of systems and sensations – like pain, temperature, stress, fatigue, and more – within a set parameter.
Research continues into just how your Endocannabinoid System actually works, but some facts are known. Your Endocannabinoid System consists of multiple components, including cannabinoids that your body produces, cannabinoid receptors that are found in your body, and enzymes that end cannabinoid reactions. Your body's cannabinoids bind with cannabinoid receptors, creating a physiological reaction.
When you take CBD, the component works to strengthen the binding between your body's cannabinoids and receptors. It does not actually bind with your body's cannabinoid receptors. This alters the functioning of your cannabinoids, making them stronger and last longer. This, in turn, has numerous physiological impacts on your body and is responsible for CBD's impact.
What does CBD do to help you?
Research is still ongoing, but some studies have found that CBD can have a variety of positive effects on numerous areas of your body. This includes Pain There is evidence to suggest that CBD can help to reduce multiple types of pain. For example, a study in rats with arthritis found that, after being injected with CBD, rats showed decreased pain signs, enhanced mobility, and reduced swelling. Other reviews studying the impact of CBD on pain have come to similar conclusions. There is also evidence that has shown that CBD may be able to help reduce pain caused by cancer treatments and multiple sclerosis spasticity.

– Anxiety: A variety of studies have found that there may be evidence to indicate that CBD can help to reduce anxiety. Interestingly, it appears that these findings are consistent across multiple types of anxiety. For example, a 2015 paper reviewed the available evidence for CBD and anxiety and determined that the compound did have therapeutic impacts to treat numerous types of anxiety. Similar reviews have been conducted for obsessive-compulsive disorder. Other papers have used an experimental study model and found that CBD did result in an improvement for anxiety symptoms. This has been the case for the treatment of performance anxiety, post-traumatic stress disorder, and social anxiety.

– Depression: Similarly to anxiety, some studies have found that CBD may help to reduce the symptoms of depression. One review noted that the compound appeared to have anti-depressant like qualities. Another study noted that CBD seemed to have the ability to reduce depression quickly and in a sustained manner. Other studies have noted that CBD may be able to help people reduce their stress levels. This, in turn, can reduce depression.

– Skincare: One of CBD's most-studied benefits seems to be its ability to work as an anti-inflammatory, with some evidence indicating that it does have these properties. As such, some have determined that CBD can work well on specific skincare issues, including the treatment of skin disorders like eczema and psoriasis.
More evidence is needed, but it does seem highly possible that when it comes to what CBD can do, the answer may be, "Quite a bit."
Most Recent Tested products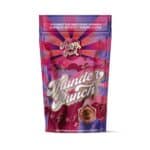 Happy Fruit Hemp HHC Gummies - Thunder Punch
$20.00
Cannacea Tagrid's 100 Full-Spectrum Hemp Oil
$77.50
Cannacea Activated 40 Full-Spectrum Hemp Oil
$38.50
Recent Posts
Blog Categories