Whether you are at a gas station or a health and wellness store, you have likely seen CBD grace the shelves. That said, just because you can find CBD in convenient places doesn't mean all products are made with equal quality and potency.
Many CBD products will claim to be broad-spectrum or full-spectrum, but they may not contain all the cannabinoids they should to be labeled as such. Similarly, a CBD product labeled as an isolate could contain more than just CBD. Let's take a closer look at what differentiates full-spectrum, broad-spectrum and isolate products and how to best shop for both.
What Is CBD?
First, a little 101 on CBD itself.
CBD, also referred to as cannabinol, is one of many cannabinoids naturally found in hemp and cannabis plants. CBD is known as a major cannabinoid that can be found abundantly in hemp plants. THC is another major cannabinoid, but in hemp products produced and distributed in the U.S. there must be a THC threshold of 0.3% or less.
Cannabidiol can be extracted and processed into a variety of products. Most of these products fall under three spectrums: full spectrum, broad spectrum and isolate.
Different Spectrums of CBD
Depending on the spectrum of CBD you choose, there can be the presence of other cannabinoids.
Full-Spectrum CBD: Full-spectrum CBD products contain the "full spectrum" of cannabinoids, terpenes, and flavonoids in hemp plants. This can include rare cannabinoids like CBN, CBC, CBG and THC.
Broad-Spectrum CBD: Broad-spectrum CBD products will contain rare cannabinoids but should lack the presence of THC. In a broad-spectrum product you should still find CBG, CBC and CBN.
CBD Isolates: CBD isolate products are made of pure CBD. A CBD isolate product should be processed precisely to contain only CBD with no trace amounts of any rare cannabinoids or THC.
What Is the Entourage Effect?
The different spectrums of CBD can provide different effects. This is mostly based on a theory called the 'entourage effect.' The entourage effect alleges that the full spectrum of compounds from hemp and cannabis plants can work better when used together. With the entourage effect, a CBD product with multiple cannabinoids could prove more effective.
The entourage effect could be possible with both a broad-spectrum and full-spectrum CBD product but based on some research a full-spectrums CBD product with the presence of all rare cannabinoids including THC could be the most effective. Still, for those who don't want to consume THC, there is research that CBD alone can still be effective.
Always Rely on Third-Party Tested Products
Whether you want a full-spectrum, broad-spectrum or CBD isolate, it's always a good choice to turn to third-party lab testing to make sure you are getting a product that is true to it's label. Third-party lab tests will give you insight to what cannabinoids are present in your product, and in what amounts.
Relying on third-party lab tests is the best way to make sure you are getting a product that is truly broad-spectrum, full-spectrum or purely CBD. For the most reliable third-party lab tests and your go-to place for transparent product reviews, turn to Real Tested CBD.
Most Recent Tested products
Cannacea Tagrid's 100 Full-Spectrum Hemp Oil
$77.50
Cannacea Activated 40 Full-Spectrum Hemp Oil
$38.50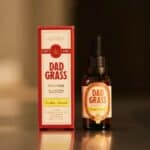 Dad Grass Goodtime Formula + CBG Tincture
$55.25
Recent Posts
Blog Categories