Since CBD has become big business in the health & wellness sector, it's no surprise that many "supplement stalwarts" are getting involved in the hemp game. For instance, Thorne Research recently put together a proprietary batch of hemp oil capsules. While Thorne has been around before the recent CBD boom, it claims its new hemp product is one of the industry's finest.
So, does Thorne's CBD oil live up to its lofty claims? Should you feel safe spending your money on a bottle of Thorne CBD capsules? If you're curious about how Thorne's CBD stacks up against other companies, then you should check out the findings from Real Tested CBD's unbiased lab reports.
How Did Thorne's CBD Capsules Score At Real Tested CBD?
Thorne's most prominent CBD-related product is its proprietary "Hemp Oil+ Capsules." According to the company, these hemp oil-filled pills contain whole-plant extract from certified organic hemp. The company also includes secondary herbs and spices to enhance hemp's effects. A few secondary ingredients listed on the packet include black pepper, cloves, and rosemary.
Please note that Thorne didn't publish the total CBD count in its hemp capsules. Instead, it only claims each gel cap has 990 mg of hemp extract.
While there is CBD in Thorne's hemp oil formula, customers should always be wary when they don't see CBD-specific info on labels or lab reports. Manufacturers sometimes use "hemp" on their products but only sell "hemp seed oil." Unlike CBD hemp buds, hemp seeds have zero cannabinoids.
OK, so just how much CBD is in Thorne's Hemp Oil+? According to Real Tested CBD's analysis, there was 375 mg of CBD in each pill. Our tests also revealed about 14 mg of the rare cannabinoid THCV per hemp capsule. Unfortunately, we don't know a lot about THCV, but most studies suggest it's far less psychoactive than delta-9 THC.
While these numbers are impressive, customers should remember Thorne charges a premium for their supplements. Indeed, you'll be paying roughly $0.14 per mg of CBD and $4 per mg of THCV. So, from a value perspective, Thorne's Hemp Oil+ capsules can't compete with most other brands.
True to its high-quality standards, Thorne's Hemp Oil+ capsules had zero signs of heavy metals, solvents, or pesticides. We also found no evidence of illegal delta-9 THC concentrations.
There's nothing "wrong" with Thorne's Hemp Oil+ capsules. We would have liked to see the total CBD count before our lab tests, Thorne's products certainly have detectable traces of this cannabinoid. The main con with Thorne's product is its price. Some customers may not mind paying a premium given Thorne's high reputation, but it's hard to sell Hemp Oil+ to value shoppers.
Overall, Real Tested CBD gave Thorne's Hemp Oil+ a 70 out of 100.
Does Thorne Offer Other Products?
CBD customers should understand that Thorne isn't a "hemp-focused" company. Instead, Thorne is a general supplement brand that offers many health-related products. So, if you're looking for a brand dedicated to CBD, Thorne may not be the best pick for you.
However, that doesn't mean Thorne is a shady supplement company. Quite the contrary! Thorne has huge partnerships with brands like the Mayo Clinic, MUSC, and CrossFit. The team at Thorne also has numerous accreditations and takes a science-first approach to their supplements.
The extra cost to make their high-quality supplements gives Thorne a premium reputation in the industry. All of Thorne's products are typically higher than the competition. Some people don't mind paying up for Thorne's products due to the company's exceptional reputation, but these products aren't ideal for budget-hunting buyers.
Is Thorne A Reputable CBD Brand?
Thorne is one of the most accredited supplement brands in the USA. One of Thorne's "claims to fame" is that it's the first American supplement company to get an "A" score from Australia's Therapeutic Goods Administration. According to industry experts, it's challenging to achieve this standard.
Since Thorne has a high rating for quality control, it's unlikely you'll experience significant issues dealing with this brand. Also, thanks to Thorne's large size, it has a robust customer care portal. If you aren't satisfied with your Thorne Hemp Oil+ Capsules, you can look into the company's 60-day satisfaction guarantee.
Check Out More CBD Capsule Reviews On Real Tested CBD
Thorne is a high-quality supplement brand, but it's far from the only option in today's CBD capsule industry. If Thorne's Hemp Oil+ doesn't fit your preferences, you should take a few moments to look through Real Tested CBD's other reports. We have plenty of third-party lab tests to prove which CBD brands are worth your investment.
Please click this link to discover Real Tested CBD's picks for the best CBD capsules.
Most Recent Tested products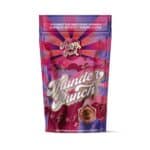 Happy Fruit Hemp HHC Gummies - Thunder Punch
$20.00
Cannacea Tagrid's 100 Full-Spectrum Hemp Oil
$77.50
Cannacea Activated 40 Full-Spectrum Hemp Oil
$38.50
Recent Posts
Blog Categories