It's become increasingly common for A-list celebrities to sponsor CBD products. However, former "Big Bang Theory" star Mayim Bialik just took to social media to distance herself from a few CBD gummy brands.
In a recent post on Instagram, Bialik told her millions of followers that CBD companies are falsely claiming she endorsed their edibles. Although these ads look authentic, the current Jeopardy host says she has zero partnerships with CBD businesses. Customers shouldn't take any CBD companies using Bialik's name seriously.
There appear to be multiple brands using Bialik's name on their CBD gummies, but a few of the most prominent include:
Smilz CBD
Clinical CBD
Green Otter CBD
Kushly CBD
As you're researching CBD products, please be extra cautious with brands that use Mayim Bialik's image or name in their promos. In many cases, these CBD companies aren't reputable.
How Can You Tell CBD Gummies Are Legit?
News of the fake Mayim Bialik-backed CBD products highlights the significance of transparent testing in the hemp industry. Unfortunately, there's still no federal oversight into the CBD market, which means it's easy for disreputable brands to profit off of the CBD boom. Many of these "CBD companies" have poor testing procedures, zero transparency, and generate fake hype on social media to get your attention.
Consumers need to be extra skeptical when searching for a reliable CBD gummies brand. Always ask for third-party lab test results and compare these Certificates of Analysis with the company's posted claims. You should see if your brand has official accreditations with organizations like the US Hemp Growers Association. It also helps to know your CBD brand has responsive customer service, a solid return policy, and a USDA "Organic" seal of approval.
With CBD gummies, it's extra important to scan the official ingredients list. It's common for manufacturers to sneak questionable additives or boatloads of sugar into their edibles formulas. If you have any dietary restrictions, you should verify your brand meets your requirements. For instance, many reputable CBD gummy manufacturers sell their products as "vegan-friendly."
Although it's not ideal to rely on online reviews, you could get a feel for a CBD company's reputation by scanning hemp forums or review aggregators like TrustPilot. Look at what verified customers are saying about your brand and what kind of following your business has. Internet reviews shouldn't be the deciding factor when shopping for CBD gummies, but they may help you choose from a few brands.
Don't Forget To Check Real Tested CBD's Results On The Best CBD Gummies!
While doing your "CBD detective work," please remember that Real Tested CBD has many unbiased reports on big hemp brands. You can easily find our reviews and official lab reports on the best CBD gummies, oils, and vape carts. We also regularly publish shopping guides and news on the hemp industry so you can stay in the loop on everything happening in the CBD market.
Please follow this link to read our latest picks on the best CBD gummy brands.
Most Recent Tested products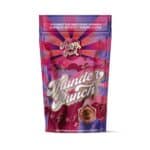 Happy Fruit Hemp HHC Gummies - Thunder Punch
$20.00
Cannacea Tagrid's 100 Full-Spectrum Hemp Oil
$77.50
Recent Posts
Blog Categories