Most people involved in the hemp industry have probably heard about CBD's anti-anxiety effects. There are already a few randomized, placebo-controlled clinical trials that suggest CBD has a phenomenal impact on patients with social anxiety disorder. There's also some evidence CBD could reduce night terrors in patients with PTSD.
However, there's not as much data regarding CBD's effect on acute anxiety symptoms. For instance, could a high dose of CBD immediately reduce a panic attack? Does CBD help lessen the severity or frequency of this troubling issue?
Although we don't yet have a clear answer to these questions, a few Washington State researchers are interested in CBD's relationship to acute anxiety. In fact, the Seattle-based Receptor Life Sciences just announced significant funding to analyze this issue.
What Can We Expect From Receptor Life Sciences' Upcoming CBD Trial?
On April 7th, the new company Receptor Life Sciences announced it received over $9 million in funds to launch a clinical trial on CBD for anxiety. As hinted above, this study will focus on CBD's effect on more acute anxiety symptoms such as panic attacks or paranoia episodes. The researchers will also test the efficacy of their proprietary dry-powder form of CBD, which is delivered via an inhaler.
Receptor Life Sciences' claims its new device can send a specific dose of CBD into a patients' lungs for immediate effects. This delivery method is supposed to help get CBD into a person's body quickly to experience CBD's full benefits in minutes.
The FDA approved Receptor Life Sciences' new CBD device for investigational purposes. Previously, Receptor Life Sciences published research highlighting the absorption rates of its inhaler versus other CBD delivery methods. According to this data, it only took four minutes for most of the CBD in its inhaler to enter a patients' bloodstream.
The full details of Receptor Life Sciences' new trial aren't known, but initial reports suggest it will focus on their CBD inhaler's effect on anxiety conditions. The research team hopes the data from their trial will be helpful for future psychologists and doctors.
It's also worth mentioning Receptor Life Sciences is developing a new CBD capsule for children with autism. While the FDA approved Receptor Life Sciences' "absorption enhancer" in its new autism-focused CBD pills, there's no word on when the company will test these supplements on patients.
In The Meantime, What Should Anxiety Patients Look For In CBD?
News of big clinical trials like the one from Receptor Life Sciences are always encouraging in the CBD space. The more reliable information doctors have on CBD's effectiveness, the easier it will be to give patients a better understanding of how this cannabinoid works.
However, that doesn't mean anxiety patients need to wait around to try hemp-derived CBD. There are plenty of CBD oils, capsules, and vape carts available for purchase in North America. New customers just have to be extra cautious about which brand they want to work with.
Please take a few moments to read through the unbiased reviews of CBD products on Real Tested CBD. Our expert hemp researchers are always looking into third-party lab tests to get a sense of how pure a CBD brand is. Please follow this link to see our latest picks for the best CBD brands.
Most Recent Tested products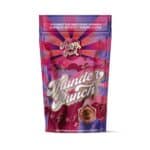 Happy Fruit Hemp HHC Gummies - Thunder Punch
$20.00
Cannacea Tagrid's 100 Full-Spectrum Hemp Oil
$77.50
Cannacea Activated 40 Full-Spectrum Hemp Oil
$38.50
Recent Posts
Blog Categories