People are willing to pay over four figures to care for their four-legged friends. Recent data suggests Americans spend about $103.6 billion to pamper their pets each year. Interestingly, now that hemp has gone mainstream, more of this spending is going towards pet-approved CBD treats and oils. The current valuation of the CBD pet market is now well over $100 million.
Due to the intense popularity and relative lack of federal oversight in the pet CBD industry, customers are often concerned about choosing the right CBD brand for their pet. It's true: there are a ton of scammers in today's hemp market. However, companies like Real Tested CBD are on a mission to "weed out" the reputable hemp brands with objective lab testing procedures.
For instance, Real Tested CBD recently investigated a popular pet-friendly CBD oil from the Colorado-based business ABSC Organics. ABSC claims to offer clinically-proven pet CBD oils for dogs of all shapes and sizes. So, how well did ABSC score in Real Tested CBD's reports?
How Did ABSC Organics' CBD Oil Score At Real Tested CBD?
ABSC Organics offers a few versions of its signature CBD oil for pets, but we chose to test the 300 mg CBD oil for small dogs. The manufacturer claims this oil would be ideal for dogs 20 lbs or under, and a few recommended breeds include chihuahuas, pugs, and Yorkshire terriers.
Overall, this CBD oil had a clean score in our lab testing. The CBD per serving size came in at about 2.4 mg, and the total cannabinoid per serving was around 2.88 mg. This gave ABSC Organics' CBD oil a reasonable valuation of about $0.15 per mg of CBD. We also liked how there were many secondary cannabinoids in this product, including CBG and CBC. To find out more about CBG near me, please check out this Real Tested CBD link.
Please note: There was a bit of delta-9 THC in ABSC Organics' CBD Oil for Small Pets. However, it was well within the 2018 US Farm Bill's standard of ≤ 0.3 percent delta-9 THC. Also, ABSC Organics' product showed zero signs of pesticides, heavy metals, and solvents.
Considering all these factors, we gave ABSC's CBD oil for Small Pets a high ranking of 89 out of 100. The only thing our testers didn't like about this oil was a slightly higher fee for one-time purchases. If you don't subscribe on ABSC Organics' site, you will pay $10 extra for its products.
On the plus side, this CBD oil has a mouthwatering "chicken flavor" that may make it easier to feed to dogs.
You could learn more about how we reached these conclusions on Real Tested CBD's official ASBC Organics review page.
Does ABSC Organics Offer Other Products?
Currently, ABSC Organics only focuses on making high-quality CBD oils for pets. The only difference between the CBD oil that Real Tested CBD examined and the other items on ABSC's website is that the three other oils have a higher potency.
Above the "CBD oil for small pets," ABSC offers a 600 mg CBD oil for pets between 20 – 50 lbs. There are also CBD oils with 1,200 mg or 2,400 mg of CBD for pets who weigh 50 – 100 lbs or over 100 lbs, respectively.
Other than the potencies in these CBD oils, not much differs from the CBD oil for small pets. However, for some reason, ABSC only has alternative flavors like bacon and salmon in the higher-potency product categories.
Is ABSC Organics A Reputable CBD Brand?
According to Real Tested CBD's analysis, ABSC Organics is a reliable brand in the pet CBD category. The company is very transparent with its reports, and we see no evidence that it's lying about its quality standards and potency.
Pick The Perfect Pet CBD Treat On Real Tested CBD!
If you're thinking about feeding CBD to your furry friends, please take your time reviewing all the CBD brands on Real Tested CBD. Although ABSC Organics seems to be a reliable company, there are dozens of options in the pet CBD space.
Real Tested CBD has many other unbiased reviews of pet-approved CBD products from many hot brands. We also have a list of the "Best CBD for Pets" to help customers see how ABSC Organics stacks up against the competition.
For more scientific data on CBD products for pets, please follow this link on Real Tested CBD
Most Recent Tested products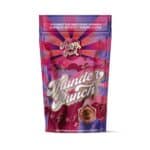 Happy Fruit Hemp HHC Gummies - Thunder Punch
$20.00
Cannacea Tagrid's 100 Full-Spectrum Hemp Oil
$77.50
Cannacea Activated 40 Full-Spectrum Hemp Oil
$38.50
Recent Posts
Blog Categories