The rise of CBD is here to stay, as is the growing number of products and companies distributing today. From the health and wellness industries to the beauty and culinary field and beyond, cannabidiol's rise in popularity continues to grow. There are countless options available when it comes to CBD products on the market. When you are looking to find quality CBD products, fact-checking with third-party lab test results is the best way to ensure a legitimate CBD purchase. Real Tested CBD is a leading name in the world of CBD product reviews and independent lab testing. We provide you with everything you need to know before buying CBD online. Turn to Real Tested CBD and our expert score rating scale to get the best product for individual needs, in just about any form you can think of. Today we bring you Big Sky Botanicals out of Montana:
"At Big Sky Botanicals we've witnessed first hand the benefit that phytocannabinoid-rich products can provide. The positive impact we see these products provide to such a wide range of individuals continues to inspire us every day. Our mission combines the potential of these products with our 50+ years of combined experience business experience in the direct-to-consumer/nutrition industry." – Brian Frank & Vince Arnone (Big Sky Botanicals Co-Founders)
Big Sky Botanicals
First up we have Big Sky Botanicals CBD Balm, rated seventh in our Best CBD Balms category. This easy to apply CBD balm comes in a lavender and eucalyptus scent, infused with essential oils. Though it did test a bit below the label claim for CBD, we did find this balm to contain both THCA and THCV. We give this CBD balm an acceptable recommendation from our expert review.
Next, we bring you Big Sky Botanicals 250mg CBD oil tincture. This broad-spectrum CBD oil tested just above the label claim for CBD, with almost 300mg. This CBD oil also contains a small amount of THCV, a rare cannabinoid we don't often see in oils and tinctures. This orange-flavored CBD oil ranks in our top 20 Best Broad Spectrum CBD Oils, and gets a recommendation from our expert review.
We have Big Sky Botanicals Soft-gels next, coming in 14th in our Best CBD Capsule category. These capsules tested spot-on to their label claim, with just 9mg over. They are missing some of the rare cannabinoids we like to see, but they do contain trace amounts of CBG, CBV, and THCV. With flying colors on pesticide and solvent tests, these CBD capsules are a great choice for a new CBD user who may be worried about a "hempy" aftertaste that can accompany CBD oils.
Last but not least, we have Big Sky Botanicals 6 pack of CBD gummies. These gummies rank fourth in our Best CBD Gummies category, with a score of 84 on our expert scale. These gummies contain an extra 5mg in the package and are naturally flavored with no additional sweeteners. Though there are no rare cannabinoids present, including THC, these gummies are an ideal choice for anyone with drug testing concerns.
Real Tested CBD Overview – Big Sky Botanicals
When it comes to purchasing CBD products, there are countless options and consumption methods. Ensuring the reliability of these products is the key to getting something safe and effective. Big Sky Botanicals is a high-quality and reliable choice for CBD, with accurate labels passed pesticide/solvent tests, we recommended Big Sky Botanicals for anyone interested in CBD.
When you are shopping for a legit CBD product, always turn to third-party lab test results to ensure potency, purity, and overall quality. For more Real Tested CBD brand spotlights, click here.
*This article was last updated on 12/7/2020*
Most Recent Tested products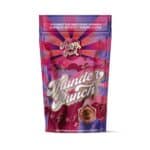 Happy Fruit Hemp HHC Gummies - Thunder Punch
$20.00
Cannacea Tagrid's 100 Full-Spectrum Hemp Oil
$77.50
Cannacea Activated 40 Full-Spectrum Hemp Oil
$38.50
Recent Posts
Blog Categories