There is a new contender making its mark in the beauty industry. CBD has entered the skincare chat! From oils, supplements and serums, CBD is just about everywhere we look these days. CBD is one of the newest popular ingredients popping up in skincare products, and if you are wondering why and how it works, we're about to break it down for you below.
What Is CBD?
Cannabidiol, also known as CBD, is one of many compounds that can be found naturally in hemp and cannabis plants. CBD used in skincare products comes primarily from cannabis sativa, or hemp plants, that contain less than 0.3% THC. CBD is a non-psychoactive compound unlike its well-known cousin THC that can create intoxicating effects.
CBD can be extracted from cannabis plants and turned into a variety of products. There are CBD ingestibles as well as CBD topicals, which have been primarily used for pain management and inflammation control. However, there are more and more brands who have started to come out with skincare and beauty products that contain CBD.
So how can CBD benefit the skin? Let's learn more.
How Is CBD Used Topically?
Generally, CBD has been used topically to help treat pain through targeted application. There are an abundance of CBD topicals like balms and creams that are great for athletes or active people seeking muscle or joint relief. Not only can these products potentially help in managing pain, but they are also good for the skin.
CBD is thought to boast high anti-inflammatory properties which is ideal for battling injury, but it can also be beneficial for conditions like acne, psoriasis or eczema. Though research is still limited surrounding the benefits of CBD for skincare, there is promise in the direction of CBD having sebostatic effects as well as anti-inflammatory properties. Because of this CBD could help limit sebum production which could minimize clogged pores and acne.
While there is more research needed to fully understand all of CBD's potential for benefitting the skin, overall, it seems that CBD can be effective at fighting inflammation, which could make it ideal for sensitive or inflamed skin and skincare. To use a CBD product topically, always follow package instructions, but generally lather it on and see or feel the results through targeted application!
CBD Skincare Products
CBD Face Oils: One of the CBD skincare products that is becoming more and more popular is a CBD-based face oil. Facial oils are designed to provide the skin with moisture and to lock in hydration. A CBD face oil could be great for nourishing your skin while balancing for a healthy glow. Some face oils are also great for cleansing or for use as a spot treatment, which for CBD and its great anti-inflammatory tendencies, this is another great use for a CBD-based face oil.
CBD Serums: Face serums are another great option for upping the ante of moisture and fighting fine lines. Serums typically are made with a higher concentration of active ingredients, which could include CBD for a cannabinoid-based product. Serums are known to lock in moisture, reduce the appearance of blemishes and fight wrinkles and fine lines. With the added power of CBD's anti-inflammatory properties, a CBD face serum could be the key to completing your beauty routine.
CBD Creams: Facial creams are important for use in a skincare routine daily. They help retain moisture and the elasticity of your skin, which can reduce wrinkles, fine lines and age spots. A CBD-base face cream could do all this and potentially more, again with its anti-inflammatory properties. A CBD cream can be great for sensitive skin, keeping redness and inflammation at bay, while also not clogging pores. There are even CBD face creams that combine other active ingredients like collagen for an even more effective elixir.
Finding Good CBD Skincare Products
With any cannabinoid-based product, especially those you are going to apply to your face, it is key to get a high-quality CBD product. Not all products are created equally, so turning to third-party lab test results is a great way to ensure the reliability of your product of choice. Third-party lab test results will provide you with insight on what cannabinoids are present in your product, what levels each is at, and if the product passed solvent and pesticide tests.
Turn to Real Tested CBD and the 'Best CBD Beauty Products' category for some of the best tested and tried products on the market today.
Most Recent Tested products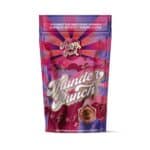 Happy Fruit Hemp HHC Gummies - Thunder Punch
$20.00
Cannacea Tagrid's 100 Full-Spectrum Hemp Oil
$77.50
Cannacea Activated 40 Full-Spectrum Hemp Oil
$38.50
Recent Posts
Blog Categories