Ever since delta-8 THC hit the hemp scene, there have been clouds of uncertainty surrounding its legality. Nothing in the 2018 US Farm Bill clearly said whether hemp-derived delta-8 was legit. Many people in the hemp community assumed delta-8 was OK so long as it met the ≤ 0.3 delta-9 THC standard. However, a few US states claim delta-8 should be treated as an illegal "Schedule I" drug just like delta-9.
Much of this speculation over delta-8's legal status has been silenced thanks to a landmark Appeals Court opinion. While this may not fully put the delta-8 controversy to bed, it suggests hemp-derived delta-8 products meet the 2018 US Farm Bill's standards.
Wait, What Did The US Court of Appeals Say About Delta-8?
On May 19th, the US Court of Appeals for the Ninth Circuit released a shocking opinion on the legal status of delta-8 THC. According to the judges presiding over this case, delta-8 THC fits the 2018 US Farm Bill's terminology on legal hemp-derived goods. So long as delta-8 THC meets this bill's standard for ≤ 0.3 percent delta-9 THC on a dry weight basis, it's federally legal.
Interestingly, this 3 – 0 ruling was over an issue involving alleged counterfeit items at an LA dispensary. The vape manufacturer AK Futures claimed the LA store Boyd Street Distro sold counterfeit versions of its delta-8 products. To counter this claim, Boyd Street Distro argued that AK Futures couldn't make these trademark arguments because delta-8 was supposedly an "illegal cannabinoid."
According to the Ninth Circuit Court's judges, Boyd Street Distro's allegations didn't stand up to the 2018 US Farm Bill. In the official opinion, the US Appeals Court clearly said that AK Futures' delta-8 products were legal; therefore, the counterfeit allegations were legitimate.
This doesn't mean the Ninth Circuit agreed delta-8 should be legal. In fact, the judges suggested the oversight in not banning delta-8 may have been a mistake when drafting the 2018 US Farm Bill. However, since there's no specific ban on delta-8 THC in the letter of the law, it's a federally legal substance.
Recent reports didn't say whether Boyd Street Distro will challenge this opinion with another appeal.
Does This Mean Delta-8 THC Is In The Clear?
There's no question that the Ninth District's decision helps clarify the federal stance toward hemp-derived delta-8 products. However, this doesn't mean delta-8 is out of the woods yet. Until the US government formally passes a law that says "delta-8 THC is legal," there will always be questions.
Please remember many states still don't recognize the difference between delta-8 and delta-9. The 2018 US Farm Bill gives states the right to craft their hemp policies, so local territories can enact laws that run counter to the new federal standard.
It's also worth mentioning that most delta-8 THC on today's market is "synthetic." Although delta-8 is in hemp strains, it only makes up about 1 percent of the total cannabinoid count. Manufacturers can only make affordable delta-8 products by manipulating CBD molecules into delta-8.
There are a few lingering questions about whether delta-8's synthetic status changes its legality. However, cannabis-friendly states seem to let this complexity slide considering delta-8 is a naturally-occurring cannabinoid — even though most commercially available products are lab-made.
Bottom line: Customers still need to double-check the hemp laws in their home territory before Googling "delta-8 near me." It's also important to monitor how federal lawmakers will respond to the Ninth Circuit's ruling in the ensuing weeks. There's a slight possibility this decision could force legislators to introduce new delta-8-specific language into the 2018 US Farm Bill.
Searching For Pure Delta-8 Products? Always Check Real Tested CBD!
There may still be a few doubts swirling around delta-8's legality, but there's no question this cannabinoid is super hot on today's hemp market. If you're interested in trying delta-8 gummies, tinctures, or vape carts, you must always be wary of who's making your items. Many manufacturers put out poor-quality delta-8 products without proper third-party lab tests.
The best place to start reviewing all aspects of delta-8 THC is on Real Tested CBD's Delta-8 Resource Center. Here, you'll find dozens of articles and unbiased reviews on some of the most prominent delta-8 brands. Please take your time searching through Real Tested CBD to see the best delta-8 near me.
Most Recent Tested products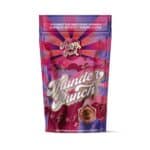 Happy Fruit Hemp HHC Gummies - Thunder Punch
$20.00
Cannacea Tagrid's 100 Full-Spectrum Hemp Oil
$77.50
Cannacea Activated 40 Full-Spectrum Hemp Oil
$38.50
Recent Posts
Blog Categories