Smoking CBD pre-rolled joints is literally the hottest trend in the North American hemp market. Recent estimates suggest the smokable hemp flower segment is already raking in millions, and there's no sign that this "burning" fad will fizzle out. If anything, more people are getting interested in smoking non-intoxicating CBD nugs as an alternative to THC-containing cannabis or tobacco.
Since the smokable hemp market is so popular, many new CBD flower brands are competing for consumers' attention. Tweedle Farms is one Oregon-based company that has gained considerable traction online. According to the company's official statement, Tweedle Farms operates "Northwest Oregon's premiere, family-owned hemp farm" and offers customers "farm-to-table, terpene-rich, high CBD hemp flower."
Real Tested CBD decided to put Tweedle Farms' claims to the test with a recent lab report. Below, you'll see our unbiased opinion on how good Tweedle Farms' hemp flowers are.
How Did Tweedle Farms' Hemp Score At Real Tested CBD?
The Real Tested CBD team ordered a batch of hemp nugs from Tweedle Farms' CBD flower portfolio. The label on these flowers said they contained 19.6 percent CBD-A plus terpenes like β-myrcene, limonene, β-caryophyllene.
Our lab reports suggested that Tweedle Farms' hemp flowers contained about 15.38 percent CBD-A. While that's a respectable number, it's slightly less than the posted 19.6 percent. Still, at the price we paid for this product, that's a fair deal of about $0.06 per mg of CBD.
Real Tested CBD's reviewers also found that Tweedle Farms' CBD hemp flower had zero traces of pesticides or solvents. These nugs also had surprisingly high traces of secondary cannabinoids like CBG and CBC, which is a plus for fans of the entourage effect.
Overall, we gave Tweedle Farms' CBD hemp flowers a score of 70. While we we liked the quality and value of these smokable hemp flowers, we didn't like that the posted CBD-A value was higher than the actual CBD. The Real Tested CBD team also noted that the shipping time for these hemp flowers wasn't the fastest.
Please click this link for our full lab report of Tweedle Farms' CBD-A Hemp Flowers.
Does Tweedle Farms Offer Other CBD Products?
Although Real Tested CBD only tested Tweedle Farms' signature CBD flowers, this brand offers many other hemp-related products. In addition to multiple CBD hemp nugs and pre-rolls, you can find CBD tinctures, topicals, concentrates, and edibles on its website. People who want to test out Tweedle Farms' flowers could also opt for shake or small buds.
Is Tweedle Farms A Reputable Hemp Brand?
From our initial analysis, Real Tested CBD believes Tweedle Farms is a reputable hemp flower brand. Although the company doesn't claim to have organic status, our lab tests show zero evidence of pesticide or solvent use. Also, although the CBD didn't live up to its posted claims, it was still relatively high at over 15 percent.
Although online reviews aren't the most scientific metric, it's clear that Tweedle Farms has a large following on social media. The company Tweedle Farms is now verified on TrustPilot, and it has an excellent rating from over 11,000 customers.
Find More CBD Hemp Flower Reviews On Real Tested CBD
Before you try CBD hemp flowers from Tweedle Farms, please take some time to scan through the many other unbiased reviews on Real Tested CBD. Our team has screened CBD hemp flowers and pre-rolls from dozens of companies in the past few years. We also have a few lists of the best CBD pre-rolls in today's market. For our latest picks on the absolute best CBD joints, follow this link.
Most Recent Tested products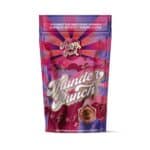 Happy Fruit Hemp HHC Gummies - Thunder Punch
$20.00
Cannacea Tagrid's 100 Full-Spectrum Hemp Oil
$77.50
Cannacea Activated 40 Full-Spectrum Hemp Oil
$38.50
Recent Posts
Blog Categories