Over the past few years, CBD has begun to really gain traction in the health and wellness worlds. This year is no different. CBD, otherwise known as cannabidiol, is one of many naturally occurring compounds in hemp and cannabis plants. CBD is thought to have a variety of therapeutic properties from pain management to stress relief.
CBD's popularity is no mistake, and the rise of this holistic approach to ailments has sparked an abundance of products on the market. Here at Real Tested CBD, we take the guesswork out of your CBD purchase. Whether it's quality, potency, or purity, we test CBD products to ensure you are getting exactly what you are seeking.
If edibles, CBD oil, or hemp flower aren't for you, there is always the option of a CBD capsule. Great for those who don't want a "hempy" aftertaste or prefer a subtle method of consumption, CBD capsules are perfect for you. Here are our top five CBD capsule choices based on lab test results:
Top 5 CBD Capsules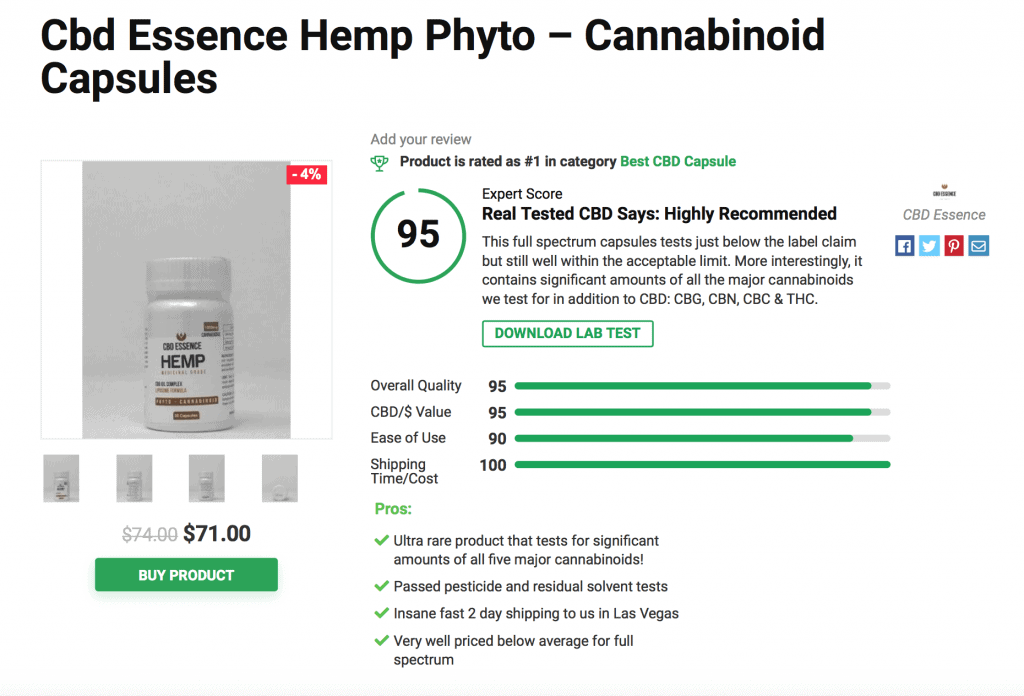 First up we have CBD Essence Hemp Phyto-Cannabinoid Capsules. These little capsules take the number one spot in our Best CBD Capsules category. They tested just below the label claim for CBD milligram amounts, but do contain significant amounts of each of the rare cannabinoids we like to see, like CBG, CBN, CBC, and THC. These capsules also offer a great value for CBD, coming in at around just $0.08 per active milligram.
Next up we bring you Hill City Hemp Soft-gel Full-Spectrum capsules. Testing well over the label claim for CBD, with 350 extra milligrams, as well containing THC, CBN, and CBC, these capsules received a highly recommend from our expert reviewers. These full-spectrum capsules also have a great dollar value, costing under $0.05 per milligram of CBD.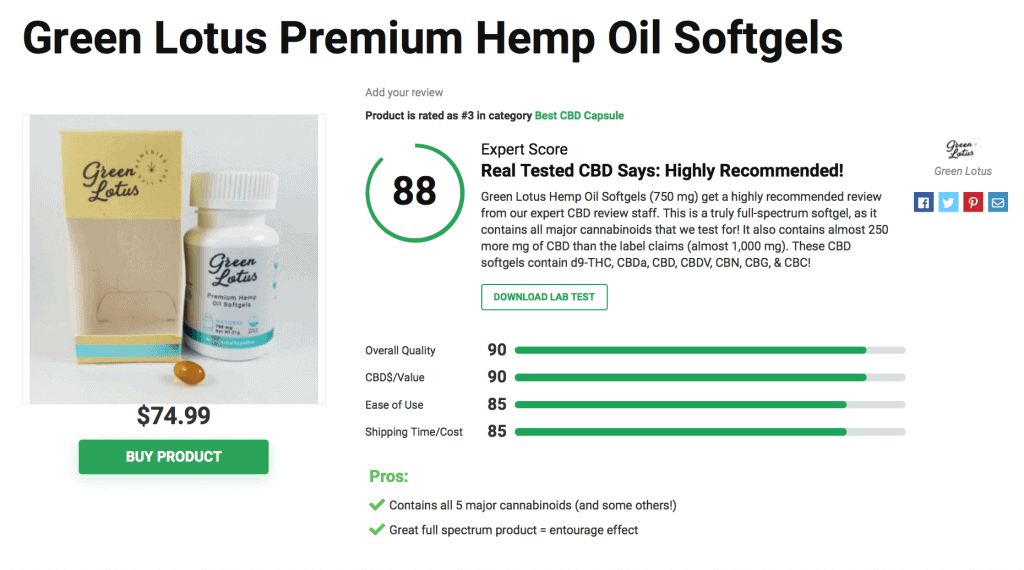 Third on our shortlist, and also highly recommended by our expert review, we have Green Lotus Premium Hemp Soft-gels. These capsules tested well above the label claim with nearly 1000mg of CBD as well as all the rare cannabinoids we like to see from a whole-hemp product. If you are looking for the entourage effect from your CBD capsules, these are a great choice for you.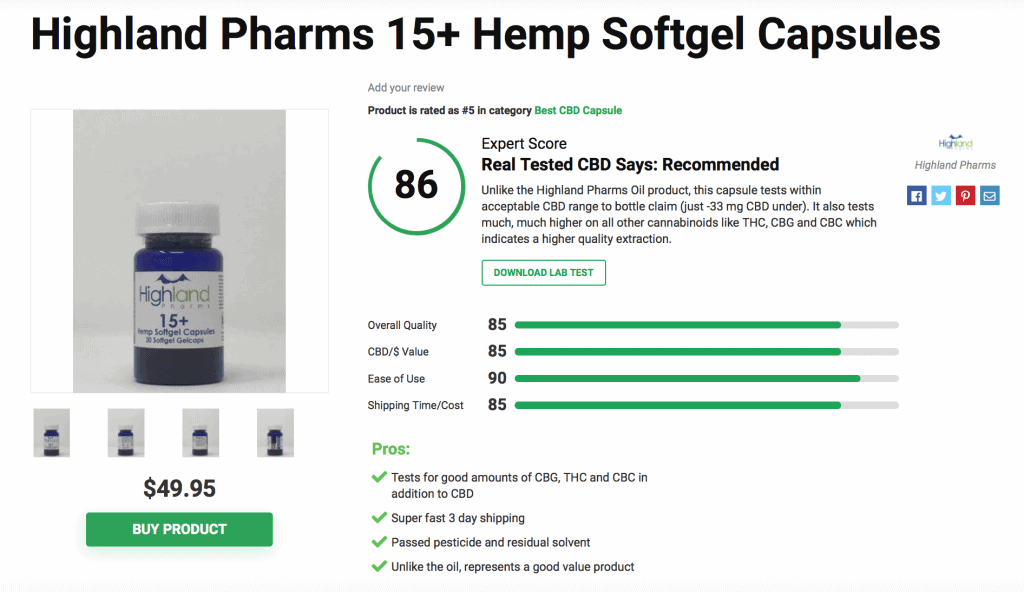 Next, we have Highland Pharms 15+ Hemp Soft-gels, with a recommendation and a score of 86 on our expert scale. These capsules tested just under the label claim for CBD, but over for other rare cannabinoids, which ensures a quality extraction took place.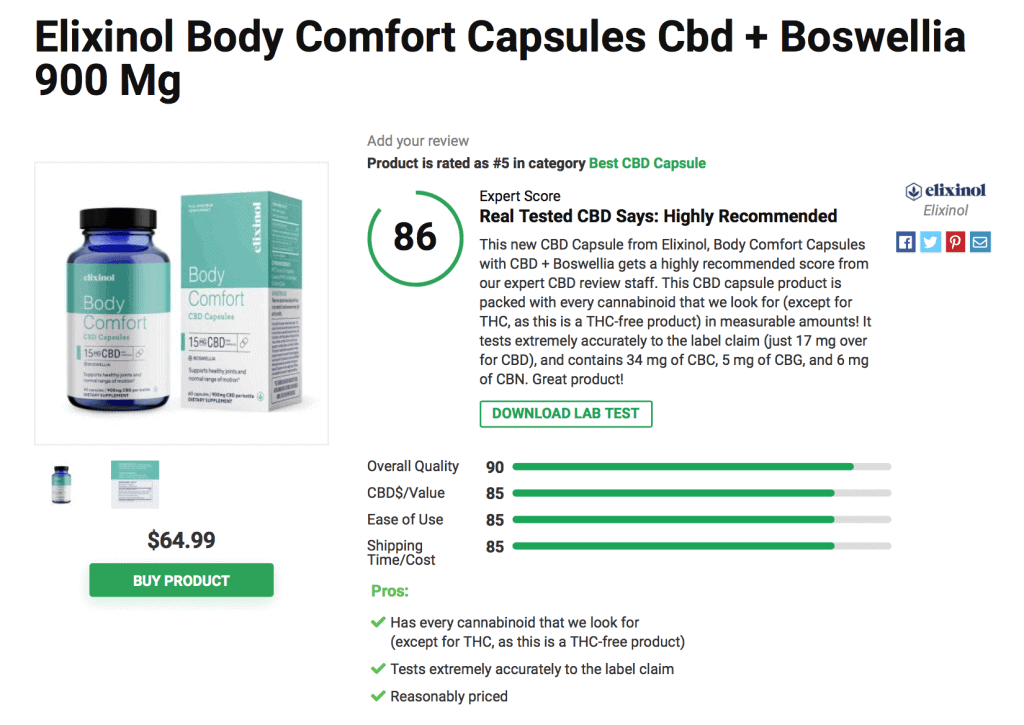 Last but not least on our list is Elixinol Body Comfort Capsules. These powerful capsules tested just above the CBD label claim, and contain all the rare cannabinoids we like to see, besides THC. If you have drug testing concerns, these are a great choice for you. The addition of Boswellia in these capsules could also up the anti-inflammatory properties known to CBD.
Takeaways for CBD Capsules
There are so many products on the market these days, knowing what you get before you purchase is key. Turn to Real Tested CBD for all your CBD products guides and let us take the guess work out for you. For more verified test results on CBD oils, edibles, and more, rely on Real Tested CBD.
*This article was last updated on 11/09/2020*
Most Recent Tested products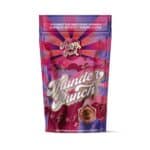 Happy Fruit Hemp HHC Gummies - Thunder Punch
$20.00
Cannacea Tagrid's 100 Full-Spectrum Hemp Oil
$77.50
Cannacea Activated 40 Full-Spectrum Hemp Oil
$38.50
Recent Posts
Blog Categories