Real Tested CBD always stresses the importance of getting quality third-party lab tests with your CBD oil. Although many customers understand why they should place a great emphasis on Certificates of Analysis (COAs), it's common to have questions about the accuracy of these tests. How can scientists tell the precise ratio of compounds in various hemp extracts? Are some CBD testing procedures better than others?
Although CBD lab analysis can get pretty technical, we'll do our best to explain the top techniques accredited labs now use to determine a CBD oil's purity.
The Specifics On CBD Screenings — A Beginner's Guide To CBD Lab Analysis
There are a few ways technicians could figure out what's in a CBD product, but "High-Performance Liquid Chromatography" (HPLC) is the industry standard. While that may sound super complex, HPLC is basically a procedure that involves exposing CBD oil to a solvent and pressure. Combining these forces helps to separate cannabinoids, terpenes, and flavonoids.
Since different compounds have different weights, researchers can calculate the relative percentages of each molecule with surprising accuracy. Typically, labs will use advanced UV technology to get a clear picture of your CBD oil's average cannabinoid counts.
While chromatography is a preferred method for examining cannabinoids, it usually falls short when scanning for potentially toxic compounds. For this reason, third-party labs may employ PCR testing or mass spectrometry. The first of these tests looks for "bad bugs" in your CBD by examining DNA. The second test uses a combination of ionization and magnetism to draw out any heavy metals that may be in your CBD oil.
Although scientists are constantly researching more advanced ways to test CBD oil, these three methods have become standard at professional CBD testing facilities.
Do Customers Need A Chemistry Degree To Read Third-Party CBD Lab Results?
Thankfully, you don't need advanced training to read a standard CBD COA. Since CBD labs know customers will read this data, they make their lab reports as well-organized as possible. Usually, all major cannabinoids, terpenes, and flavonoids are in a column with their total milligram count and percentage by the side.
High-quality third-party lab tests should also have brackets for heavy metals, solvents, and pesticides. Unfortunately, it's common for these toxic substances to end up in low-quality CBD oils. If a company is hiding this data, you should be wary about working with them. The only way you can verify your CBD oil is squeaky clean is to see a "zero" by these three categories.
Need Help Reading CBD Lab Tests? Reach Out To Real Tested CBD!
The first time you see a third-party CBD lab test, it may look puzzling. Even though companies try to make their results clear for non-experts, there's a lot of info to take in on these sheets. If you're not experienced with testing protocols, you may miss crucial details about your CBD oil.
Please remember that the Real Tested CBD team has years of experience reading through hemp COAs. New CBD customers can take advantage of our CBD educational resources and unbiased reviews. You could even reach out to Real Tested CBD with questions or concerns on this Contact Us tab.
Most Recent Tested products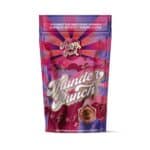 Happy Fruit Hemp HHC Gummies - Thunder Punch
$20.00
Cannacea Tagrid's 100 Full-Spectrum Hemp Oil
$77.50
Cannacea Activated 40 Full-Spectrum Hemp Oil
$38.50
Recent Posts
Blog Categories