When it comes to purchasing CBD oil, the options seem endless. Whether it's broad-spectrum, isolate, flavored, or infused, CBD oil is everywhere. And with CBD sometimes comes THC. Most people don't mind a little THC in their CBD tincture – as CBD produced in the United States usually contains less than 0.3% THC – but not everyone is as inclined to all the phytocannabinoids present in hemp and cannabis plants. Luckily, as we said, the options are endless.
Buying THC free oil can be easier than you think. Here at Real Tested CBD, we make sure you can purchase a reliable product with unbiased lab test results. With all the options on the market these days, knowing what to look for on a CBD product label is important, but finding options with label claims you can trust can be equally as important.
Whether you have drug test concerns, don't want an entourage effect, or anything in between, there are great CBD oils that are totally THC-free on the market out there for you. Here are our top five CBD oils that tested completely free of any THC.
Blue Ribbon Hemp Broad Spectrum CBD Tincture – 5000mg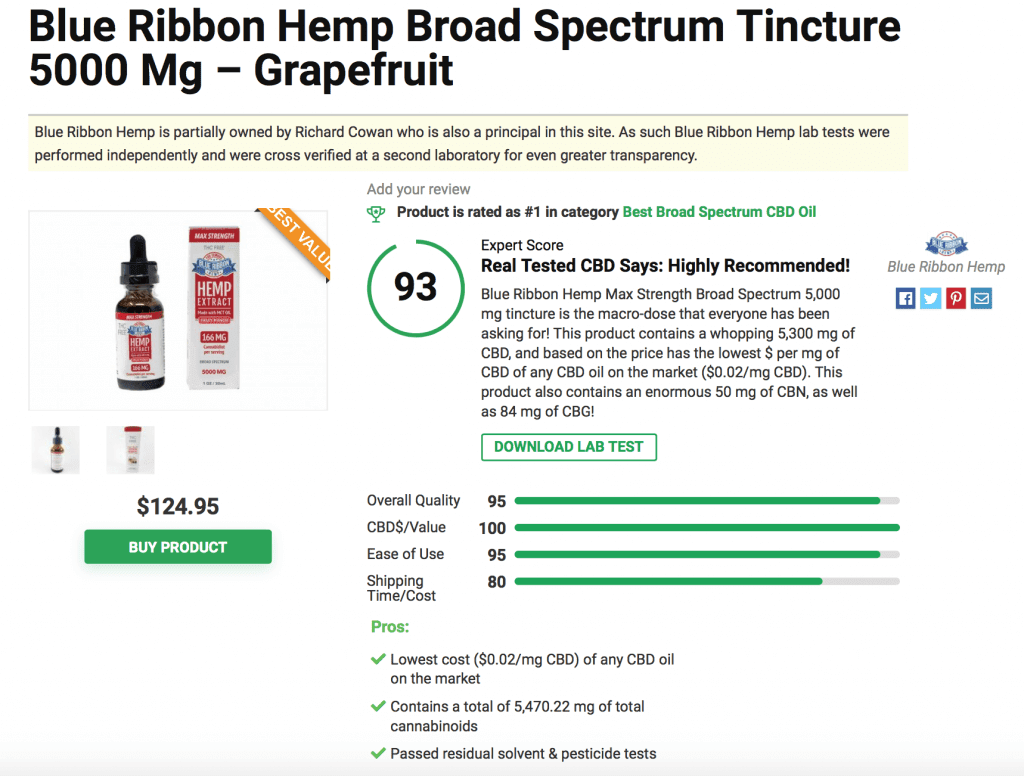 Blue Ribbon Hemp's Max Strength CBD oil is our favorite potent THC-free elixir. This macro-dose broad-spectrum CBD oil has a massive 5,200mg of CBD, 50mg of CBN, and even 84mg of CBG. If you are looking for a go-to THC-free oil that really delivers on all the other cannabinoids, this is an ideal choice for you. This oil comes in two different flavors, fruit punch or grapefruit.
Tribe CBD Natural Oil Tincture – 1000mg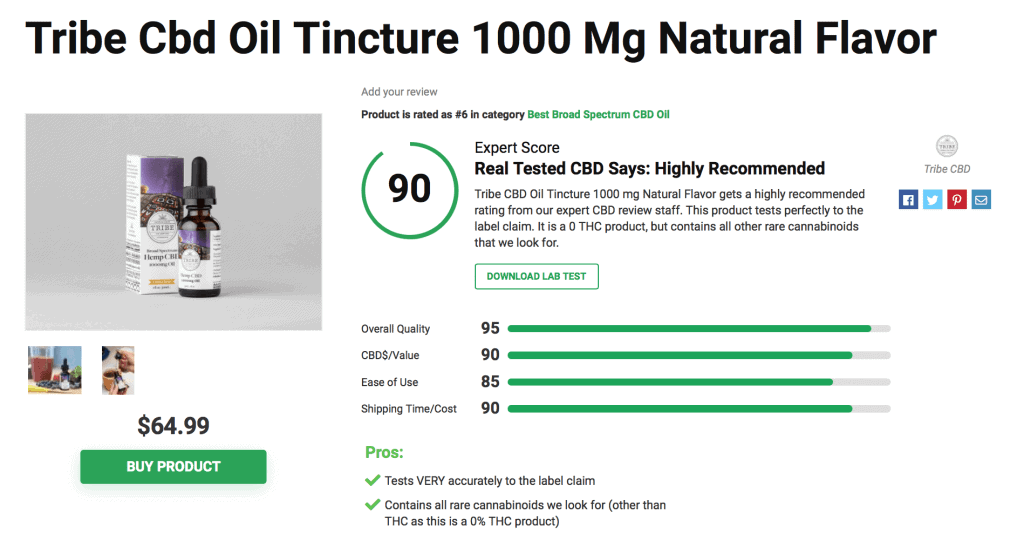 Tribe CBD's Tincture tests extremely close to label claims, coming in higher in CBD and containing the all rare cannabinoids CBG, CBC and CBN while remaining totally THC free. Tribe CBD's oil is broad-spectrum and comes in a variety of concentrations and flavors.
Hemptown USA CBD Tincture – 1250mg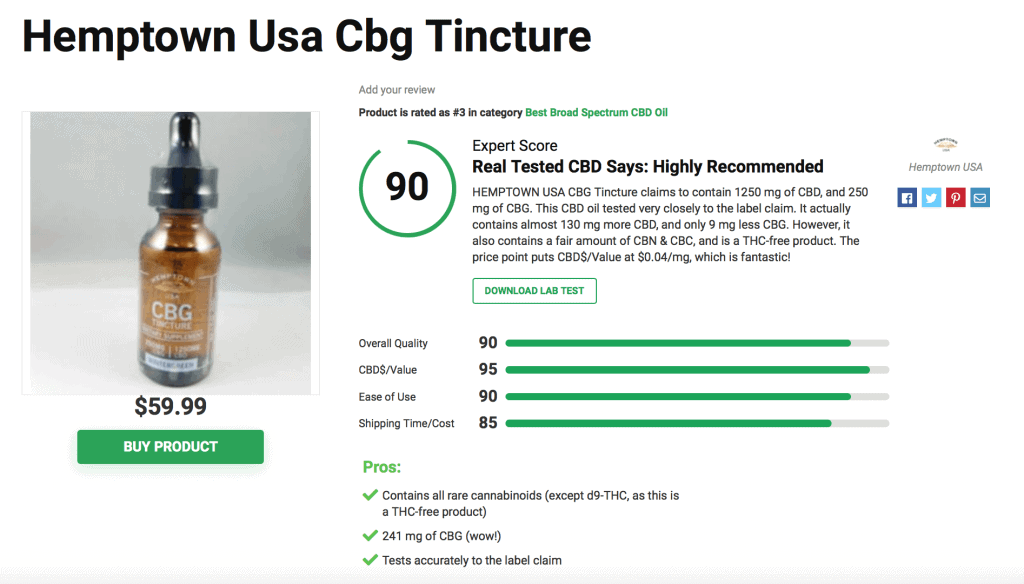 Hemptown USA's CBD/CBG Tincture contains a large amount of the rare cannabinoid CBG and tested above CBD label claims as well as having CBN and CBC. It came in clean and free of THC, the only cannabinoid purposefully missing. This oil is full-spectrum and comes in a pleasant wintergreen flavor.
Blue Ribbon Hemp Broad Spectrum Mango CBD Tincture – 1000mg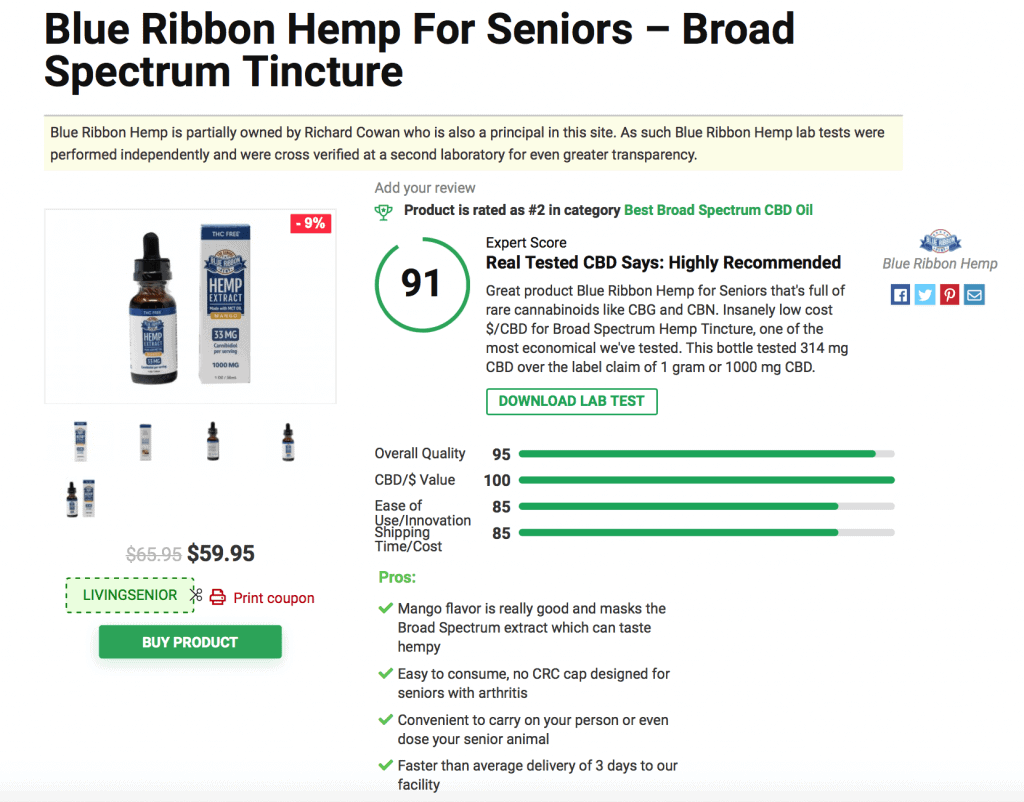 Blue Ribbon Hemp's carefully crafted CBD oils are the perfect option for a broad-spectrum CBD oil without THC. This mango flavored tincture tested above CBD label claims and has some rare cannabinoids. Blue Ribbon Hemp makes its products with seniors in mind, making this a safe option for anyone.
Receptra Naturals Serious Relief + Turmeric Tincture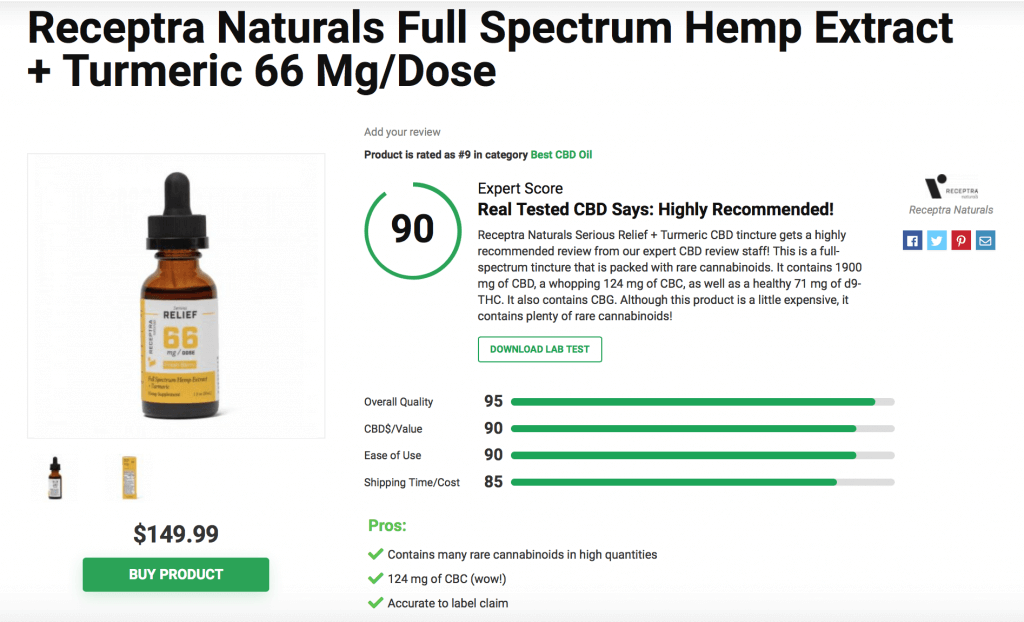 Receptra Naturals is a great THC free option. Perfected dosed in a 33ml dropper, this tincture combines CBD with turmeric, also known for its anti-inflammatory properties, making this an ideal choice for pain management. This oil tests accurately for zero THC but does contain some rare cannabinoids and had more CBD than listed on the label. There are even more options from Receptra Naturals with varying mg amounts so you can get more or less depending on what you are seeking.
When it comes to buying CBD that you can trust is THC-free, turning to third-party lab test results is the best way to ensure the quality, purity, and potency of your product. Make these five CBD oils your go-to choice for a truly THC-free CBD oil. Click here for Real Tested CBD's full list of tested CBD products.
*This article was last updated on 11/08/2020*
Most Recent Tested products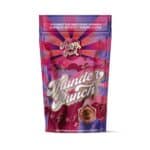 Happy Fruit Hemp HHC Gummies - Thunder Punch
$20.00
Cannacea Tagrid's 100 Full-Spectrum Hemp Oil
$77.50
Cannacea Activated 40 Full-Spectrum Hemp Oil
$38.50
Recent Posts
Blog Categories