It's no secret that cystic acne is one of the most difficult forms of acne to treat. Conventional treatments such as antibiotics and topical creams can help, but many people are turning to natural alternatives in an effort to find a more permanent and sustainable solution. One such alternative is cannabidiol (CBD) oil, an extract from hemp and cannabis plants.
So, could CBD oil be the answer to treating your cystic acne? Let's take a closer look.
What Is CBD Oil?
First, let's go over what cannabidiol (CBD) is. CBD is one of many natural compounds found in cannabis sativa plants, known as cannabinoids.
CBD oil is an extract from either hemp or cannabis plants, most often taken orally in the form of a tincture or as a capsule. CBD oils can come in a variety of forms and spectrums, like flavored oils or extra-strength, or even THC-free. Unlike THC (delta-9 tetrahydrocannabinol), another popular cannabinoid found in cannabis plants, CBD does not produce psychoactive effects, meaning it won't make you "high," especially if you choose a THC-free product.
Instead, CBD interacts with the body's endocannabinoid system, a system of receptors found throughout the body, to provide relief from a variety of symptoms. This is where CBD's potential for helping with cystic acne comes into play.
How Does CBD Oil Help Cystic Acne?
CBD oil is thought to help reduce inflammation and combat bacteria, two major factors in the development and persistence of cystic acne. Additionally, CBD's possible antioxidant properties may help to reduce the damage caused by free radicals, which can lead to premature aging of the skin.
One study found that CBD oil reduced sebum production and could, therefore, be a potential treatment for acne. Additionally, the anti-inflammatory properties of CBD oil can help reduce redness and swelling associated with cystic acne.
However, it's important to note that more research is needed to fully understand how effective CBD oil is for treating cystic acne. Researchers are still looking into how CBD interacts with the endocannabinoid system and how this could help treat cystic acne, among many other conditions.
CBD Oil Is Generally Safe
Generally speaking, CBD oil is a safe and widely used natural remedy or alternative to drugs or medications. However, it is important to always read the label to make sure the product isn't made with any irritating ingredients. Taking it a step further and double-checking third-party lab test results is always a good call. Additionally, it's important to consult a healthcare provider before using any new product, especially if you're taking any medications.
Related: Could a CBD topical be the right choice for you? Learn more about how to use CBD topicals effectively.
How To Find Reliable CBD Oils to Help with Cystic Acne
CBD oil may offer a safe and effective way to help treat cystic acne. Its anti-inflammatory and antioxidant properties could help reduce inflammation, redness, and bacteria, while also helping to reduce damage caused by free radicals. But to get good results from CBD oil, you should always turn to a high-quality product backed by third-party lab test results.
By using independent laboratory test results, you can take a deeper look at every ingredient in your product of choice. From all the cannabinoids present, how much of each there is, and pass or fail on solvent and pesticide tests, you can learn everything you need to make a safe and reliable CBD oil purchase.
If you are looking to try CBD for cystic acne, one of the best places to start looking for great CBD products is through Real Tested CBD. With the most transparent and reliable third-party lab test results and brand reviews, everything you need to make a reliable CBD oil purchase is in one simple place.
Most Recent Tested products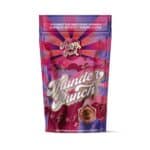 Happy Fruit Hemp HHC Gummies - Thunder Punch
$20.00
Cannacea Tagrid's 100 Full-Spectrum Hemp Oil
$77.50
Cannacea Activated 40 Full-Spectrum Hemp Oil
$38.50
Recent Posts
Blog Categories