[wpsm_stickypanel][contents h2][/wpsm_stickypanel]
CBD is becoming increasingly popular for the treatment of a wide range of health problems and diseases, which include everything from chronic pain to epilepsy. While CBD has proven to be effective, the substance is taken directly from cannabis plants, which is why many users fear that CBD might show up on a drug test. If you have a job interview coming up and believe that a drug test is required before you're able to start your new job, find out if CBD can show up on a drug test.

Types of CBD To Be Aware Of

Cannabidiol is taken directly from cannabis, which is actually a wider family of plants. These plants are comprised of hundreds of compounds, the primary of which include terpenes, flavonoids, and cannabinoids. The popular products of hemp and marijuana also come from various cannabis plants. However, each plant contains different amounts of THC, which is a chemical that causes the psychological effects of marijuana. THC is usually the only CBD-related chemical that's tested for when a person is asked to take a drug test. While marijuana can contain high amounts of THC, the only way that hemp can be legal is if it contains less than .3 percent of THC content. Thus there is a way to test positive for THC as well as CBD on a drug test because there are trace amounts of THC in some full-spectrum hemp products.

If you are going to be using CBD or have recently done so, CBD that's made from hemp may contain much less THC than CBD that's derived from marijuana. While the different types of cannabis plants that are used to make CBD could determine how much THC is contained within the substance, the techniques that are used for the refinement and harvesting of the plants can also make a difference in which compounds show up in the CBD.

Types of CBD
There are essentially three types of CBD that you can obtain, which include broad-spectrum CBD, full-spectrum CBD, and CBD isolate. Products that are considered to be broad-spectrum CBD are comprised of several extra compounds that include cannabinoids aside from THC and terpenes. This type of CBD is usually available as an oil and contains absolutely zero THC.

As for full-spectrum CBD, it automatically consists of all compounds that exist within the cannabis plant that it's derived from, which means that full-spectrum CBD taken from marijuana may contain a small amount of THC. If you obtain a full-spectrum CBD product, it's important to understand that these products can come with differing amounts of THC. Unlike broad-spectrum CBD, full-spectrum CBD is available in many different forms, which include tinctures, edibles, oils, serums, and creams.

The third and final type of CBD is CBD isolate, which means that the product is considered to be pure CBD. In most cases, CBD isolate is taken from hemp plants, which means that CBD isolate products do not contain THC. While CBD isolate is available as a tincture or oil, it's primarily sold in the form of a crystalline powder. If you want to reduce the possibility that the CBD you use doesn't show up on a drug test, it's highly recommended that you use broad-spectrum CBD that's made from hemp or CBD isolate. If you select a full-spectrum CBD product, you might need to make sure that the THC doesn't reach a high level.
Read the continuation of this article here: Does CBD Show Up On a Drug Test Part II
Most Recent Tested products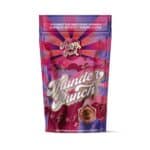 Happy Fruit Hemp HHC Gummies - Thunder Punch
$20.00
Cannacea Tagrid's 100 Full-Spectrum Hemp Oil
$77.50
Cannacea Activated 40 Full-Spectrum Hemp Oil
$38.50
Recent Posts
Blog Categories