When it comes to finding CBD products these days, it's almost too easy – they are everywhere. But finding the best product for your specific needs can be tricky if you don't know exactly what you are looking for. So what are you looking for? If your answer is a quality isolate CBD oil, you have come to the right place. Here at Real Tested CBD, we do the footwork for you; testing CBD products to fact check label claims, purity, and potency. Here is our list of five high-quality CBD isolate oils, based on our independent lab test results and our expert CBD review scale.
What Is an Isolate CBD Oil?
When it comes to shopping for an isolate CBD oil, or any CBD oil really, it's helpful to first know some terminology. Broad-spectrum means that a CBD product contains the full spectrum of compounds from hemp or CBD-grade cannabis plant, but with a trace amount of THC removed. Full-spectrum is similar but typically leaves trace amounts of THC and all other cannabinoids. CBD isolates usually strip away other cannabinoids, leaving pure CBD. Choosing a CBD isolate oil ensures you are getting only what you want out of your CBD product, with no chance of THC present. If you have any concerns over drug testing or don't care for the entourage effect, choosing a CBD isolate oil may be your best bet.
Real Tested CBD Top Five CBD Isolate Oils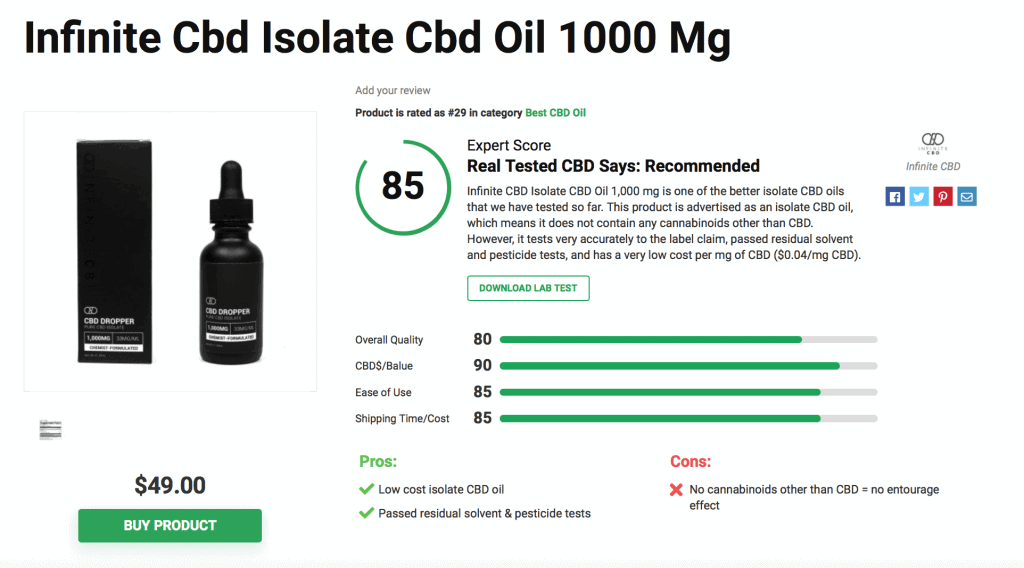 Coming in with the number one spot in our top five CBD isolate oils is Infinite CBD's 1000mg oil. The oil tests above label claims with 1155mg of CBD. Being an isolate, there are no other cannabinoids present, THC included. This isolate oil has a great dollar value, coming in at around $0.04 per mg, adding to our overall recommend review and a score of 85 on our expert scale. Infinite CBD also has a 250mg isolate oil that ranks very similar to their 1000mg.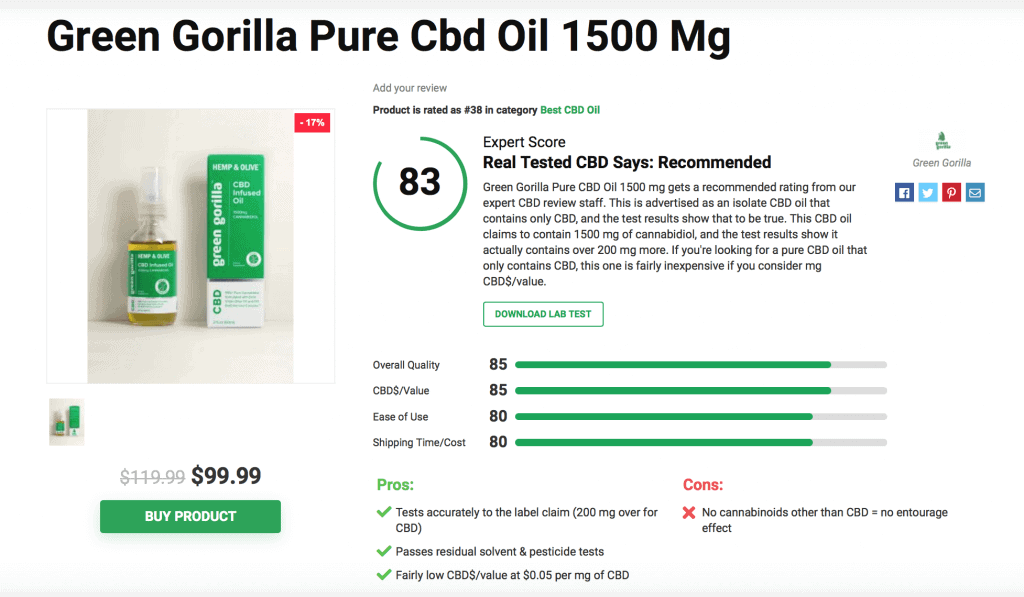 Green Gorilla's Pure CBD Oil comes in second in our best isolates review, with a score of 83 on the expert scale. The name of this CBD oil is very accurate, as this oil is truly pure CBD. There are no other cannabinoids present but this isolate oil tested over the label claim for CBD mg amount, coming in at a whopping 1715mg.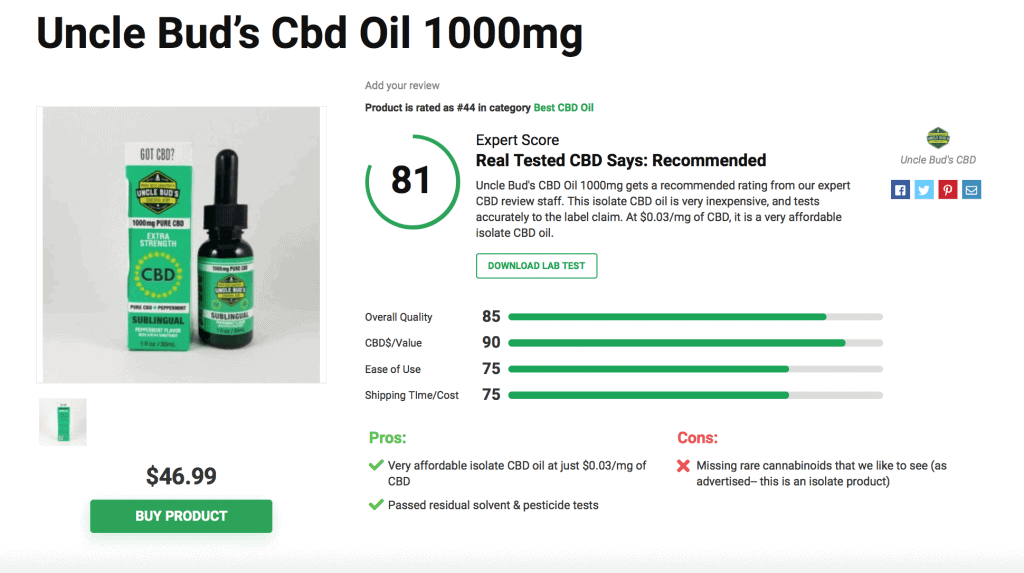 Uncle Bud's isolate CBD oil ranks third on our top five isolate oils list, with a score of 81 and a recommendation from our expert review. This oil has an amazing value and is one of the most affordable quality oils we have seen, at just about $0.03 per mg of CBD. This oil has no rare cannabinoids including THC and is truly an isolate CBD oil.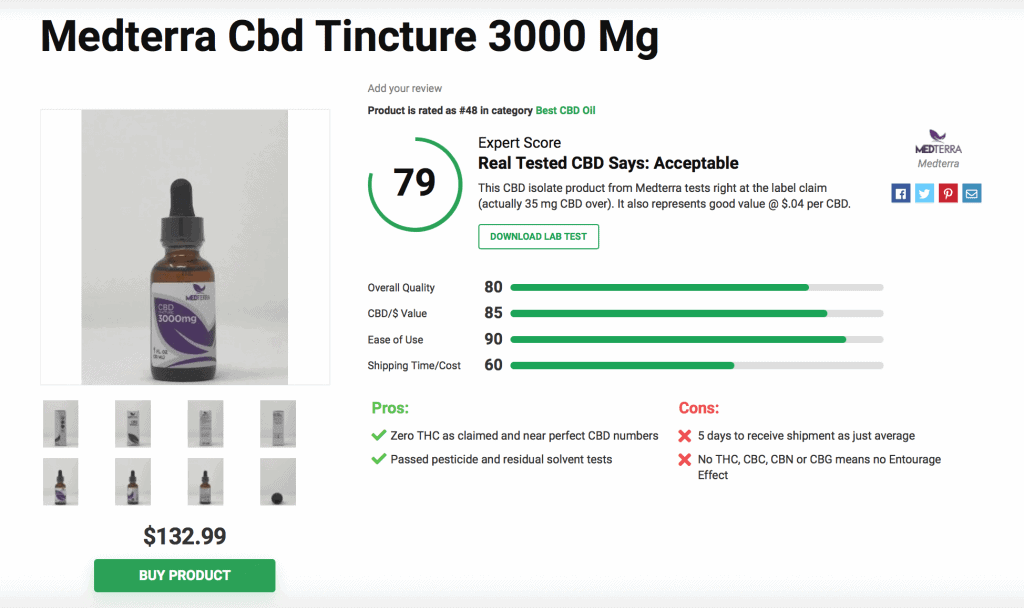 Medterra CBD Tincture 3000mg is our fourth choice for CBD isolate oils, coming in just above the 3000mg CBD amount label claim. This is a high-potency CBD oil that tests truly THC-free> This CBD oil also has a great price value for the amount of active CBD present.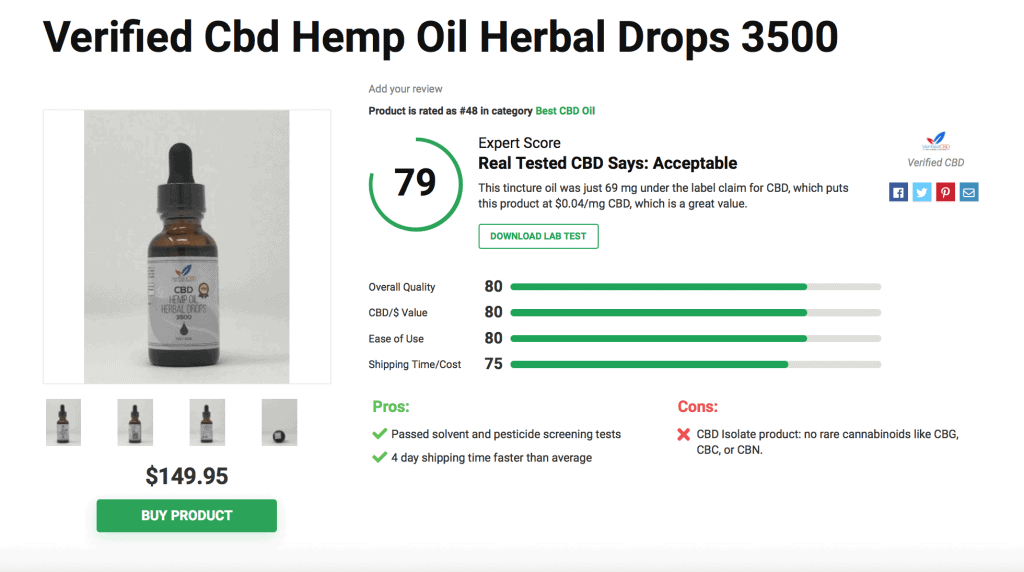 With our final spot in the top five CBD isolate oils is Verified CBD's Herbal Drops. With just under the label claim of 3500mg of CBD, this is another high-potency isolate oil. This oil passed all pesticide and solvent tests while also proving to be THC-free. With a score of 79, this oil gets an acceptable recommendation from our expert review.
To learn more about other reviewed products like our Best Broad-Spectrum and Full-Spectrum CBD Oils, click here.
Most Recent Tested products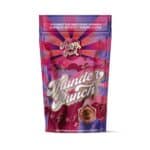 Happy Fruit Hemp HHC Gummies - Thunder Punch
$20.00
Cannacea Tagrid's 100 Full-Spectrum Hemp Oil
$77.50
Cannacea Activated 40 Full-Spectrum Hemp Oil
$38.50
Recent Posts
Blog Categories