CBD has taken the health and wellness worlds by storm, and rightly so. Cannabidiol, also known as CBD, is a compound naturally derived in cannabis and hemp plants. It has been found to contain antioxidants and boasts strong anti-inflammatory properties that shown beneficial for things from anxiety and stress relief to pain management and mitigation.
CBD produced within the United States must come from cannabis or hemp plants containing less than 0.3% THC (the psychoactive compound commonly associated with marijuana), allowing CBD to be legally sold and distributed. When shopping for quality CBD products, especially online, fact-checking with third-party lab test results is the best way to ensure a legitimate CBD purchase. Real Tested CBD is a leading name in the world of CBD product reviews and independent lab testing. Turn to Real Tested CBD and our expert scorecard rating scale to get the most reliable product for your individual needs. Because of the exponential rise in popularity surrounding CBD, there are a variety of methods of consumption and countless CBD products to choose from.
Whether you are interested in vaping, edibles, oils, topicals, or something a little different, there is an option for everyone. When it comes to anything CBD that is smokable, we here at Real Tested CBD like to turn to companies we know are reliable, legitimate, and who have participated in third-party testing. Today, we bring you a few hemp CBD strains from 'Alliance Hemp Co.,' and we think you might like what you see from their quality CBD strains:
"With over 25 years experience in cannabis & hemp cultivation and manufacturing, our team at Alliance Hemp Co is committed to providing the highest quality of organically grown, consistently processed, and thoroughly tested CBD products." – Alliance Hemp Co.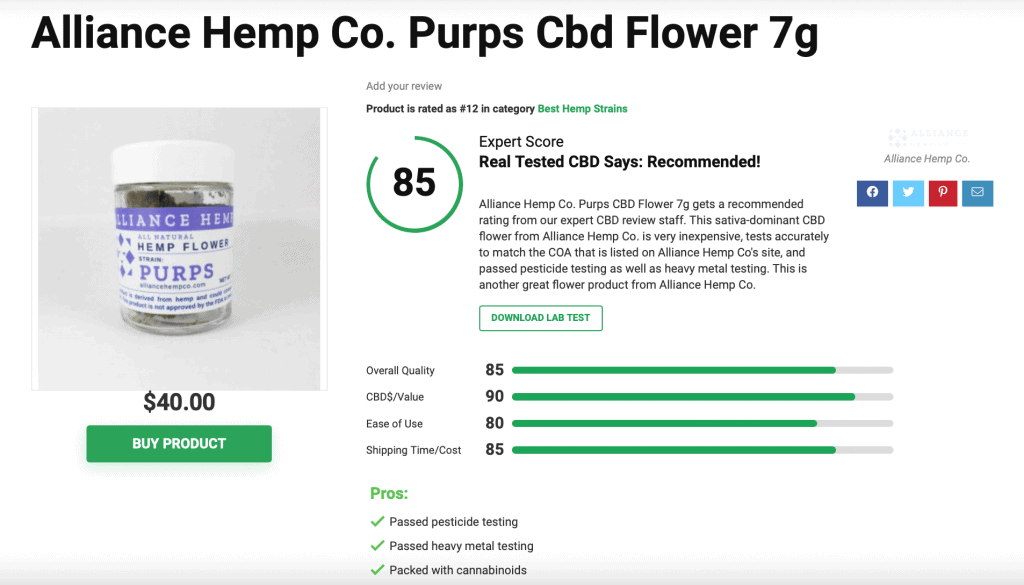 First, we have Alliance Hemp Co. 7-gram Purps CBD Flower. This CBD hemp strain received a recommend review from our experts and a high score of 85 in our expert scale. With flying color passes on all heavy metal and pesticide tests, this is a safe sun-grown CBD flower option. This hemp strain tested very accurate to the label claim and boasts over 1150mg of CBD, while containing almost all the rare cannabinoids we like to see. This CBD hemp strain is very affordable, costing just around $0.03 per milligram of CBD and just $1.16 per milligram of THC. This CBD flower ranks just outside our top ten in the Best Hemp Strains category.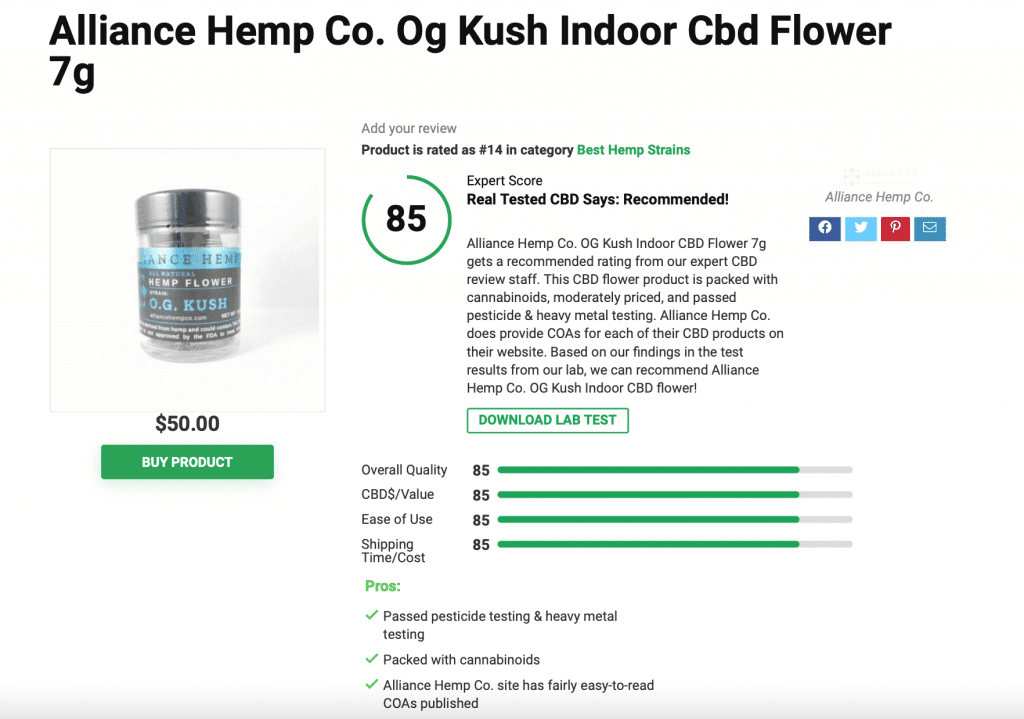 Next up, we bring you Alliance Hemp Co.'s OG Kush CBD Flower in a 7-gram jar. This CBD flower strain is grown indoors according to Alliance Hemp Co. and is crafted to contain less than 0.3% THC. This hemp strain received a highly recommended review from our experts, with passes on all heavy metal and pesticide tests, as well as an accurate label claim. This 7-gram jar contains 975mg of CBD and limited amount of THC, while still sporting some other rare cannabinoids we like to see. If you are looking for a low-THC threshold CBD product to smoke, this is a great choice for you. See how this CBD hemp strain compares to other flower strains we have tested, right here.
Alliance Hemp Co. – Real Tested CBD Takeaways
There are countless options available when it comes to CBD, and there are likely more and more to come! The best way to find a reliable and legit source of CBD is to turn to third party lab test results and reviews. We at Real Tested CBD take all the guesswork out of your CBD purchase, bringing the transparency needed in the industry directly to you.
When it comes to Alliance Hemp Co., their products are reliable, safe and made of high-quality. With very accurate label claims and a clear depiction of quality and care being put into their CBD products and hemp strains, we definitely recommend Alliance Hemp Co. as a trustworthy source of CBD. To check out more brand reviews and expert product suggestions, click here.
Most Recent Tested products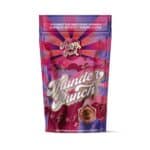 Happy Fruit Hemp HHC Gummies - Thunder Punch
$20.00
Cannacea Tagrid's 100 Full-Spectrum Hemp Oil
$77.50
Cannacea Activated 40 Full-Spectrum Hemp Oil
$38.50
Recent Posts
Blog Categories