As more CBD brands flood the market, it's getting more difficult for customers to distinguish top-shelf products from lower-tier hemp. Without federal oversight, hemp companies can get away with sneaky advertising. Consumers should never assume a CBD oil is legit until they've done plenty of research on the company in question.
For example, many people rave about the products offered at the California-based company CBD For The People. If you judge by their website alone, this company looks like a solid pick for CBD fans. However, please remember to always take a step back before spending your hard-earned bucks on hemp extract. Anyone who's been eyeing CBD For The People's products must check out the lab reports we've done on this brand.
How Did CBD For The People Score At Real Tested CBD?
Real Tested CBD decided to test three items from different product categories to get a feel for CBD For The People's offerings. In addition to the company's 2,400 mg CBD oil tincture, we also examined the 250 mg CBD Noids 2GO! softgels and the 600 mg CBD salve (lavender). We put all three of these products through rigorous lab testing to verify the posted CBD mg counts. Our team also tested for secondary cannabinoids (including delta-9 THC) as well as pesticides, heavy metals, and solvents.
Overall, these three products held up nicely in our tests. We found no evidence of THC levels exceeding 0.3 percent, and there were multiple secondary cannabinoids in all of these products. People interested in the "entourage effect" will most appreciate the concentrations of CBG, CBN, and CBC in CBD For The People's extracts.
However, there was a significant discrepancy for the 250 mg CBD Noids 2GO! softgels. Instead of 250 mg, our tests only revealed 132 mg of CBD, which would make it rather expensive at $0.30 per mg of CBD. On the flipside, we discovered the CBD oil tincture had over 2,400 mg of CBD, which would make it just $0.05 per mg of CBD.
Real Tested CBD gave CBD For The People a combined score of 83 out of 100. While we were disappointed with the lower-than-average results for the CBD Noids 2GO! softgels, these products had surprisingly high concentrations of secondary hemp cannabinoids. We were also impressed by these CBD extracts' purity and general affordability.
Does CBD For The People Offer Other Products?
Even if you're not interested in topicals, oils, or capsules, CBD For the People has plenty of other products worth considering. A quick scan of CBD For The People's website will reveal dozens of hemp-extracted products, including:
• CBD vape carts
• Hemp dab syringes
• Sweet hemp wax
• CBD gummies
Although most of CBD For The People's extracts focus on raw & unfiltered full-spectrum CBD, you could also find CBD isolate products on their site. For instance, fans of CBD isolate could order CBD isolate tinctures.
You could also find all CBD For The People's third-party lab reports listed on the top tab. People interested in wholesale CBD could also contact CBD For The People for more options.
Is CBD For The People A Reputable Brand?
According to Real Tested CBD's data, CBD For The People is a reputable brand. You can easily find third-party lab reports on this company's website, and it appears CBD For The People has a good opinion from online shoppers.
Please take your time exploring all CBD For The People has to offer on its official website. You could also read through the brand's lab reports and contact the CBD FTP team directly on its contact us page.
Find More Unbiased CBD Reviews On Real Tested CBD
CBD For The People seems to be a solid entry into the hemp space. However, customers have plenty of other choices in today's hemp market. We'd recommend checking out all of the other lab reports published on Real Tested CBD. You can find plenty of other unbiased reviews of CBD tinctures, edibles, and topicals on our site.
Please click this link for Real Tested CBD's opinions on all the top CBD brands.
Most Recent Tested products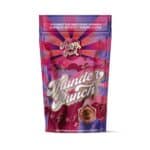 Happy Fruit Hemp HHC Gummies - Thunder Punch
$20.00
Cannacea Tagrid's 100 Full-Spectrum Hemp Oil
$77.50
Recent Posts
Blog Categories