Real Tested CBD has a loyal fan base that visits our website to get regular updates on the most popular as well as emerging CBD brands and products. We aim to keep our readers informed about CBD, which is one of the most dynamic industries in the United States.
Most US based CBD manufacturing brands prefer to use all-natural hemp-plant extracts that are homegrown within the United States. At Real Tested CBD, we have reviewed 80 plus CBD brands and their products to provide an insight into what these products are for and what they entail.
Today, the brand in the spotlight is "CBD for the People."
CBD For The People
CBD for the People claims to put their customers first always. This CBD brand built its foundations on this concept with uncompromising integrity and transparency.
CBD for the People starts their hemp sourcing process by obtaining the crops from organic farms from across the United States. These hemp-plants go through a supercritical CO2 extraction, widely known as one of the safest and most efficient ways to produce CBD oil.
The company then uses this CBD oil to produce a variety of its CBD-infused products, such as salves, oil tinctures, soft-gels, etc. The company's second distillation yields another batch of cannabidiol known as "Blonde Raw Oil." This oil helps produce vape pens and liquids. However, the company claims that it is working on future CBD products that offer enhanced potency. For now, here are three products we loved to review:
CBD for the People Dark CBD Oil Tincture 2500 Mg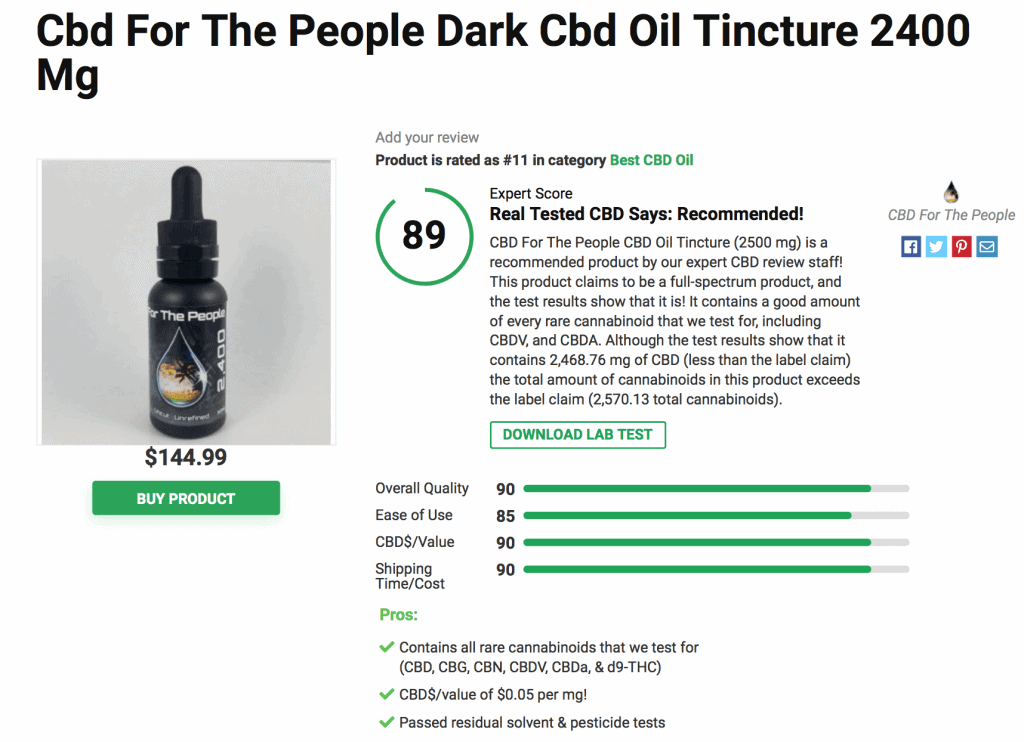 The Dark CBD based oil tincture 2500 mg by CBD for the People received a recommended rating from our CBD products reviewing experts. CBD for the People claim this oil to be a full-spectrum CBD product, and our lab test results support this claim to be true.
The oil contains a decent amount of every beneficial and rare cannabinoid you look for in full-spectrum CBD oil. These cannabinoids include CBDV and CBDA. Although the label on the bottle claims to contain 2500 mg of CBD, our lab test result found the quantity to be slightly less at 2468.76 mg CBD per bottle.
The quantity of other rare cannabinoids that are CBG, CBC, CBN, and d9-THC is 25.17 mg, 16.12 mg, 33.12 mg, and 12.39 mg, respectively.
We did not find any traces of solvents or pesticides in the oil.
CBD for the People Noids 2go! 250 Mg
Noids 2go by CBD for the People come in the form of soft gels. The brand claims these soft gels contain 250 mg CBD. However, our lab test results found the actual quantity of the CBD to be lower at 132.30 mg per pack.
However, the product seems to come from a full-spectrum CBD as you may find all rare and beneficial cannabinoids but in small quantities. These include d9-THC at 3.11 mg, CBN at 1.03 mg, CBC at 5.24 mg, and CBG at 0.63 mg per pack.
Our lab test results did not find any pesticides and solvents in the mix.
CBD for the People Dark Unrefined CBD Salve – Lavender 600 Mg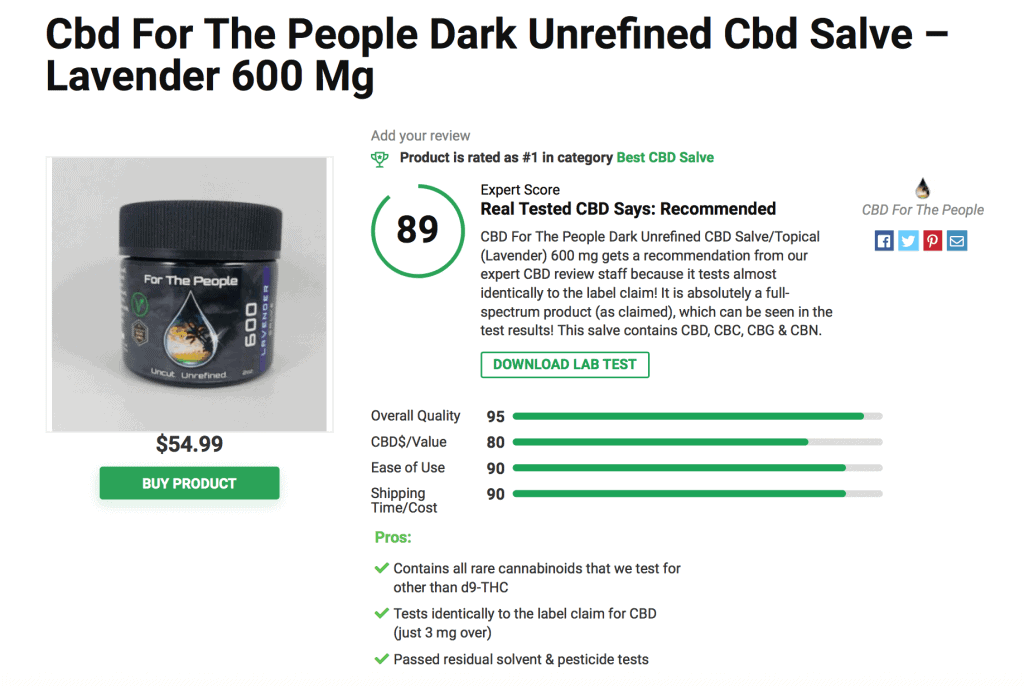 The Dark Unrefined CBD topical/Salve comes in lavender fragrance. The label claims to provide 600 mg of CBD goodness to its users. Our lab test results found this claim accurate; the actual CBD quantity in a pack is slightly higher at 603.62 mg per package.
Therefore, our CBD products reviewing experts gave this CBD salve a recommended rating. The label also claims the product to come from a full-spectrum CBD, and our lab test results fully verified this claim.
You might get all the benefits of rare cannabinoids, including CBN, CBC, and CBG at 7.48 mg, 5.10 mg, and 5.44 mg, respectively. However, we did not find any traces of d9-THC.
Some of the ingredients in this product are unrefined organic coconut oil, organic refined shea butter, and Candelilla vegan wax (organic). CBD for the People claims this product to be free of all artificial preservatives and chemicals.
This CBD salve is also non-GMO and contains additional ingredients such as Vitamin E, natural terpenoids, omega 3, 6, and 9, all essential fatty acids, and other natural phytonutrients. Plus, there are no traces of any industrial level pesticides and harmful solvents. Overall we love CBD For The People and believe their products are truly crafted for the consumer.
For more brand spotlights and reviews, click here.
Most Recent Tested products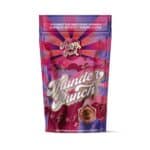 Happy Fruit Hemp HHC Gummies - Thunder Punch
$20.00
Cannacea Tagrid's 100 Full-Spectrum Hemp Oil
$77.50
Recent Posts
Blog Categories