These days, CBD is just about everywhere you look; whether it's in a dispensary, a health-foods store, a gas station, or online, the options are endless. But are they all reliable?
CBD has become all the rage in the wellness and health industries, and rightly so. Cannabidiol, also known as CBD, is a compound naturally derived in cannabis and hemp plants. It has been found to contain antioxidants and strong anti-inflammatory properties. CBD is thought to be beneficial for things like anxiety, stress relief, pain management, and even Epilepsy. It can interact directly with the human body's endocannabinoid system to help restore balance. Utilizing a high quality CBD product is key to reaping the potential therapeutic benefits.
To make sure you are getting the best products on the market, fact-checking with third-party lab test results is the only way to ensure a legitimate CBD purchase. Real Tested CBD is a leading name in the world of CBD product reviews and independent lab testing. We give you everything you need to know before buying CBD online, from pesticide and solvent test results to potency and label claim fact-checking. Turn to Real Tested CBD and our expert scorecard rating system to get the best CBD product for individual needs, in just about any form you can think of. Today we bring you a two products from 'Hemptation USA', and we think you'll like what you see just as much as we enjoyed testing these products:
"We are a small and creative company, with a quickly growing audience. This unique position allows us to produce a special variety of Infused Goods. We have some products that you won't see anywhere else! All of our Hemp Extracts are sourced exclusively from our friendly suppliers in Colorado; a small amount of products are "white labeled" (under appropriate permissions) from them as well. All of our in-house products undergo formulation and infusion at our production facility. All of our products are packaged and distributed by Hemptation." – Hemptation Infused Goods
Hemptation USA – Real Tested CBD Review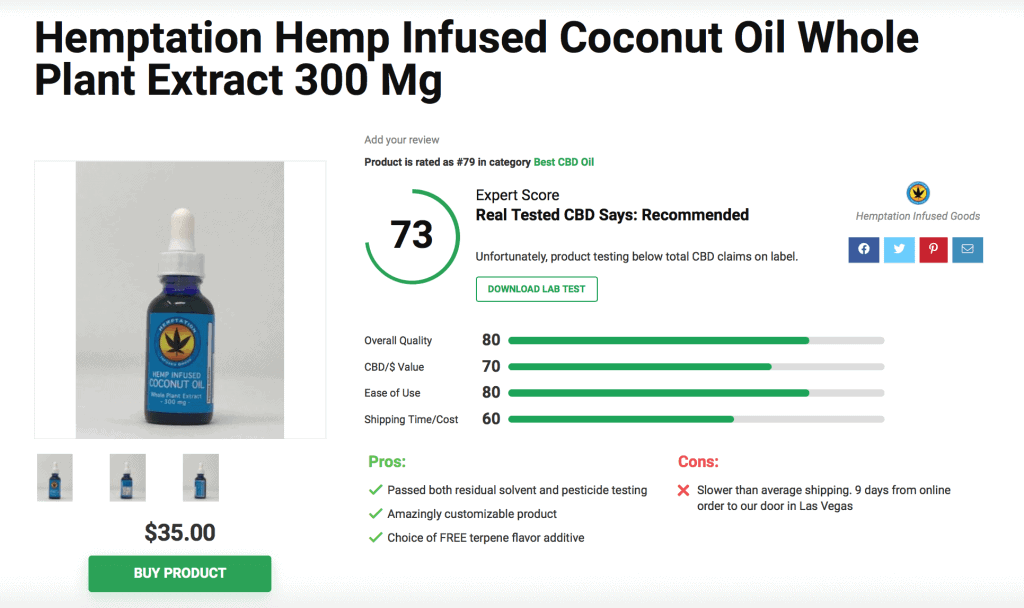 First up from Hemptation USA is their 300mg Whole Plant Extract. This CBD oil is unique in that Hemptation allows you to customize your order. You can choose from olive oil or coconut oil as a carrier, you can add a free cannabis-terpene selection, and you are able to choose between four different 30mL bottle potencies from 300mg to 2500mg. This CBD oil passed all solvent and pesticide tests with flying colors and offers a decent value to customers at around $0.19 per milligram of CBD. One draw-back with this oil is that it did test a bit under the label claim for CBD amounts, and we didn't find the rare cannabinoids we like to see from a whole-plant extract apart from a small amount of CBD\C. Nonetheless, the quality of this CBD oil is definitely there, and the ability to customize your order is very unique to Hemptation Infused Goods. See how this oil ranks in our Best CBD Oil Category.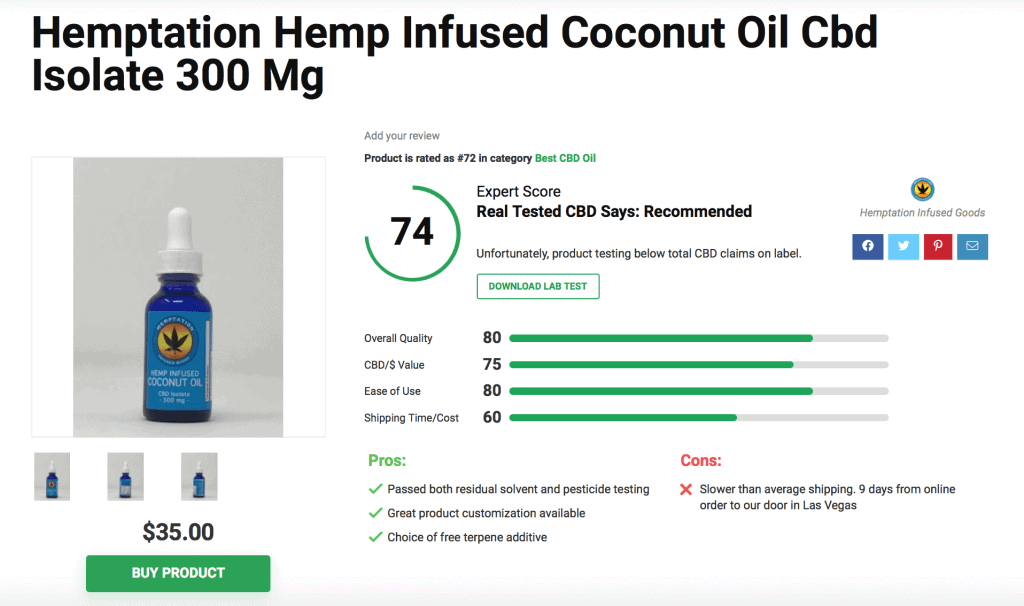 Next up is another amazingly customizable product from Hemptation USA. Their Hemp Infused CBD Isolate Oil can be customized by choosing a carrier oil (olive or coconut oil), potency from 300mg to 1500mg, and even a free terpene selection. This is an isolate oil so there are no rare cannabinoids present, THC included. If you are looking to add in terpenes, be mindful that these do come from cannabis plants and could impart your usage results and possibly even a drug test. This oil did test slightly under the label claim for CBD, but with a pass on solvent and pesticide tests, this oil still gets a recommended review from our expert staff.
*Terpenes: Organic compounds that provide aroma and flavor in cannabis and a variety of other organisms, including plants. Terpenes are responsible for the aroma and flavors of cannabis, and influence its effects by interacting with cannabinoids.
Hemptation USA Infused Goods – Real Tested CBD Takeaways
Finding a reliable CBD product online can be made easy by turning to third-party lab test results. Ensure you are actually getting your bang for your buck and purchasing a legit CBD product that works, but also has the quality you are seeking. Not all CBD is created equal, and when it comes to Hemptation USA's CBD products, quality and reliability are definitely there. Hemptation USA is one of our preferred CBD brands, with a wide variety of products that can be customized for specially for you, we highly recommend their CBD products. Whether you are shopping for oil, topical, or capsule, Hemptation USA Infused Goods is a dependable and safe choice.
Always turn to Real Tested CBD for your most reliable and unbiased product reviews. For more Real Tested CBD Brand Spotlights, click here.
Most Recent Tested products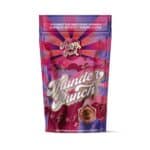 Happy Fruit Hemp HHC Gummies - Thunder Punch
$20.00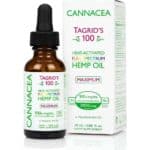 Cannacea Tagrid's 100 Full-Spectrum Hemp Oil
$77.50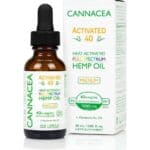 Cannacea Activated 40 Full-Spectrum Hemp Oil
$38.50
Recent Posts
Blog Categories