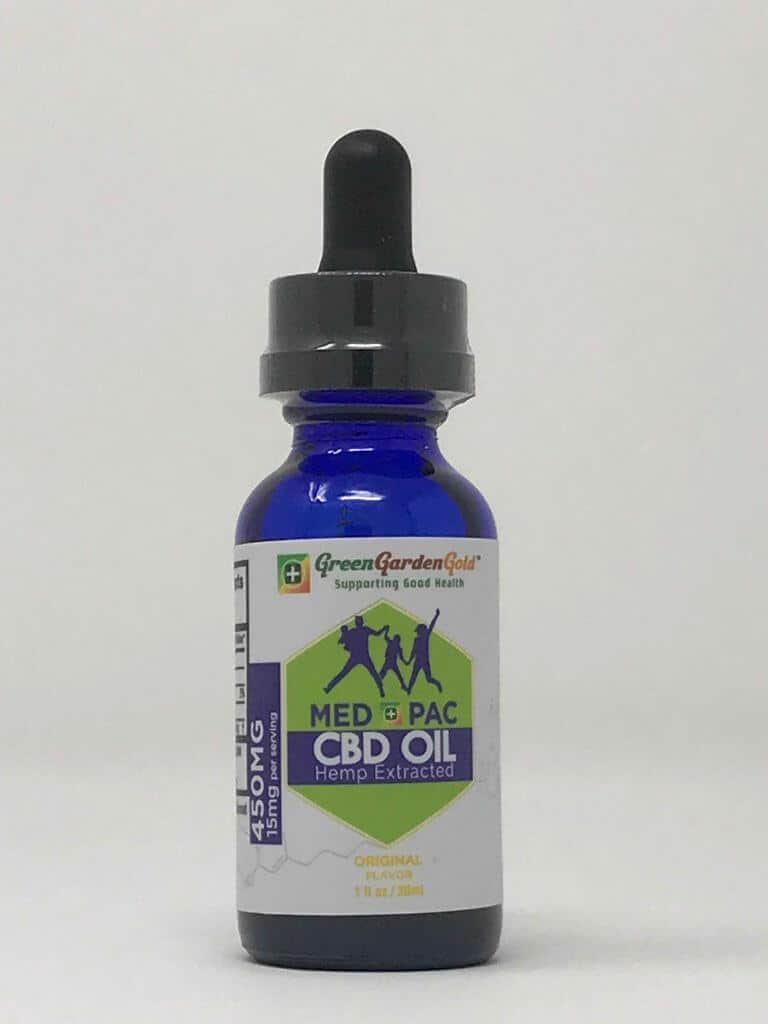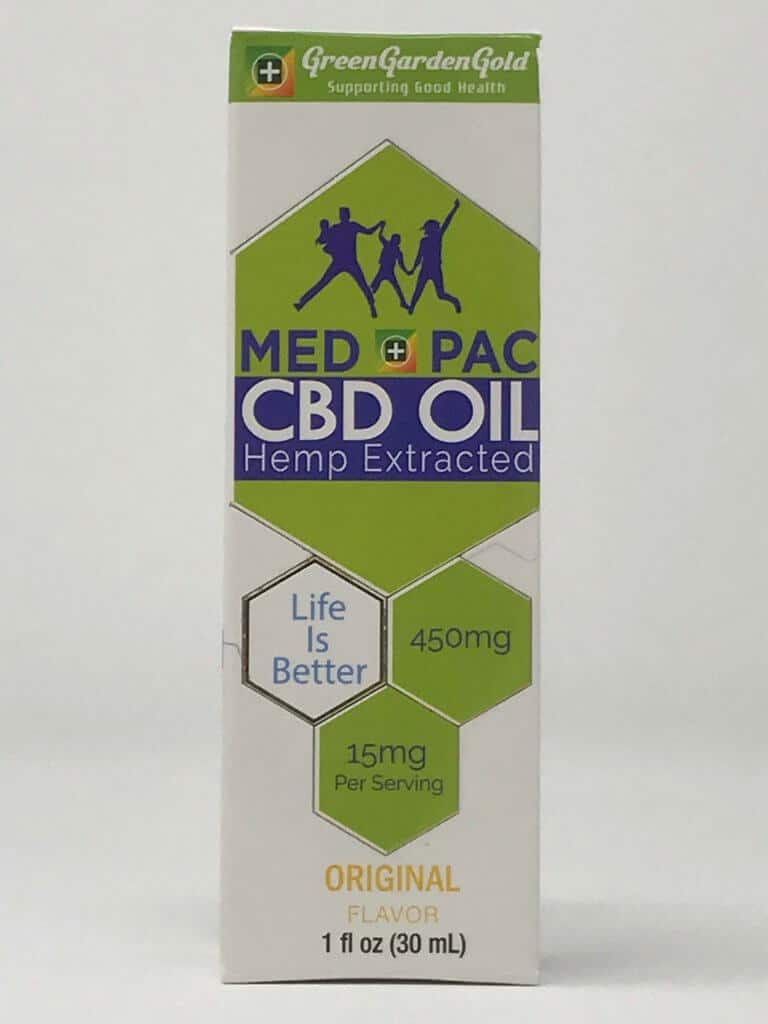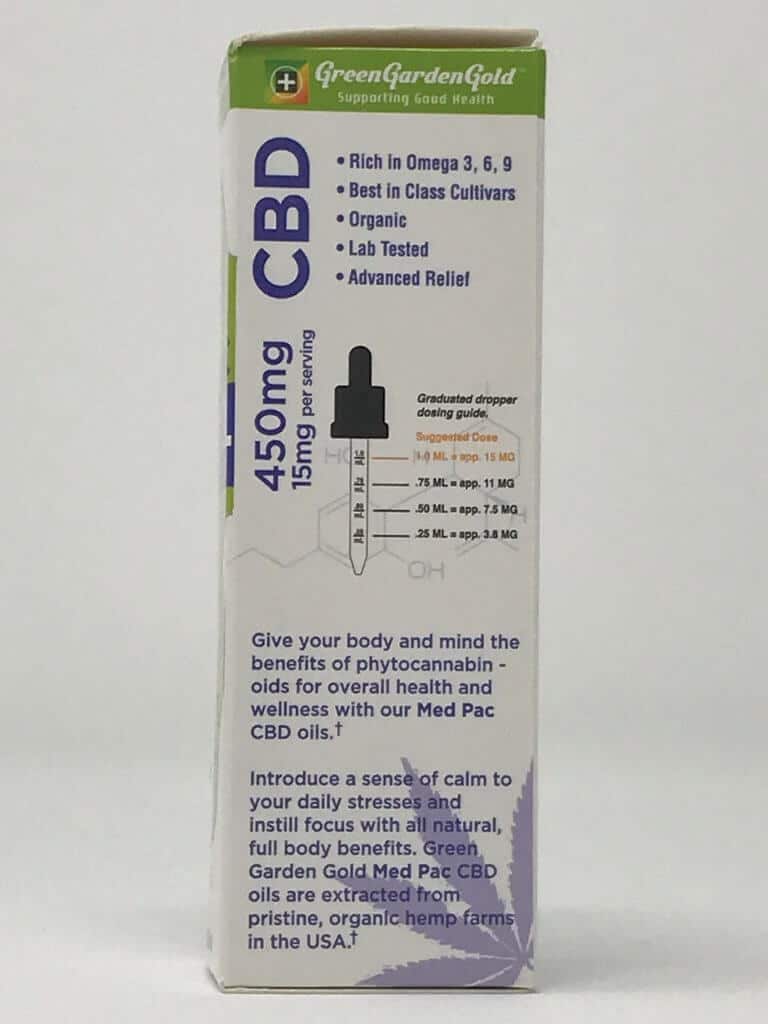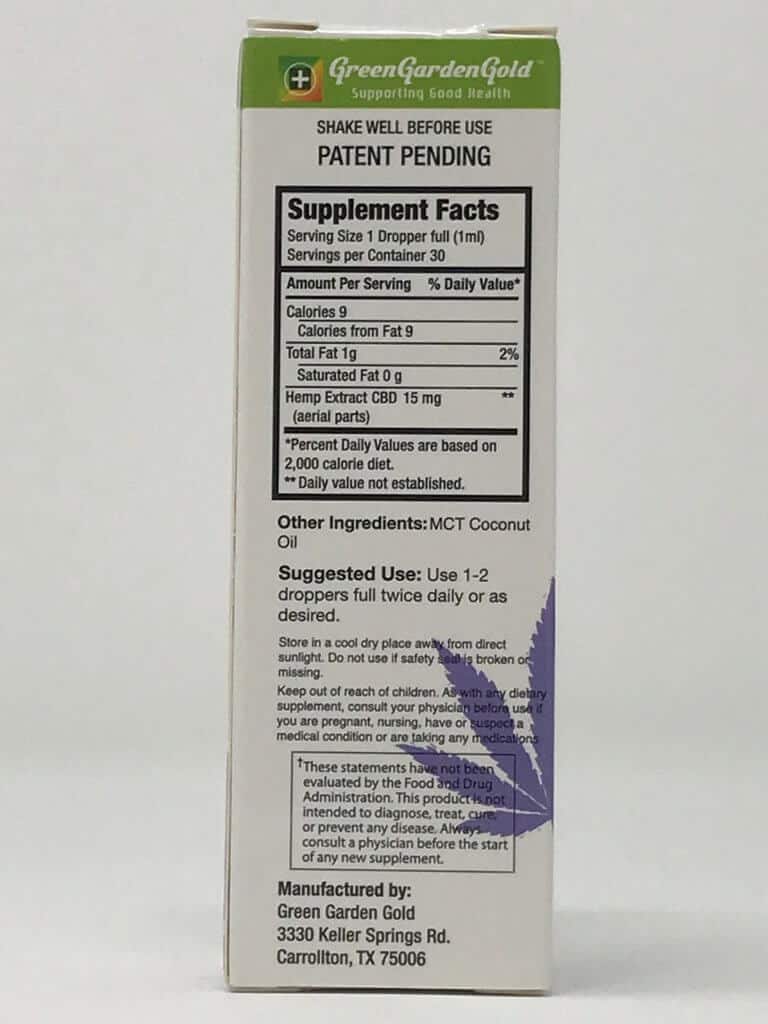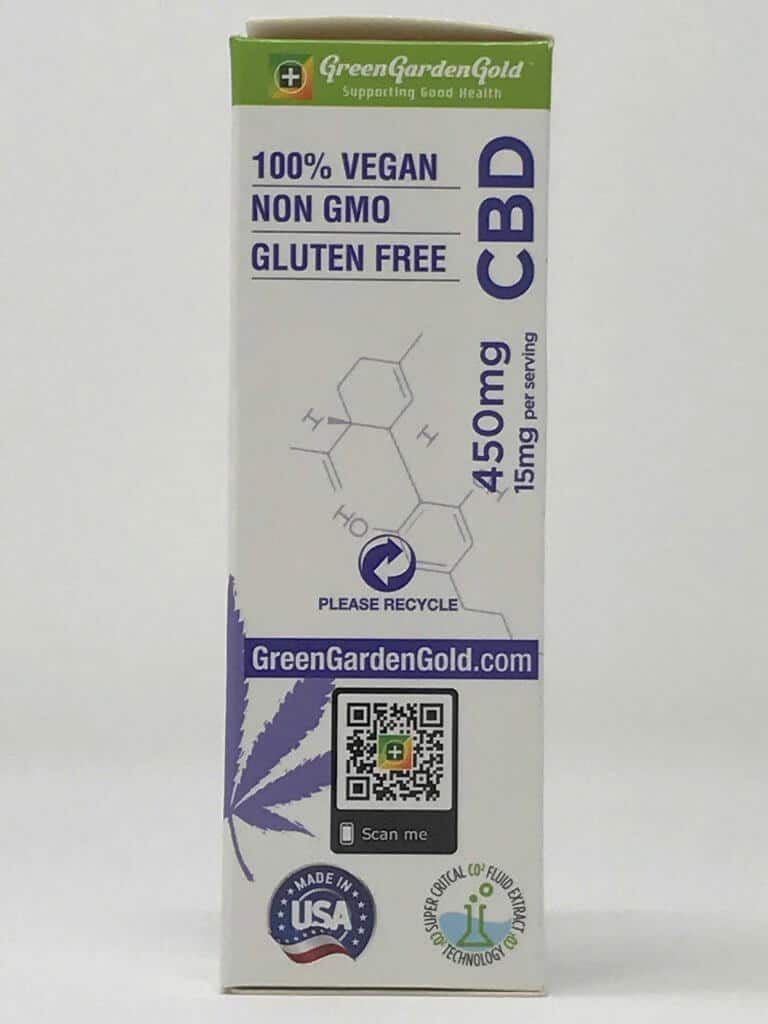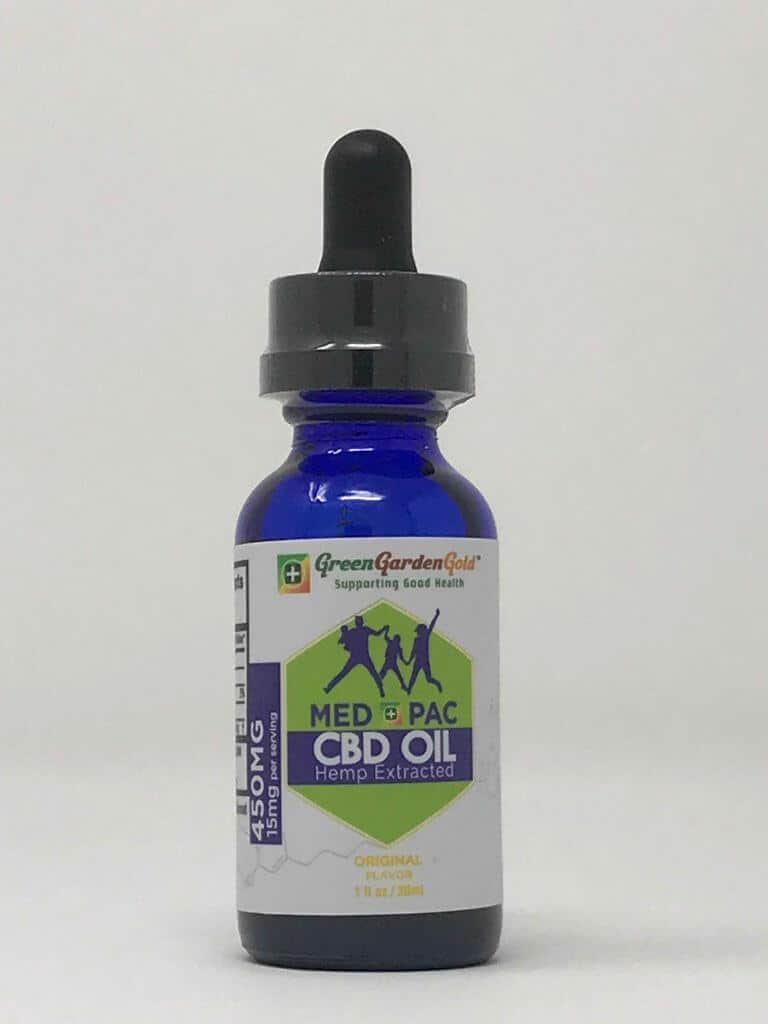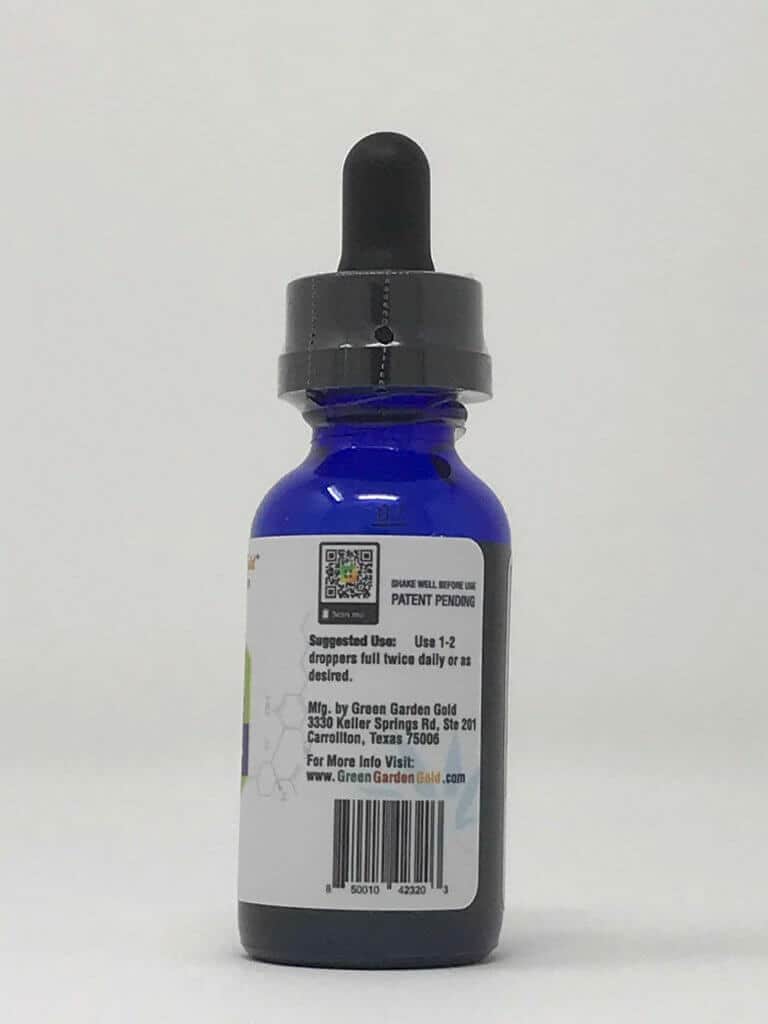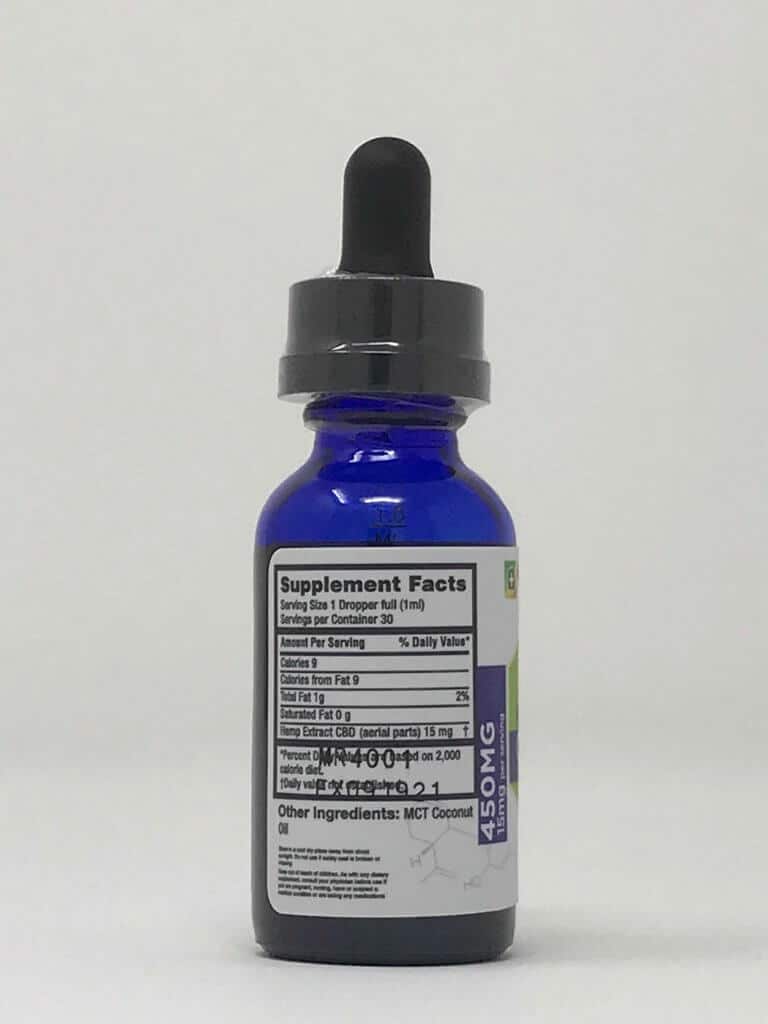 Green Garden Gold - 450 mg MED PAC CBD Oil - Discontinued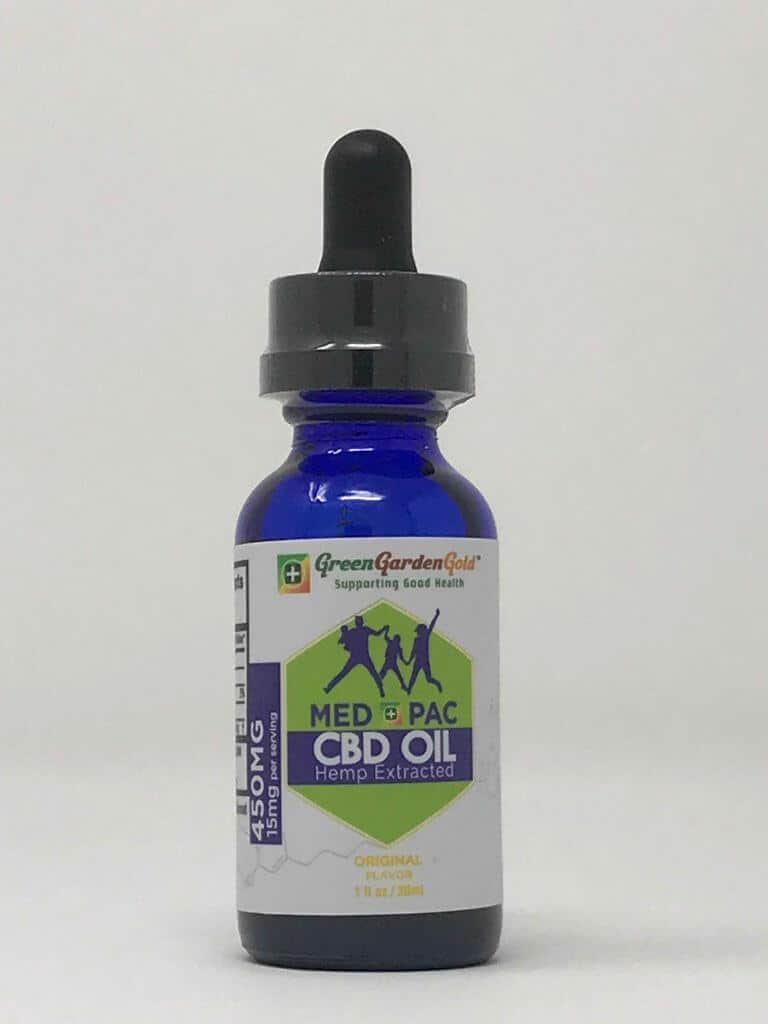 Discontinued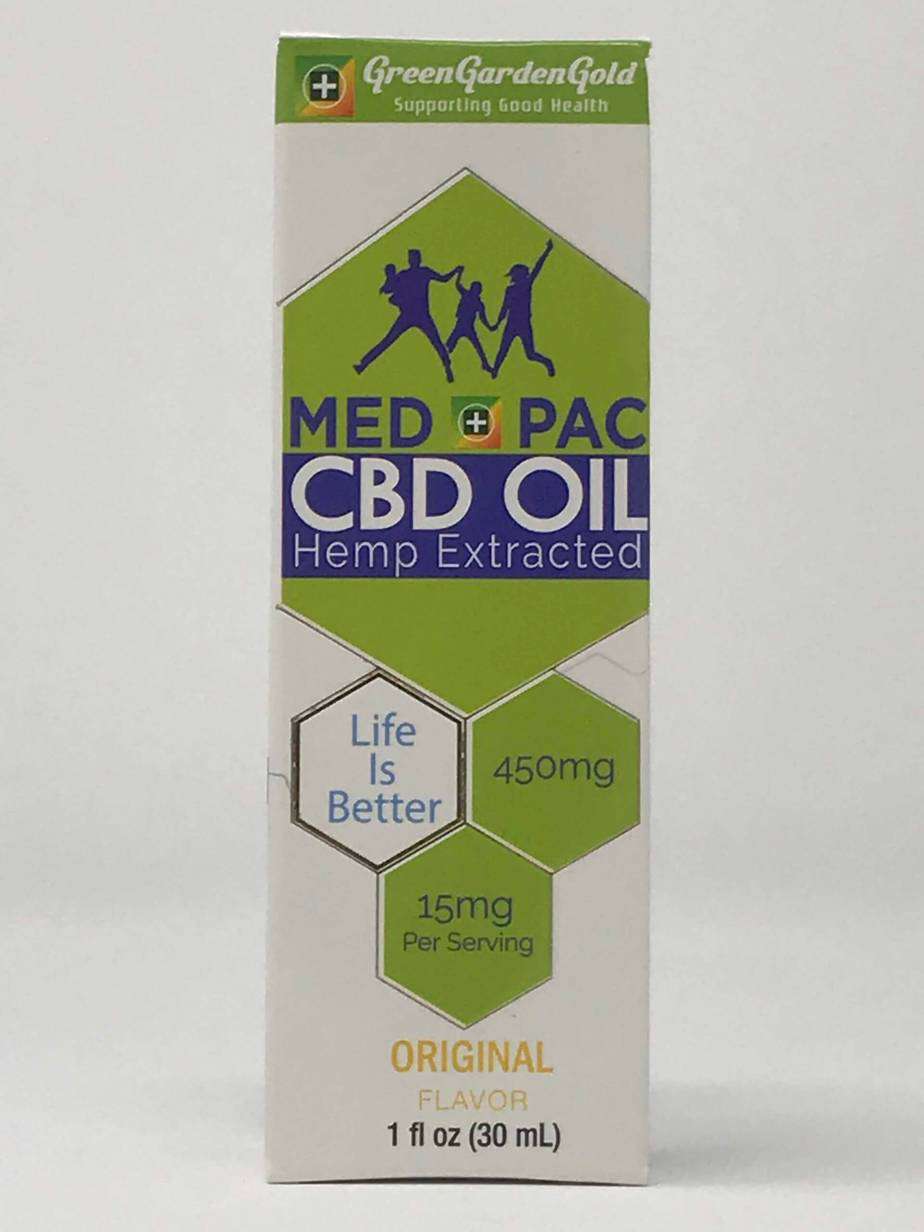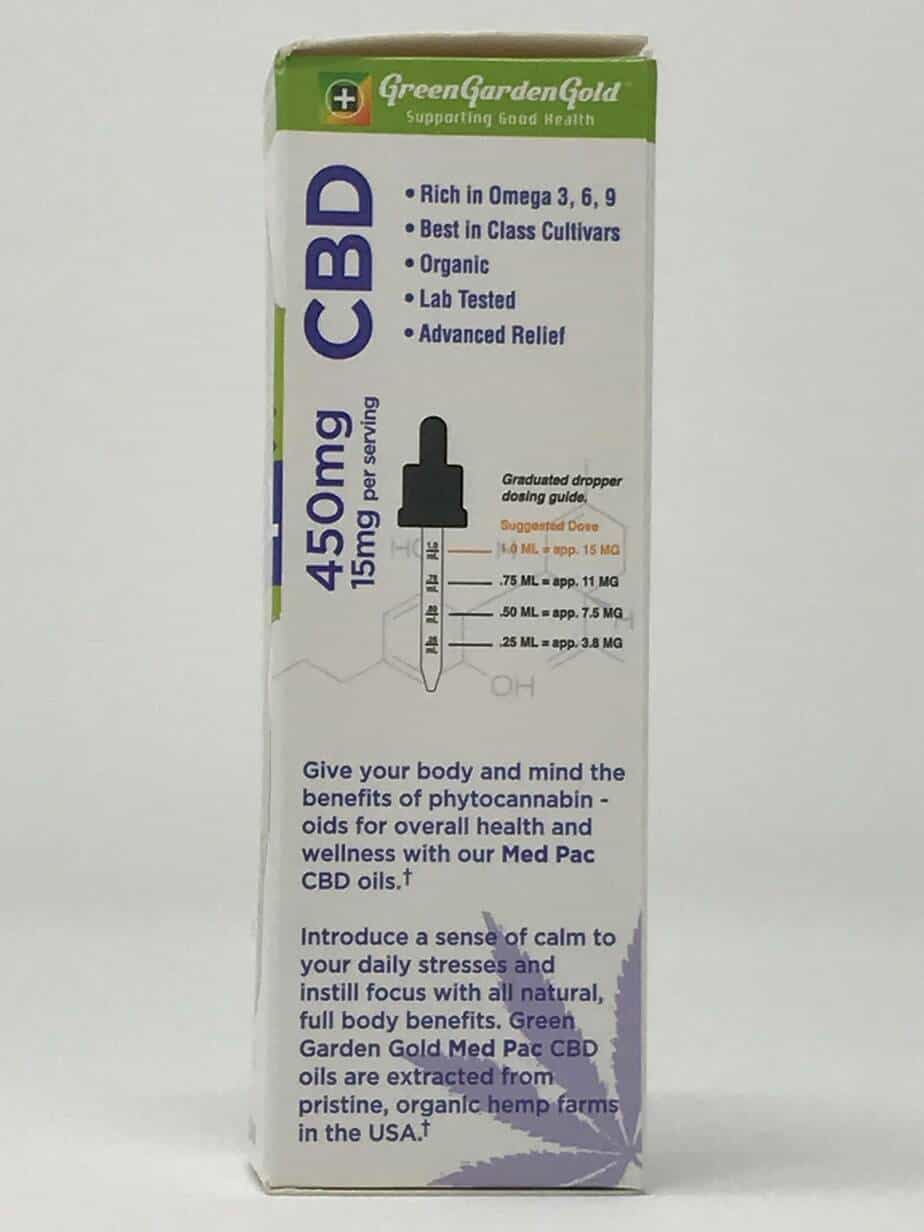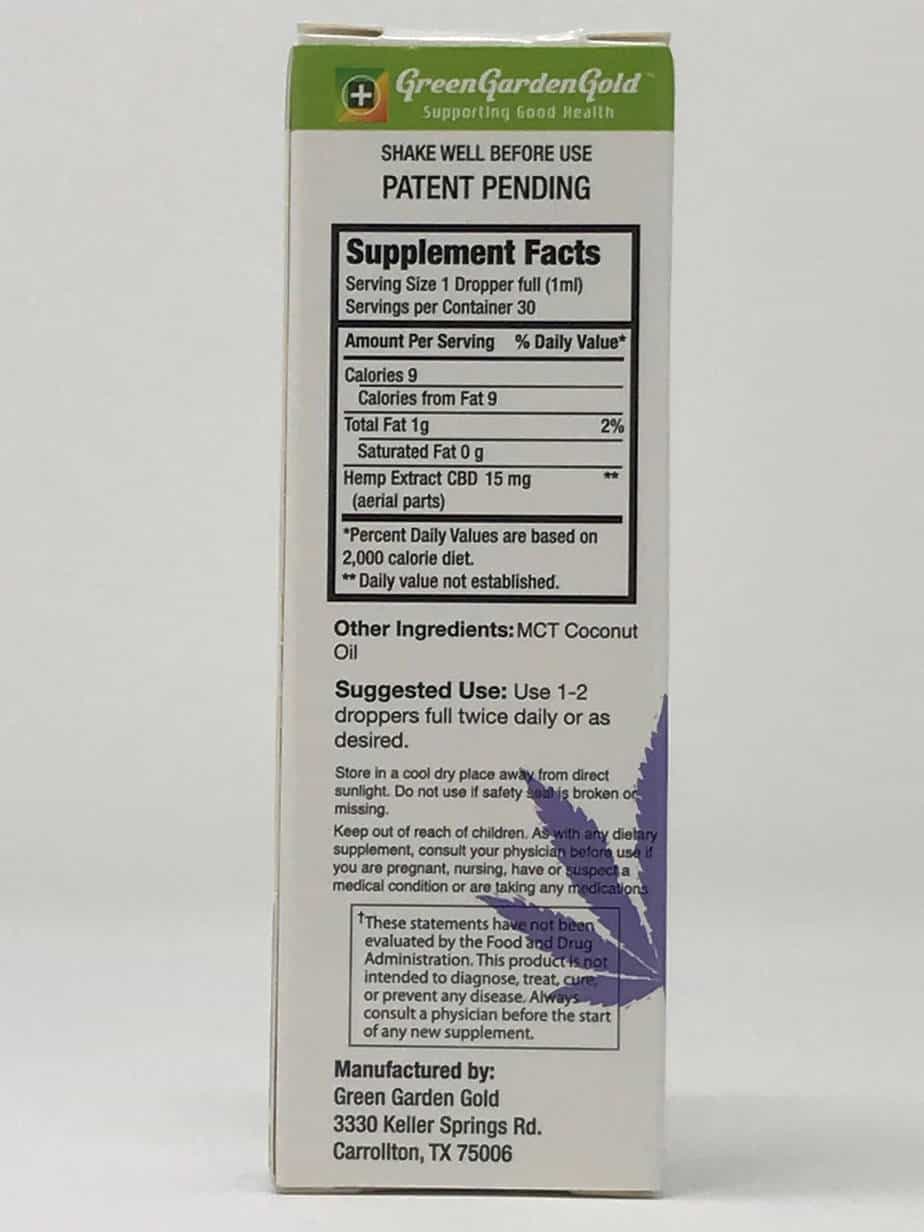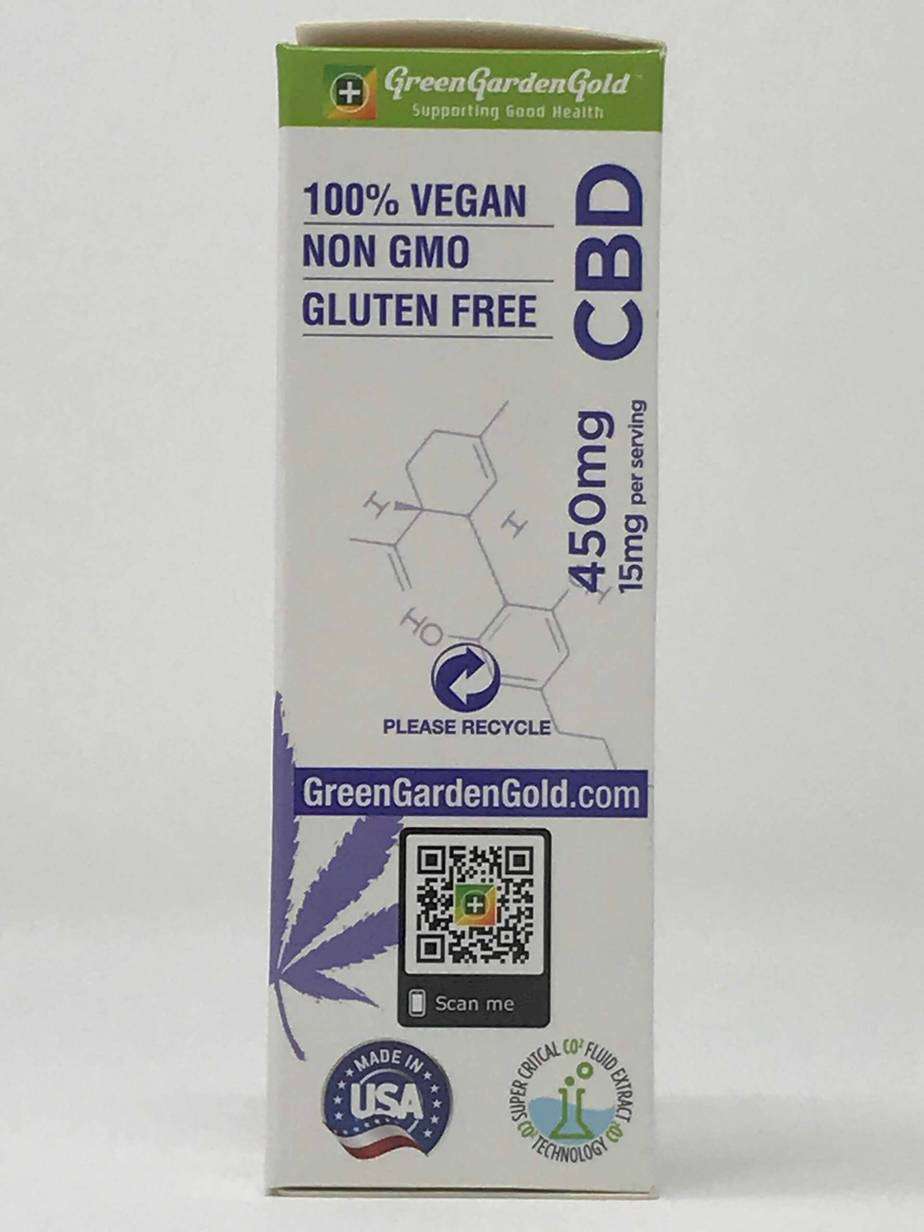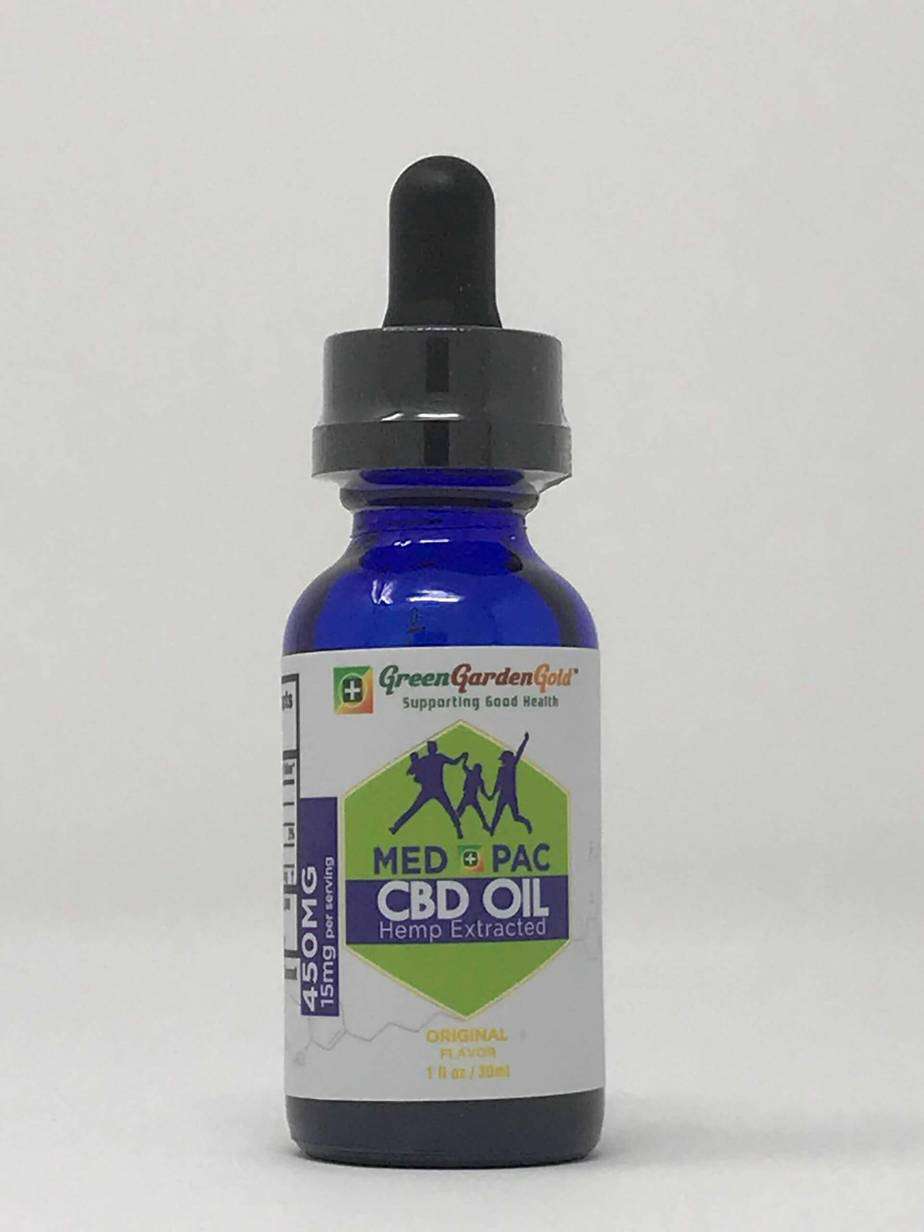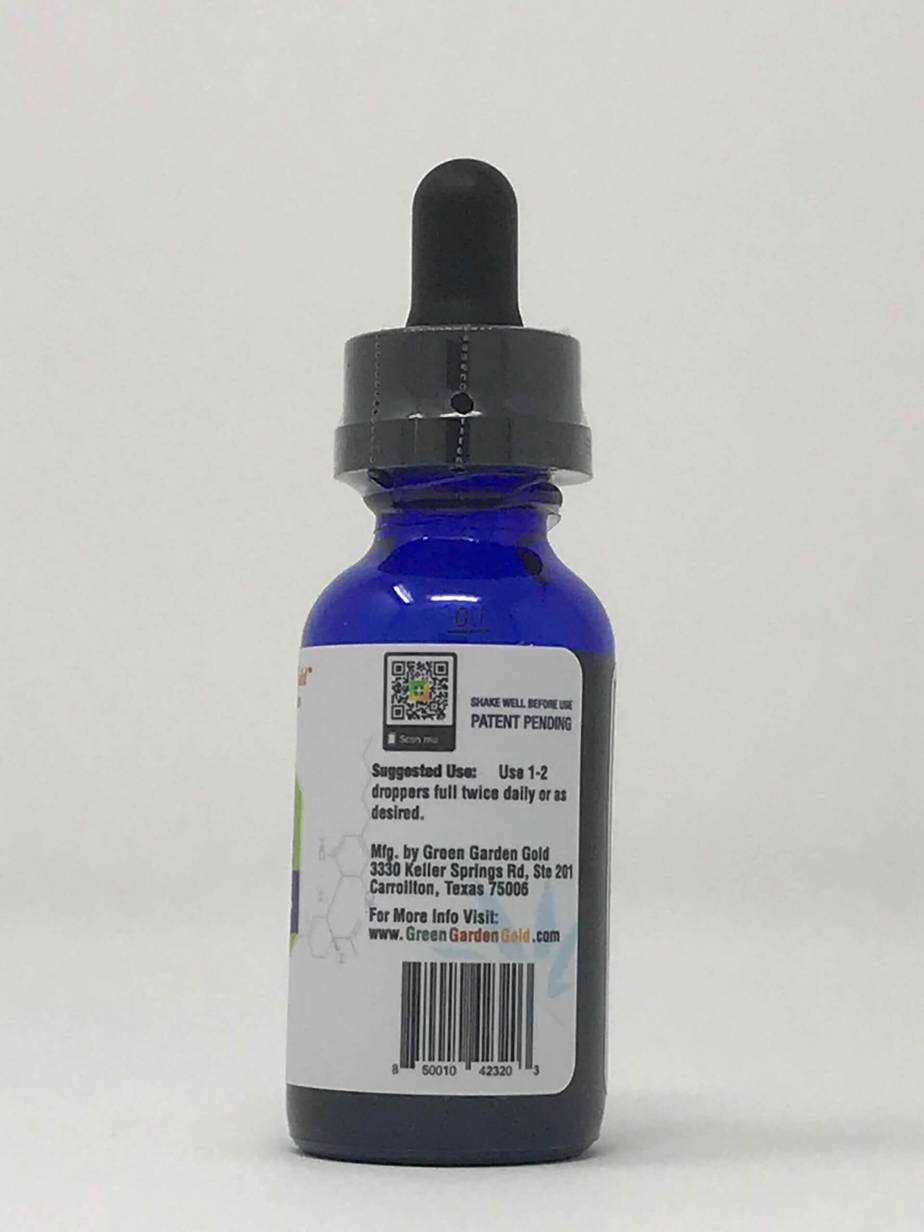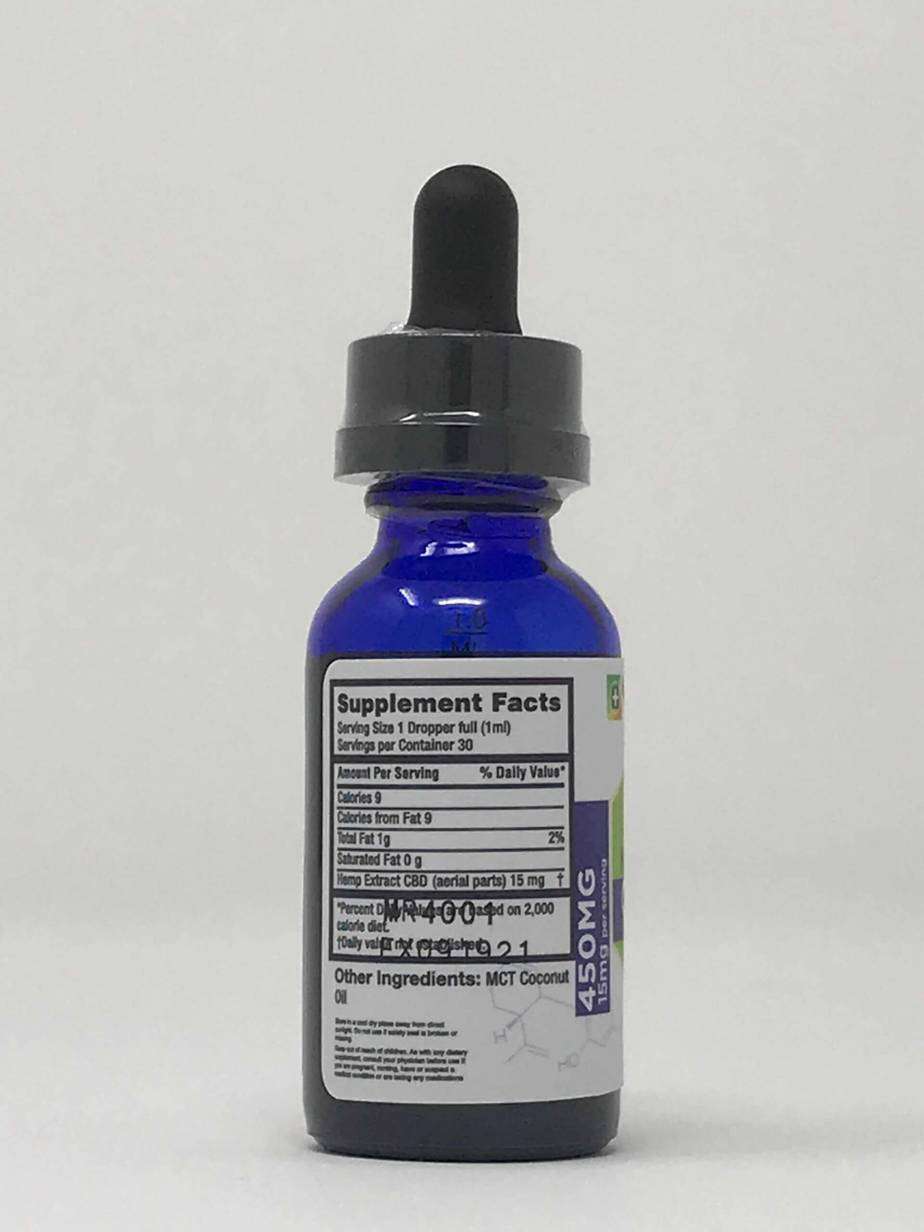 $54.99
Expert Score
Real Tested CBD Says: Skip This Product
This product claims to be a full spectrum oil, but does not test for significant amounts of CBC, CBG, CBN or THC. Although it did test very close to the label claim for CBD.
Download Lab Test
Pros:
Passed pesticide and solvent screening
Cons:
Does not contain any Entourage Effect inducing cannabinoids

6 days to receive shipment, slightly slower than average
| | |
| --- | --- |
| $/CBD: | $0.13 |
| $/THC: | 0 |
| Actual Total d9-THC mg/package: | 0 |
| Actual - Claimed CBD Per Package: | -37.86 |
| Actual Total CBD mg/package: | 412.14 |
| Actual Total CBN mg/package: | 0 |
| Actual Total CBC mg/package: | 0 |
| Actual Total CBG mg/package: | 0 |
| Pass/Fail Pesticide?: | |
| Pass/Fail Solvent?: | |
From Green Garden Gold:
MED PAC features premium CBD oil blended with medium-chain triglycerides (MCT) and coconut oil. This MED PAC CBD oil contains 450mg of natural, certified organic CBD with all the synergistic cannabinoids and terpenes available in the original hemp plant, grown domestically in Colorado. With MCT coconut oil acting as the carrier agent, the bio-availabilty of MED PAC surpasses other carriers, and is recognized as the best available. Support your body's health and endocannabinoid system and get your MED PAC CBD oil today!— With our supercritical CO2 extraction techniques and quality control, you can rest assured that you are getting the purest, most natural CBD products.
Additional information
| | |
| --- | --- |
| pesticides_ethoprophos | <LOQ |
| pesticides_dimethomorph | <LOQ |
| cannabinoids_d8_thc | ND |
| cannabinoids_cbd | 1.4553 |
| cannabinoids_cbda | ND |
| cannabinoids_cbg | ND |
| cannabinoids_cbdv | ND |
| solvents_1_2_dichloro_ethane | <LOQ |
| pesticides_cypermethrin | <LOQ |
| pesticides_acetamiprid | <LOQ |
| pesticides_fenpyroximate | <LOQ |
| pesticides_fenoxycarb | <LOQ |
| pesticides_dimethoate | <LOQ |
| pesticides_pentachloronitrobenzene | <LOQ |
| pesticides_etofenprox | <LOQ |
| pesticides_daminozide | <LOQ |
| Date Received | 2019-12-11 17:50:56 |
| pesticides_chlorantraniliprole | <LOQ |
| cannabinoids_cannabinoids_unit | % |
| pesticides_etoxazole | <LOQ |
| cannabinoids_d9_thc | <LOQ |
| cannabinoids_thcv | ND |
| pesticides_abamectin | <LOQ |
| Date Completed | 2020-01-03 19:50:47 |
| pesticides_fenhexamid | <LOQ |
| pesticides_acephate | <LOQ |
| pesticides_cyfluthrin | <LOQ |
| cannabinoids_cbn | ND |
| pesticides_malathion | <LOQ |
| pesticides_chlorfenapyr | <LOQ |
| pesticides_dichlorvos | <LOQ |
| pesticides_fipronil | <LOQ |
| pesticides_flonicamid | <LOQ |
| pesticides_fludioxonil | <LOQ |
| pesticides_hexythiazox | <LOQ |
| pesticides_imazalil | <LOQ |
| pesticides_imidacloprid | <LOQ |
| pesticides_myclobutanil | <LOQ |
| pesticides_metalaxyl | <LOQ |
| pesticides_methomyl | <LOQ |
| pesticides_diazinon | <LOQ |
| pesticides_parathion_methyl | <LOQ |
| pesticides_carbofuran | <LOQ |
| pesticides_permethrin | <LOQ |
| pesticides_mevinphos | <LOQ |
| pesticides_kresoxim_methyl | <LOQ |
| pesticides_naled | <LOQ |
| solvents_ethanol | <LOQ |
| pesticides_propiconazole | <LOQ |
| pesticides_propoxur | <LOQ |
| pesticides_pesticides_unit | ppm |
| pesticides_spinetoram | <LOQ |
| pesticides_methiocarb | <LOQ |
| pesticides_phosmet | <LOQ |
| pesticides_prallethrin | <LOQ |
| pesticides_pyrethrins | <LOQ |
| pesticides_paclobutrazol | <LOQ |
| pesticides_oxamyl | <LOQ |
| pesticides_pyridaben | <LOQ |
| pesticides_acequinocyl | <LOQ |
| cannabinoids_cbc | <LOQ |
| pesticides_captan | <LOQ |
| solvents_acetone | <LOQ |
| solvents_ethyl_acetate | <LOQ |
| pesticides_chlordane | <LOQ |
| cannabinoids_thca | ND |
| pesticides_chlorpyrifos | <LOQ |
| pesticides_carbaryl | <LOQ |
| Claimed CBD Per Dose | 15mg |
| Date paid | 11/6/19 |
| solvents_methylene_chloride | <LOQ |
| solvents_ethylene_oxide | <LOQ |
| solvents_isopropanol | <LOQ |
| batch number on label | MR4001 |
| pesticides_tebuconazole | <LOQ |
| pesticides_thiamethoxam | <LOQ |
| pesticides_trifloxystrobin | <LOQ |
| pesticides_piperonyl_butoxide | <LOQ |
| Servings Per Container | 30 |
| solvents_acetonitrile | <LOQ |
| solvents_heptane | <LOQ |
| pesticides_thiacloprid | <LOQ |
| Units Per Serving | 1 |
| pesticides_aldicarb | <LOQ |
| Unit Description | mL |
| solvents_trichloroethene | <LOQ |
| solvents_toluene | <LOQ |
| solvents_solvents_unit | ppm |
| solvents_propane | <LOQ |
| solvents_pentane | <LOQ |
| solvents_n_hexane | <LOQ |
| solvents_ethyl_ether | <LOQ |
| Days to receive shipment | 6 |
| pesticides_boscalid | <LOQ |
| Actual Total CBD mg/package | 412.14 |
| pesticides_bifenthrin | <LOQ |
| pesticides_bifenazate | <LOQ |
| pesticides_azoxystrobin | <LOQ |
| Claimed CBD per bottle (mg) | 450 |
| solvents_xylenes | <LOQ |
| pesticides_clofentezine | <LOQ |
| Actual Total CBN mg/package | 0 |
| pesticides_coumaphos | <LOQ |
| pesticides_spinosad | <LOQ |
| solvents_methanol | <LOQ |
| solvents_chloroform | <LOQ |
| solvents_benzene | <LOQ |
| $/mg THC Actual | 0 |
| Actual - Claimed CBD Per Package | -37.86 |
| Pass/Fail Pesticide? | Pass |
| Product Order Number | 65825 |
| Price/oz | 54 |
| Expiration date on label | 9/19/2021 |
| $/mg Total CBD Actual | $0.13 |
| Flat/Volume | Flat when multiple products per order |
| Actual Total d9_THC mg/package | 0 |
| Actual Total CBC mg/package | 0 |
| solvents_butane | <LOQ |
| Actual Total CBG mg/package | 0 |
| price/cbd | $0.12 |
| pesticides_spiroxamine | <LOQ |
| Manufacturer product URL | |
| pesticides_spiromesifen | <LOQ |
| Total cost | $54.99 |
| Taxes | $0.00 |
| Product cost | $54.99 |
| Pass/Fail Solvent? | Pass |
| pesticides_spirotetramat | <LOQ |
| Shipping cost | Free (over $100 order) |
| Product variation flavor | Original, Lemonade, Orange, Berry, Chocolate Mint |
| Product Variation size ml | 30 |
| Product Variation Size oz | 1.014420681 |
| cannabinoids_cbga | ND |
---