You might have heard of CBD oil, but have you heard of CBD hemp strains for smoking? CBD hemp strains offer a great alternative to cannabis consumption. Hemp and cannabis grown within the United States for CBD production must have a THC threshold of under 0.3%, giving those with drug testing concerns some peace of mind about this smoking alternative.
CBD, also known as cannabidiol, is thought to have a range of therapeutic properties from stress reduction to pain relief. Whether consumed orally, applied topically, or inhaled, CBD could be a great addition to your daily lifestyle with its variety of potential health benefits.
When it comes to a high-quality hemp strain for smokable CBD, finding a product you can rely on is key. Here at Real Tested CBD, we conduct independent lab test results to ensure the quality, purity, and potency of hemp strains among other CBD products. Here are our top five choices for a reliable CBD hemp strain:
Top 5 CBD Hemp Strains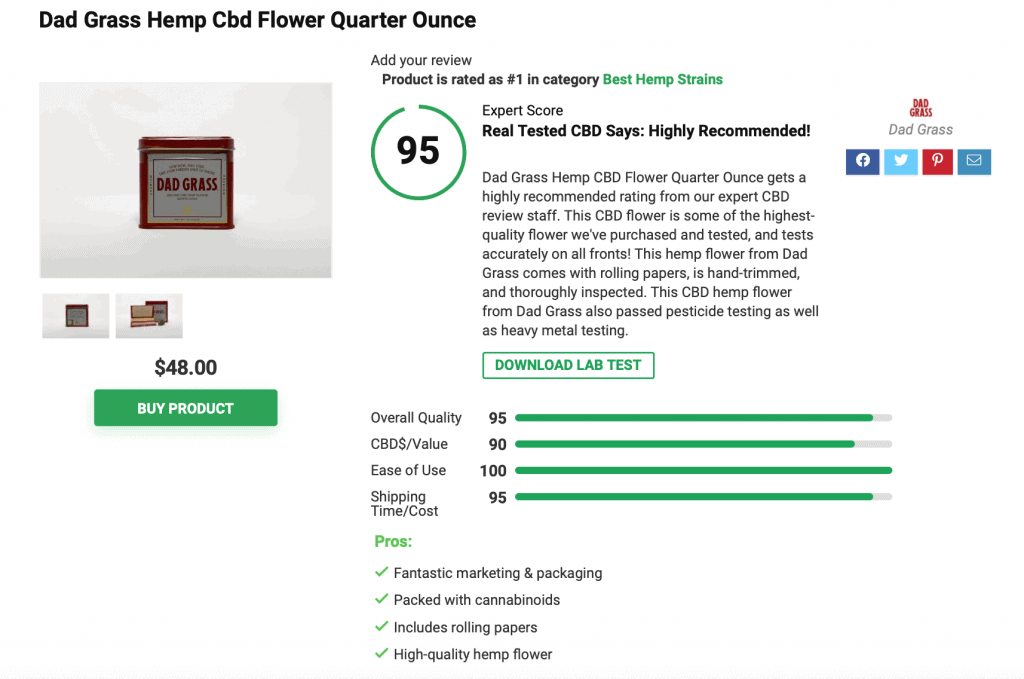 Taking the number one spot in our Best Hemp Strains category, we have Dad Grass Hemp CBD Flower in a quarter ounce. This CBD hemp strain is one of the best we have tested; packed with rare cannabinoids, hand-trimmed and accompanied by rolling papers! We highly recommend this CBD flower strain. It offers a fantastic value to customers, has a great amount of CBD and other cannabinoids (25mg of CBG!), passed all pesticide, metal and moisture tests and is clearly a high-quality CBD hemp strain. And we love Dad Grass's packaging statement: "low dose, full toke, like your parents used to smoke."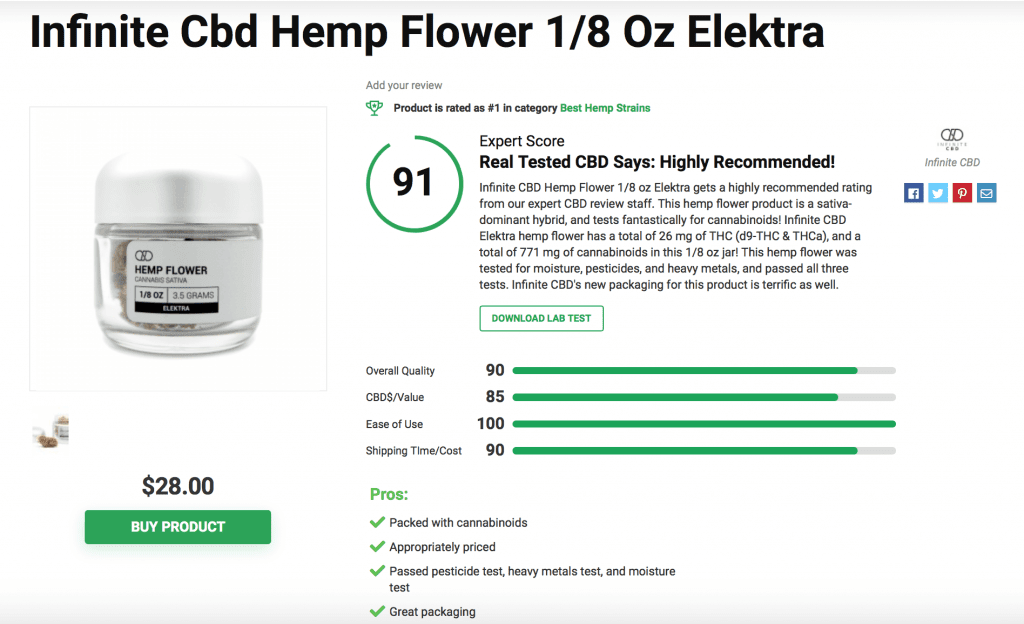 First up from Infinite CBD is their 1/8oz Elektra Hemp Flower. This flower is a sativa dominant hybrid that tests amazingly for cannabinoids. With 26mg of THC (d9-THC and THCa) and a whopping total of 771mg of cannabinoids in this 1/8oz, this hemp strain offers a great value for customers, costing just about $0.04 per milligram of CBD and $1.04 per milligram of THC. This hemp strain also passed all pesticide, moisture, and heavy metal tests with flying colors. We give this hemp strain a very highly recommended review.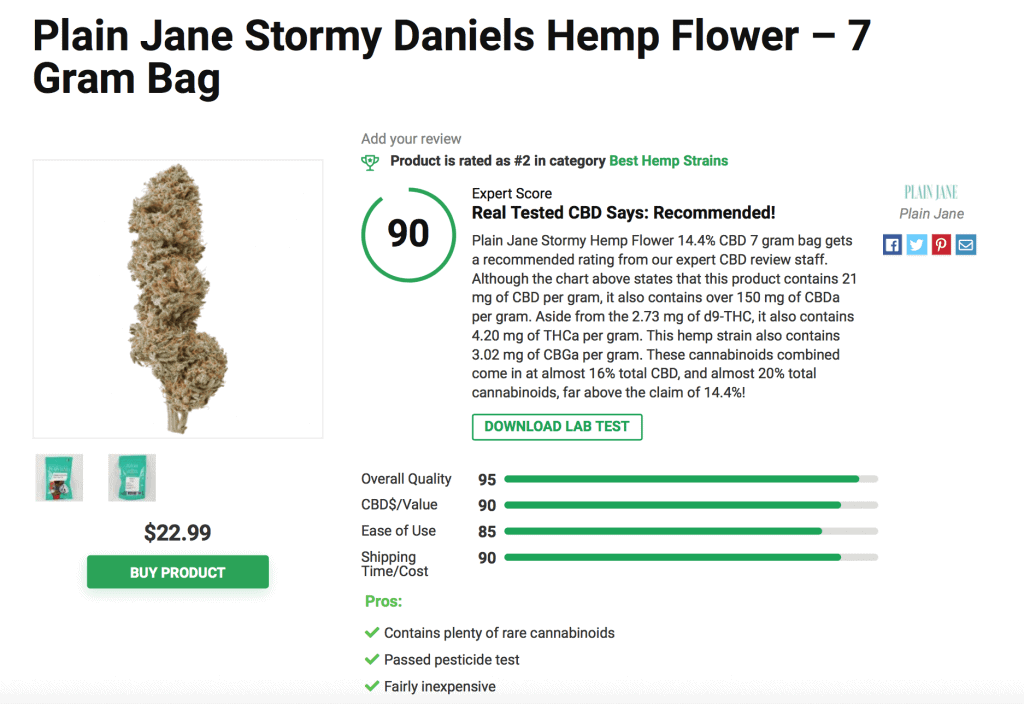 Our first place spot is claimed by Plain Jane Stormy Daniels Hemp Flower. This 7-gram bag tests above the 14.4% per gram CBD label claim, with nearly 20% total cannabinoids. This high-quality hemp strain has many of the rare cannabinoids we like to see, including CBC and THC. This CBD hemp strain has a great value for purchasers, coming in at just about $0.02 per milligram. This hemp strain gets a highly recommend and a high score of 90 from our expert review.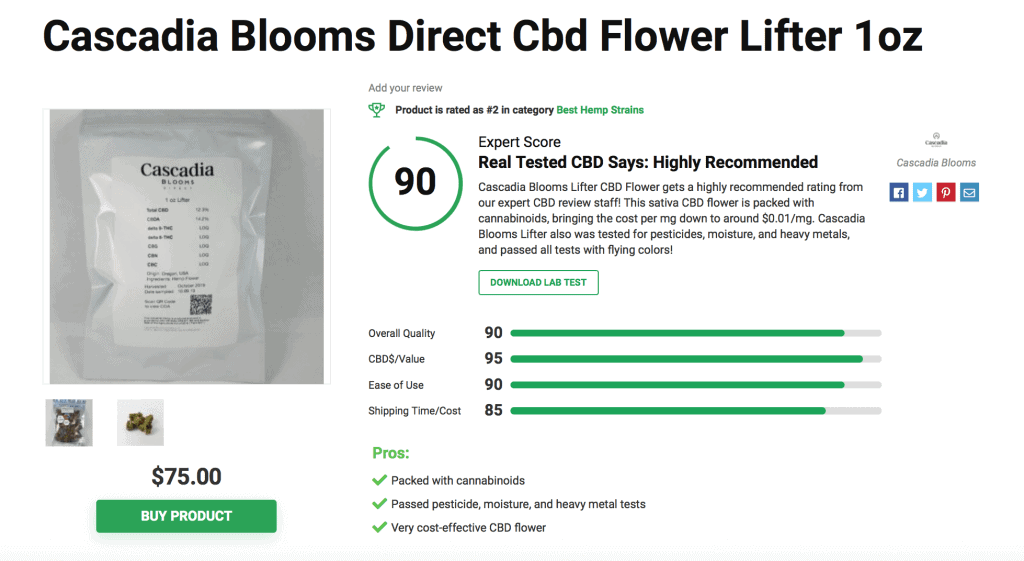 In second place is Cascadia Blooms Direct CBD Flower Lifter. This CBD flower gets another highly recommend from our expert review and a high score of 90, passing all pesticide, moisture, and heavy-metal tests. With over 4500mg of CBD and a good amount of THC, CBN and CBG this is a great cannabidiol flower choice. Not only does this flower have a great number of rare cannabinoids we like to see, but it also has a great value, coming in at $0.01 per mg of CBD and just $0.40 per mg of THC. This sativa CBD flower is a great choice for cannabidiol flower and comes in an air-tight package that might help retain its freshness.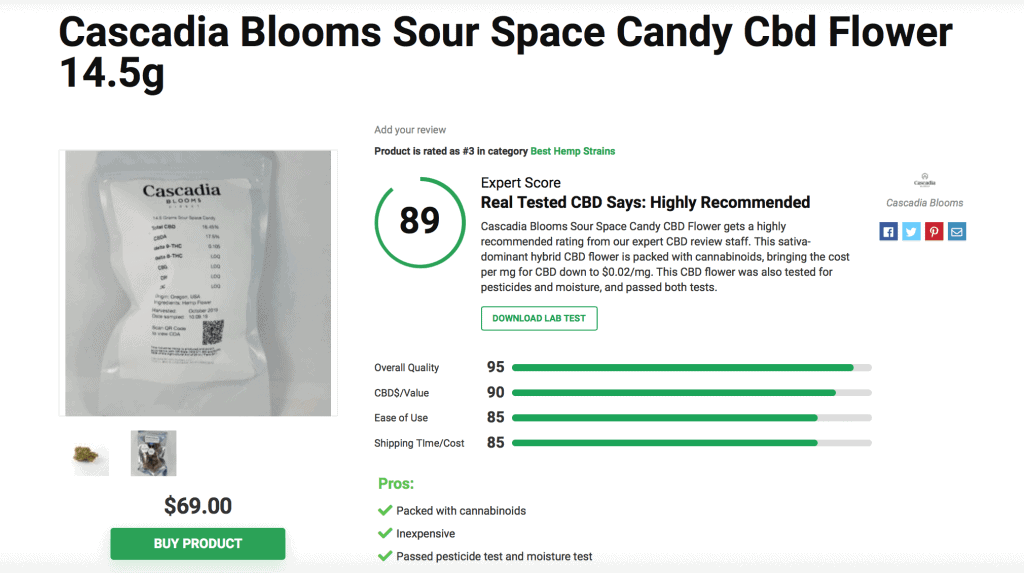 Next is Cascadia Blooms Sour Space Candy CBD Flower, with a highly recommend from our expert review and a score of 89, bringing it to our third spot in the Best Hemp Strains category. This Sativa-dominant hybrid cannabinoid-packed flower contains over 2400mg of CBD per package, as well as a significant amount of CBC and CBG. There is THC present in this CBD product, though Cascadia Blooms grows industrial hemp on or below the regulated THC levels of 0.3%, making all their products perfectly legal in the US. This CBD flower passed all pesticide and moisture tests with flying colors, and is a great value product, costing just about $0.02 per mg of active CBD. If you are looking for a great CBD flower, this is a solid choice for you.
Key Takeaways: CBD Hemp Strains
Just like with every CBD product on the market today, there is often the need to fact check, making sure you are getting exactly what you need. At Real Tested CBD, we take all the guesswork out of your CBD online purchase. From pesticide and solvent tests to label claims and potency, turn to us for all your CBD product guide needs. For a full list of tested products ranked by our expert scores, click here.
*This article was last updated on 8/5/2021*
Most Recent Tested products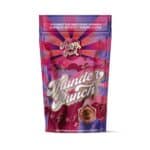 Happy Fruit Hemp HHC Gummies - Thunder Punch
$20.00
Cannacea Tagrid's 100 Full-Spectrum Hemp Oil
$77.50
Recent Posts
Blog Categories